AW2017, SUQQU changed their famous Creamy Lipstick Moist to Moisture Rich Lipstick.
If you read my reviews of lips, you may know I often describe there are some lipsticks what peals my lips, but previous Creamy Lipstick Moist did not harmed me. New lips are attractive for me, but it is also risky for me.
I bought on the sales day of Suqqu Moisture Rich Lipstick #10 Kogareaka. I knew this color is red-brown.  Seems "brown" is one of the key color in AW2017. I was really impressed this #10 Kogareaka.
I took several times of this lipstick, and I guess this picture below is the most near to the color in my eyes.
I was a little bit shocked. I was looking for elegant red-brown, not brown lips. hmm… to be honest, I was hesitated to use.
But I changed my mind after I applied on my arm. Look!!!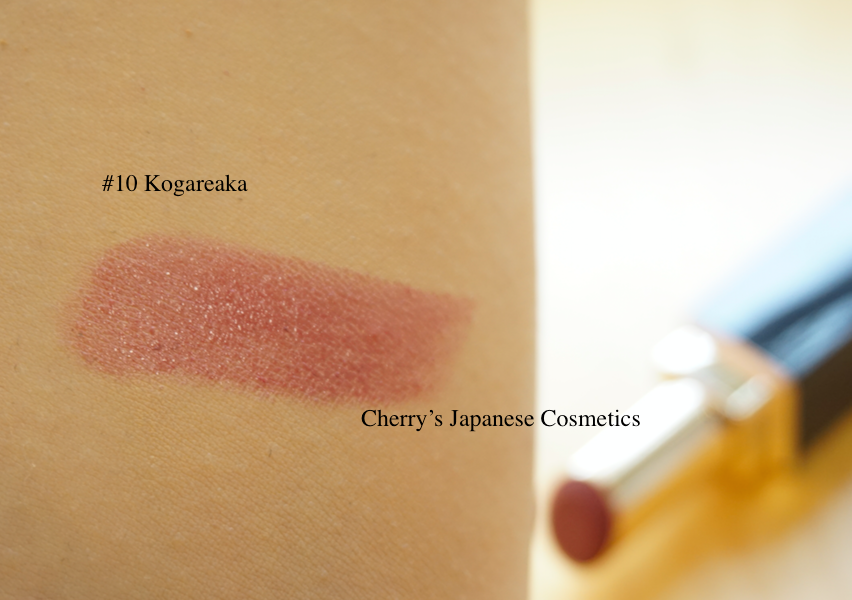 This picture is the most near to my eyes. It is super posh!!! FABULOUS!
After seeing this, I used it on my lips 😀
On my lips, how to say, less red pigment on my lips. and I am always envy the person who has really red lips. The color is not the very what I was looking for — too dark, but I feel I am more healthier look :DD
And in previous Creamy Glow, there are some colors with the color is sheer on my lips, the others are exactly the same with the lipstick. At least this Moisture Rich Lipstick #10, this is a little bit more sheer than the color of the lipstick (on my lips)
There are "with gold pearl" colors, but this #10 is not. However this is not matte lip, but creamy.
Pealing. When the products what makes me peal, it happens only few mins later. NOTHING problem !!!
There are no sleeves
I will tell you that what the point they changed from Creamy Lipstick Moist.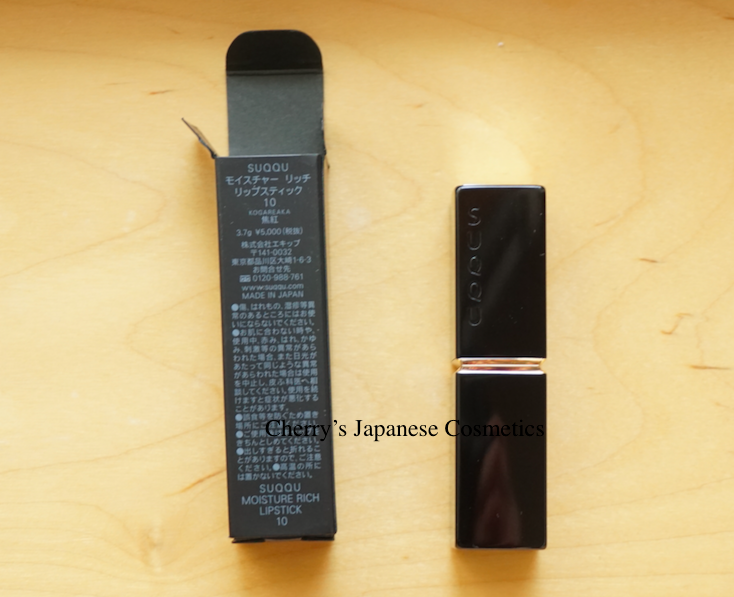 They are the all of the product what contained. The paper box, and the lip itself. Previously, they had sleeve but in this formula, there are nothing.
I was asked the difference of the lasting, tints and coloring with the previous formula of Creamy Lipstick Moist.
I do not say it is a silly question, but if you know the Creamy Lip Stick Moist, there were several types, and really difficult to answer.
In this Moisture Rich Lipstick, some has glitter (gold pearl) and, Creamy Lipstick Moist, there were also some has pearl and the others are no-pearl. In this #10, there are no pearl.
I had used some coloring are sheer on the lips, but the others are clearly the same with the lipstick. In this #10, it is more sheer than the lipstick.
The lasting, for me, it is fair. Indeed I did neither drink nor eat when I wear it. For me, it is fair, but I so not promise it must satisfy you.
Anyway, I was really satisfied with this new Moisture Rich Lipstick.
Please check the colors, the recent price, and order from here;"Suqqu Moisture Rich Lipstick".