Hi!
Last week was awesome, in good meaning. Things were so fun. Anyway, let me show you my skin now.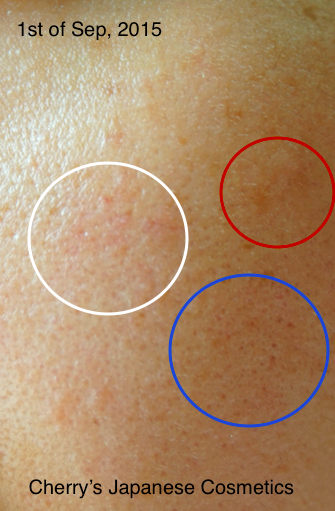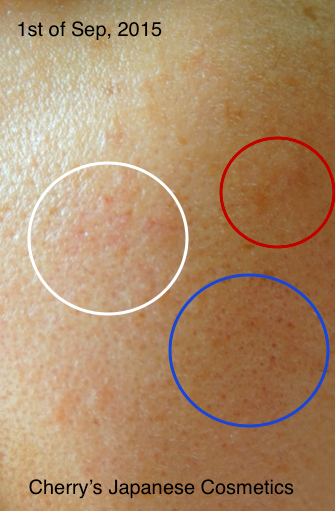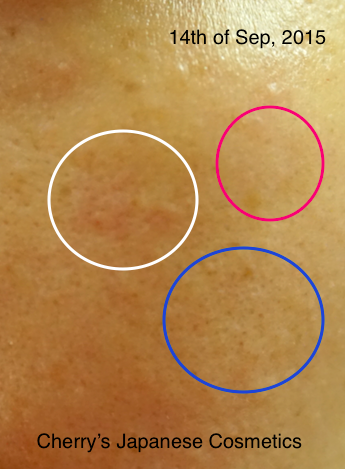 Can you see the difference? Hmm, sadly, because of the bad lighting, I am afraid of you can not see clearly my skin condition was changed. But the texture is perfectly different, much much much smoother! Ah, one by one. Albion Excia AL Milks helps me pretty well.
And my stomach condition is also good. I think this is the biggest factor!
Significant difference is the red circle. even in 1st, I could not find in my eyes, and seems 14th, I am feeling it is almost going away! Still there are problem with white and blue circles. The blue thing, in this picture, you may find they are not opened pores, and I am not quite sure…
Still the site circle is my big problem. I am going to focus on brightening!
Anyway, I guess I can show you how foundations covers now!
What I used 1st – 14th of Sep.
Medicines: Cystina-C, Biofelmin S
Cosmetics: DHC Deep Cleansing Oil, Fancl Washing Powder (#2 Moist), Lancome UV Expert XL, Albion Excia AL Whitening Extra Rich Milk, Fancl Whitening Lotion & Emulsion