OK, seems previously I did not review this Excia Al Whitening Stem Nova Cream by myself. I got pretty small jar from Selection Kit.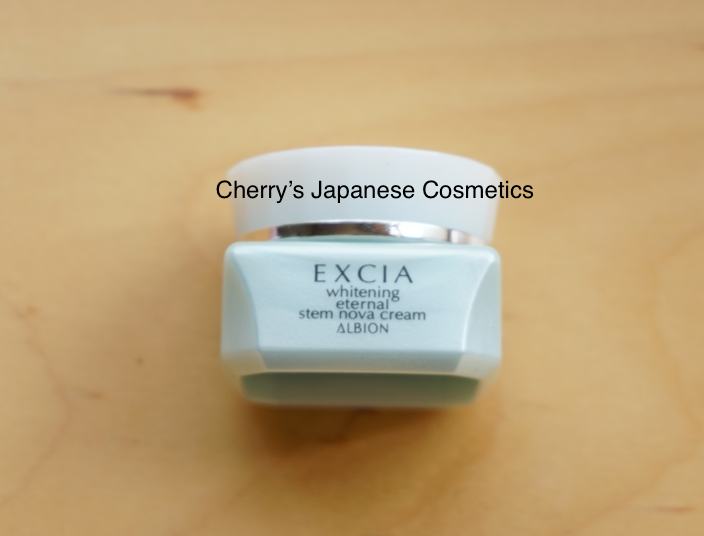 Let me open.
It will be easy to see the texture. This is really a smooth but rich cream.
On my face, it is quite east to adjust, and you have no need to use a lot. I like to use with thin layer on my face, as the this layer, it is lighter. And I need to admit when I used all of the sample package (not this jar), I got acne, I mean it is too much for me.
I never say it is perfect even when my skin condition is damaged. But it is not harmful for me while my skin condition is not better.
I am not pretty much feeling my skin is brighter while I am using it.
Please check the latest price, and order from here:  Albion Excia AL Whitening Line
How Hazelnuts and Lukin said
Hazelnuts of Philippines told me that:
This is a smooth, moist cream that seals the moisture in and is supposed to prevent spots and freckles. I apply a very little amount because it is quite rich, and a pea-sized amount is enough to moisturize my face. I love this as a night cream, and it does provide moisture, not oil.
And Lukin of the States said that:
 I tried the Whitening External Stem Nova Cream. As I applied the cream, it felt sticky and left a tacky feeling on my skin. My first thought was that my skin felt tight ? like it needed moisture. It wasn't unpleasant but a strange feeling. Finally, as the product soaked in and dried, I realized that sensation was firmness. My facial skin felt firmer than it has in years!

I would want to try it again before I can recommend it, but for ladies looking to firmness, try this one.
Totally to say, as a face cream for summer, this is a nice moisturizer.
Please check the latest price, and order from here:  Albion Excia AL Whitening Line