One of the girls behind Cherry is a big fan of Albion. She gave me (Cherry) a small tube of Albion Excia AL Renewing Extra Rich MilkSV.
Review for Renewing Extra Rich Milk SV
I liked it very much, and bought a bottle 🙂
Albion's "milk" are oily product, if you are looking for not oily items, or an oil prone, this maker of Albion, I mean whole of Albion items are not for you.
Albion is a great maker, but frankly to say, they contain tons of perfumes and that is not my taste. They are often too much floral. Excia is not formal like Exage. Infinness is just strong, and Excia is better for my taste.
Difference of the lines
Albion says Exage is for the people need more moist, Infiness is for the people wants to have supple skin. Excia is the most expensive line, and for the people wanna have supple and shining from inner. OKOK. In my opinion, you can choose them by the perfume.
If you like floral, Exage is for you, and if you do not like floral perfume, Infiness or Excia are for you. There are trial small bottles of Infiness and Excia, if you wonder which are better for you, please order them to know.
Way to use & review
Anyway, the way of Albion steps are unique. Wash-MILK- Lotion. So, please apply this product after your face wash. (See also: Albion Skincare Method)
Beauty consultants in Albion are recommending to apply this by cotton, and 3 pushes per a once. But when you are feeling too dry, they say try more — 6 pushes. Spread on your face, and wrap by your hands. And after that, apply lotion.
My way is a little bit different. In morning, I am too busy (maybe you too!), I do not use this product. After your bath, what will you do? Maybe you will use hair drier. I dislike driers make my face dry too. So, before using hair driers, I apply this milk on my face to protect from drier's hot, and dry wind. I do not need to use pretty much. You can see the quantity I apply in this picture.
After that my night routine starts. I do not use cottons to apply. I guess hands are enough. I take a little bit more on my hands and wrap my face.  I feel it takes time to fix my skin, I apply lotion masks just before I go to bed.
My skin is "renewing", I mean well moisturized 🙂
How do you feel when your skin is so drier? I feel irritation and as if my skin was chipped thiner, I mean it is not so much big pain, but it is far from comfortable. It is a sign of my skin is turning to sensitive, I often have super big trouble with my skin condition in early Spring. I need to change my routine to the items for "heavy" products. I rushed Albion counter to buy this milk.
When  my skin condition is super bad, I feel sting by this milk, what I can do is "wait". It is really moody. Recently I felt my skin is turning, just turning to sensitive and when I moisturize well, I hope I will not get so much big trouble in early Spring (today, as of 10th of Feb, it is snow day, but Spring is the next corner).
After I bought and back to this bottle, on the morning just after my first return, I did not feel so much irritation, I felt my skin is calming down and getting smoother and smoother 🙂 Hope there are no trouble!!!
Please check the latest price, and order from here: "Albion Excia AL Renewing Line"
Compering Renewing Rich Milk SV VS Extra Rich Milk SV
I (Cherry) was surprised to find I did not compare Excia AL Renewing Rich Milk SV and Extra Rich Milk SV.
Anyway, let me compare them.
Both are oilier products. I lOVE quality of  Albion Milks, but the biggest con is the very perfume. Excia AL is better than others, for me.
I do not find quite big difference between Rich Milk SV and Extra Rich Milk SV themselves.
Textures afterward both sides of my face, I felt Extra Rich Milk SV is oilier than Rich Milk SV, but I did not feel it was a significant difference.
If you are wondering whether Rich Milk SV or Extra Rich Milk SV, if you feel your skin is dry, maybe both are better, but if you are also feeling you need oil, try Extra Rich SV first, when it is too much, try Rich SV. Once Rich  SV is also too much, just too much, try Exage #3. When Rich SV is not only too much, but also slow to be smooth, try Infinesse, if you like its perfume, it can be better. If you dislike the scent of  Infinesse, try Exage #2.
See also:How to choose Albion Exage, Infinesse and Excia AL?
Please check the latest price, and order from here: "Albion Excia AL Renewing Line"
Selection Kit
Every Sep, Albion sells Albion Excia AL Milks with special kits (with less information ), and the price is the same with original one bottle only.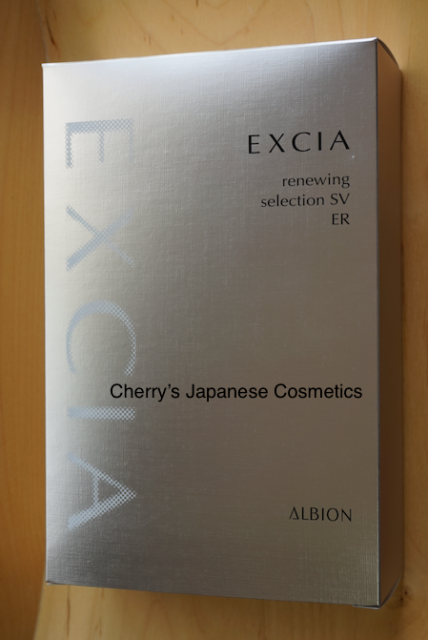 This quite valuable kit is known for the Excia AL users, not not pretty much announced loudly. Basically, this is pre-order only. When you order this Excia AL Renewing Milk, both Rich Milk & Extra Rich Milk, as long as the stores have, we will send you this selection kit version. PLEASE DO NOT ASK US whether we can obtain this for you, after September 15th.
Let me show you the inside of 2015 as example.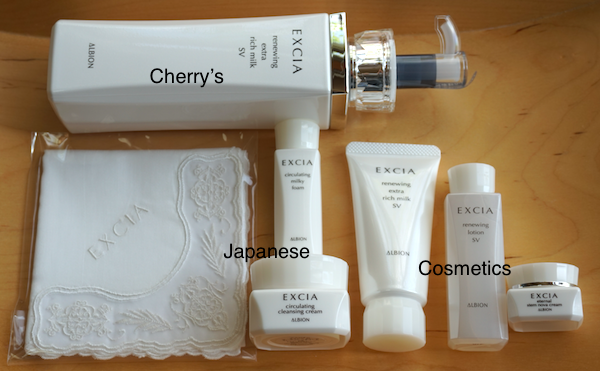 Sep 2015, I bought Albion Excia AL Renewing Extra Rich Milk SV for me.
Excluding the original Renewing Extra Rich Milk, they are included for 2015.
・Circulating Cleansing Cream 20g (Makeup Remover)
・Circulating Milky Foam 20ml (Face Wash)
・Renewing Extra Rich Milk SV 35g (Emulsion)
・Renwing Lotion SV 35ml (Lotion)
・Eternal Stem Nova Cream 5g (Face Cream)
・Handkerchief
That Handkerchief is often changed to a poach or a cotton box.
Please check the latest price, and order from here: "Albion Excia AL Renewing Line"