Awake changed the formula in Fen 2018.
Awake Mineral Hot Cleanse is changed to Awake Hello Clean Double Cleansing Jelly. This is a gel makeup remover with warming function. I got a sample, and let me tell you how I felt.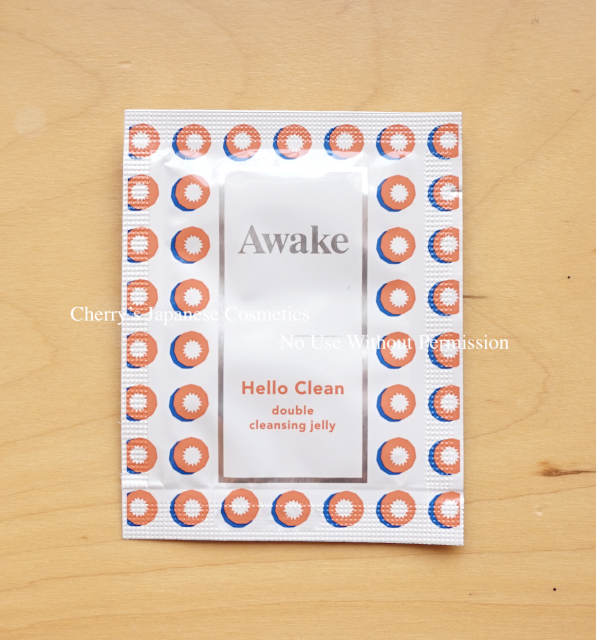 I believe removing your makeup is one of the important steps for keeping smooth look. This is the reason why I often show you my review of makeup removers.
This Awake Hello Clean Double Cleansing Jelly is a gel type, and it has a function of warming your skin and open your pores to remove your dirt. This is the reason why Japanese reviewers are thinking this remover is good.
Anyway, let me share with you my experience with this product.
They are my daily makeup.
It is 1/3 of the package, I guess the makeup is almost 1/3 of when I wear on my face.
It is really, really sticky, and dragged the surface of my face. It is not great. After my first touch, this remover did not remove anything, but after few touches, it could not remove even the powder (SUQQU Eyeshadow). I added more to remove, this is the site of the center. The final is just after my giving up, but you see there are slightly left of SUQQU eyeshadow and SUQQU lip. You may see the drawing of THREE eyeliner, and you see significantly the Coffret D'or is left.
Yes, it was not good at removing my waterproof makeup. Also, they claims that you have no need to use your face wash, but after rinsing by warm water, they were left. And finally I could remove with using my regular makeup remover of THREE.
I could not feel it is warming so much. It felt as of it is getting warmer, but actually it is not so much.
I used other package on my face. My face is sensitive than my arms. I had learned this is not good at removing my waterproof eye makeups, I used the day I just used sunscreen, foundation and powders. I also did not feel my face is warming.Un like the previous formula of " mineral Hose Cleansing Gel", I did not feel anything sting in my eye water lines and lips.
If you use waterproof makeup like me, I guess this is not for you.
It has a good reputation among Japanese reviewers, but for me, as the same with other warming gel makeup removers, they are the worst makeup removers I had ever used, in person. There are many nice makeup removers, I do not choose this kind of makeup remover for myself.
Also, It has a herbal scent it reminds me tooth wash.
Wanna try? I can not stop you, of course.
I wanna say again, there are no perfect cosmetics for any of the person. This is not for my preference, but it does not meaning it is bad for you.
Check the latest price, and order from here; "Awake Makeup removers and face washes"