I (Cherry) got a sample of Cosme Decorte Cellgenie Cleansing Oil.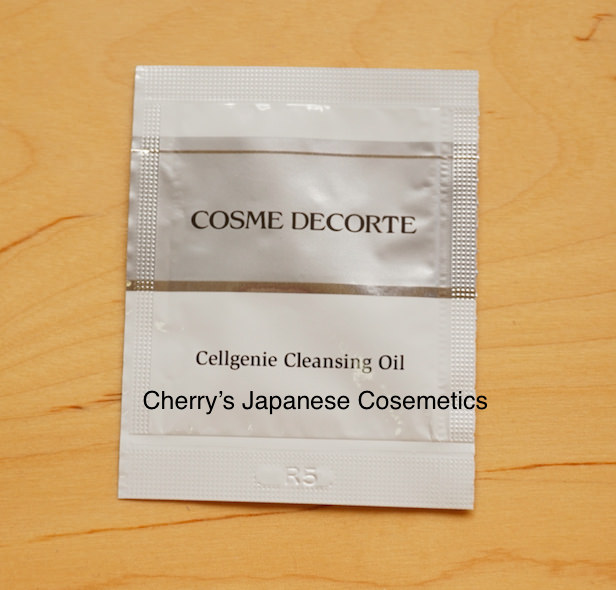 Let me share my review with you.
My makeup on my arm are below.
RMK Gel Creamy Foundation #103
RMK Lip Jelly Gloss #03 Baby Blue
CHICCA Mesmeric Lipline Stick
Letters: Coffret D'or Super Sharp
You will see the liquid on my arm, this is this makeup remover by Cosme Decorte. It is really runny, aka light texture of oil.
I found something nice scent, maybe herbal, it is so posh and gentle. I know someone who do not like herbal smell, this is not for you.
I had used many makeup removers, and there is a tendency: Oils are quick to remove even waterproof makeup, Creams are less quicker than oils, but they also remove waterproof makeup, Gels are quick, but not good at waterproof makeup, They say milks and waters are "gentle", but they are bad at removing makeup at all.
I had expected it is good at removing waterproof makeup, I mean in this time the eyeliner of Coffret D'or Super Sharp.
This cleansing oil was more than I had expected. Look!
I touched my fingers on my arm just few times. Wow!
I wiped by tissue really softly.
Removed really soon! Great.
When I applied this on my face, I was satisfied with it removes so quickly my waterproof makeup like eyeliners or mascaras.
But I need to note one point. It was really greasy, hmm, how to say, it was not pretty much oily greasy like cream makeup removers, but somehow slimy to touch. I did not feel my skin just rinsed by water was dry, but I NEED wash carefully by my face wash. This greasy thing was removed quickly by my face wash, but it was not nice.
Totally to say, this makeup remover is so good at removing waterproof makeup items, but not for my preference.
Please check the latest price, and order from here: Cosme Decorte Cellgenie Cleansing Oil, or in JPY Branch!