Hello. I (Cherry) am writing this article with hesitating.
I decided to start a new project: Beauty Diary.
As I can I will take a photo of my bare skin, to record. I guess it maybe at least once/ twice per a month.
Let me tell you what happened to me in  this few days.
Why I took my selfie?
I am editing what Lukin (American Girl) is written and took photos for review Albion Gel Mask Foundation #010. She wrote pretty a lot, and gave us lots of pictures. I was reopened my eyes. I just told her that write what she wants to know about foundations. She took photos of her cheeks. She hesitated to send those photos, and I asked her to send me many times.  On that time, I also thought you wanna know how foundations covers, or not.
There are both customers looking for sheer coverage and full coverage foundations. It is true that perfectly flawless skin is nice, but it also makes you look "perfectionist", in both good and bad meaning. When I go to "battles", I try to do that. Makeup is also a weapon at least my own psychologically. I need concealers and full coverage foundations. When I wanna make myself look "friendly", I do not try to hide everything.
Anyway, what I wanna tell you is, I also need to show you my problems in bare skin to write better reviews for the person who are looking for foundations.
I took a photo of bare skin. It is the very what hit my heart.
Wanna see? At first I tell you, It is quite ugly, and I had not recognized this condition.
1st of Sep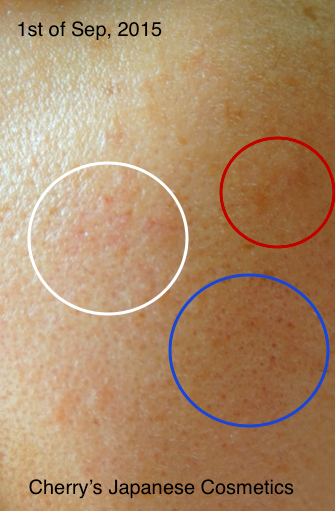 White circle is what I wanted to show you, originally. If you had checked my reviews loyally, you may remember I had really bad skin condition in this Spring (often happen to people in Japan), and my skin condition is better but still there are some red parts are remain, I afraid that they are coming to freckles. That problem part is this area of circled by white.
I also found circled by red. It is my side face area and in my eyes, I could not recognize it. I could see this lightening and photo. I need to do something.
Circled by blue, where is looked like big and pores opened widely. In my eyes, they are not "pores", they are rough skin and uneven skin torn, I guess.
What made shocked me pretty much is totally uneven skin torn and quite rough skin. What happened? It is last year, I met a person who I know, and it is the first time in this 5-6 years. She told me that "You are a person who from the past. Why you can keep looking like when we are students?" My youth looking might be gone with the wind in this Spring.
Reasons I guess
There are some reasonable reasons.
PMS: moody and feeling, less sleeping, feeling bad… they are my PMS. All of they are positive to make my skin bad condition. You can see something is coming to Acne… 🙁
Stomachache: I do not the reason why, the day after I played around in Tokyo, I writhed in agony, and got dehydrated because of stomachache. I could not drink anything, and was line dropped. After that, still my stomach condition is not pretty good, and also got PMS, I feel as if I am a powerless. Stomach condition often effects to skin condition. Yes, this is a super positive to make my skin this super bad.
Sudden change of seasons: It is this 2015 that we have quite wired whether in Japan. Super cold June to mid of July, super heat in late July to mid of Aug, and the end of Aug to early of Sep, it is already Autumn. I am an Asthmatic and those sudden change can cause my health worse.
Insomnia: I have struggle with this for since I am a kid. It was super bad in performance in daytime too. I can not help it.
Yeah, because of my PMS, I am feeling moody, and this picture made me super moody. I could accept your orders, ordered to the stores, and shipped to you, but that's all what I could do excluding daily routine.
Do I need to visit my dermatologist again? Hmm. Japanese hospital system is still working well for me, and not need to pay pretty much. I do not hate hospitals & clinics, but I do not love to go.
Try to help my self
You know, there are some reasons what I am guessing above. There are things I guess I can do. If you know me in person, I am basically positive person. (When I am tired or moody, I am a super cynical critique. )
Vitamin C: We often have orders of custom order of Cystina C. It is just a Vitamin C & B6, they can not bad effect, and Vitamin C will help my skin condition better. It is a time to try by myself!
Lactobacillus: It is for my stomachache. My problem is on colon. My doctor gave me lactobacilli and helped me pretty well. I checked what he gave me, and it was mainly by Lactobacillus Bifidus. There are famous Lactobacillus Bifidus, Biofelmin. I also bought it in a drugstore. You wanna try it? Hmm. It will be much difficult than Vitamins. Check your countries customs by yourself, and when you find it is OK, ask us in your own risk. We can not help you.
Moist Care & Brightening: This is the very cosmetic area. Albion Excia AL Whitening Extra Rich Milk SV helped my skin condition better in this Spring-Summer. I bought it again and again in this season(!!!), and I will try new Albion Exage Milk, and mainly I will go to change Whitening Milk to Albion Excia AL Renewing Extra Rich Milk SV on the end of this Month. Because of my budget, it is difficult to switch everything to the Excia AL, I am using Fancl Whitening (2 Moist) Lotion & Emulsion too. Hope they will work to bring me back my better skin condition!
Balanced Diet: I like eating fruits/ vegetables. I must get more and more balanced diet. Oh, please do not teach me which foods are good or I should not eat something etc. Those are unwelcome, and it is not the place to talk the reason why I dislike hearing those things.
Hope they will work for me well!