Cherry's foundation for Summer 2018
In 2018, there are many foundations released and changed the formula, like THREE, SUQQU, and Albion. Generally they are too sheer and super light, it is the trend of 2018. Indeed in person, it is not so much fantastic for my preference. (Among the three foundations, I liked Albion, but the scent is not for my daily using).
I reminded RMK UV Liquid foundation released 2016 (and changed the figure of the bottle on 2017, as I remember) was not pretty bad. I chose RMK.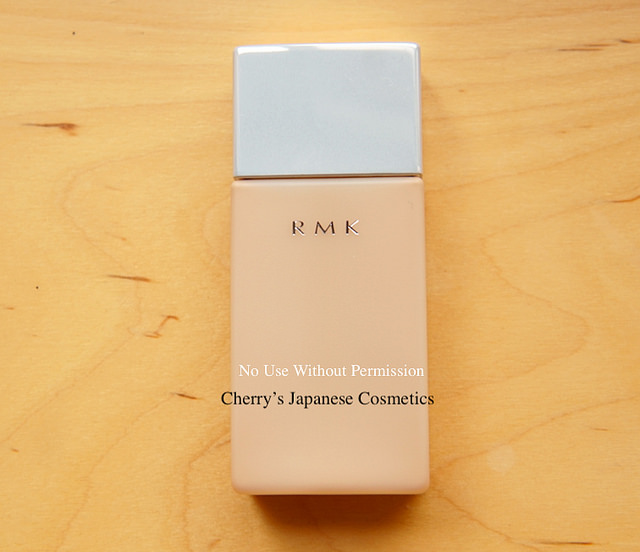 See also: Ingredients
On the counter, I checked the shade, and still #103L, mid of the shades of #102 and #103 is mine. Indeed in this liquid, there are no #103L. I chose #102, #102 and #103 are standard shades for Japanese.
This is "UV" liquid foundation, and it's sunscreen effect is quite fair, SPF50+・PA+++.
It is runny, and shake the bottle well before using. There is a metal ball to mix the foundation well.
There is swatch with other RMK foundations.
UV Liquid Foundation is sheer finish.
I like foundations natural to matte finish, and medium coverage, for my preference, this is too sheer coverage. But it is a trend of 2018. Use something good covering primers. It has good sunscreen effect, you have no need to choose sunscreens as primers.
And of course this is RMK, there are no perfume in this foundation.
It is getting warmer, no hotter and hotter, I walked almost 2 hours or so with this foundation, and I need to say, it was run out by my sweat. But it can be because I sweat a lot, and it is humid, not pretty much humid like in Taiwan or in Hong Kong, it is humid in Japan.
I guess with the combination with the primers, the lasting can be changed.
Totally to say, if you are looking for something sheer coverage foundations, with strong sunscreen effect. If you do not sweat a lot, it can be better lasting (than me), I am sure.
Please check the latest price, and order from here: RMK UV Liquid Foundation, or in JPY Branch.
Review by Hazelnuts, 2017
This is my review for the RMK UV liquid foundation. I have a sample and the shade is 102.
I immediately noticed its texture. It's lightweight and very easy to apply on the skin. I have combination/oily skin to begin with, so I appreciate this kind of texture. It blends seamlessly and looks very natural on my face.
There is a slight creaminess to it as well, allowing it to blend smoothly on the skin. It is lightweight, a bit runny, but still creamy. It covers pores, redness and other minor imperfections, while maintaining a natural look. However, it will not cover dark marks or pimples. I would say that the coverage is light to medium.
I find that after wearing this for a few hours, the foundation slightly fades, especially on my forehead which is prone to sweat, so I do not find this foundation to be particularly long wearing. However, wearing make up base or primer helps to extend the wear time of this foundation.
I would say this is a good foundation for anyone with oily skin who would like to enhance their complexion. It looks very natural while covering minor skin issues. The SPF 50 is a good addition as well. It is lightweight and the coverage is sheer to medium, while providing a natural look and smooth finish.
Please check the latest price, and order from here: RMK UV Liquid Foundation, or in JPY Branch.