Albion Excia AL WHITENING IMMACULATE ESSENCE IDD is a new formula for SS2016. Previously, the product was known as Whitening Immaculate Essence EX and was frequently ordered.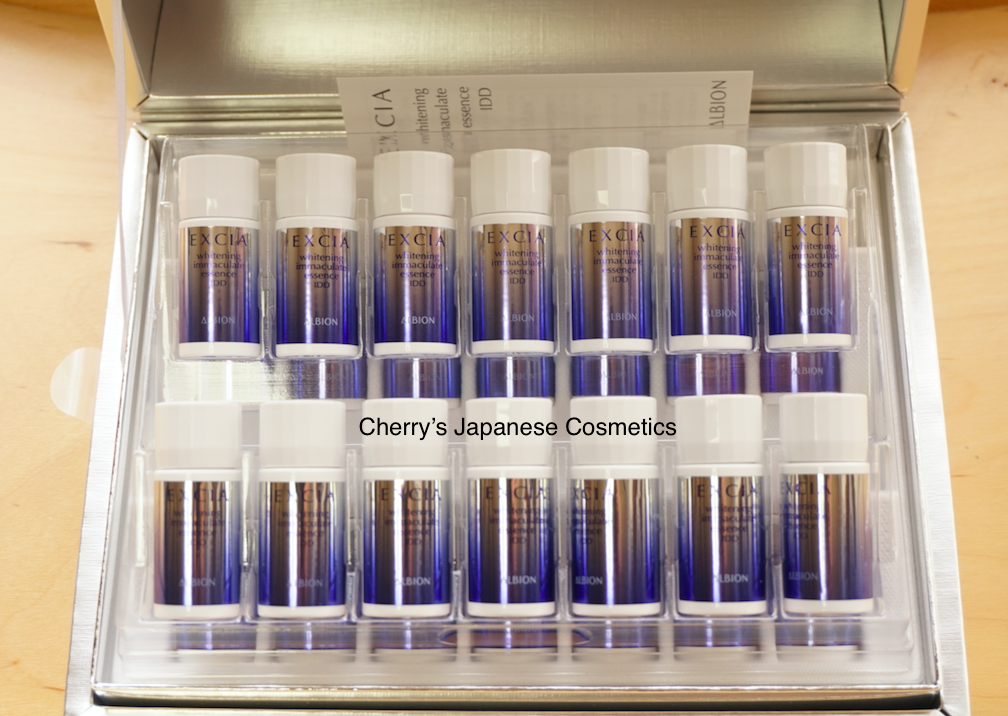 It seems "IDD" is from Kojic Acid IDD, but please do not ask us for more details. According to Albion, it is an ingredient for brightening.
The liquid is creamy emulsion.
How to use
Please check the product page and you will find the product is in, 28 small bottles. To get the best brightening effect for your skin, use one bottle a day for a 28 day cycle.
The liquid is creamy emulsion.
Pour first half (of the bottle) into palm, apply to face, massage 

until set

Pour the rest into your palm, apply to face, massage again

Finally, wrap your face with hands and gently pull up your facial 

skin to smooth and fix
I recommend using a mirror while applying and as it sets. If not well massaged, you may see residue as white film. I will tell you about this below of the article.
How Cherry Felt?
I got some samples, of course not for 28 bottles. Some people will use this product when their skin is tired and needs a boost. Many people use this product every day for 4 weeks, as Albion recommends.
When I used the first sample pack, my skin condition was quite good. The product was perfumed but not as strongly as other products in the Albion brand. This was the first good point. I did not feel any stinging.
When I opened the second sample pack (last night), my skin condition was bad. I was not sure about using unfamiliar products. I did not change my skin care routine from what I used when my skin was in good
condition.
I have tried new products before, and the products in Excia AL line have not harmed my skin in the past.
Last night, my skin felt tired.
Well, I am satisfied that my skin is still supple. But now, my skin feels tired and rough, and acne broke out the skin around my mouth and chin.
I did not change anything (lifestyle, foods, skin care and makeup, etc) from when my skin condition was good.  It seems it is a monthly occurrence with my period.
I need to admit I did feel something painful on one cheek. It was a pin-pointed sting, so maybe there it was a pimple or something but fortunately, it went away quickly. Of course I did not use this product around my mouth and chin because there was a bit of acne and a few beneath the skin pimples.  I used other products for Acne Care in those areas.
I massaged my face (with first half, and second half),  without mirror in this time. I felt my face was becoming smoother, and "supple". I felt my face line was pulled up.
This morning when I awoke, I just I "felt" my skin condition was better than yesterday. This may have been because I was able to sleep longer and feel rested.
White Residue
But there was one bad point: white leftover film.
Last night, I did not use a mirror. I must not have massaged the product into my skin enough because when I touched my face, there was a white film on my hands.
This is why I recommend applying this when you can see a mirror and be sure you massage it in well.
Checking other people are saying
In person, I don't feel it is working very well for brightening. It maybe I had used only few bottles.
I looked to see what other Japanese reviewers are saying. Some reviewers said that their skin was brightened after using the first bottle. Simply I envy them 🙂
The way of the repeater of IDD
According to the regular user of IDD, she uses this product as a special booster for her skin condition.  For example, she uses it when her skin feels tired or before an important meeting, etc…
She uses the product in a unique way. She uses 2 bottles for 3 nights.
 For the first night, she uses the one bottle, then she closes the 

cap again, and places the bottle upside down

On night two, she uses the one bottle, then she closes the cap 

again, and places the bottle upside down

On the third night, she opens both of the opened bottles and uses 

all that has drained to the top of the bottle
Because the "liquid" is really creamy, after finishing one bottle, almost of 1/3 of the quantity is left on the bottle after being stored upside down. That amounts to about one full bottle when the two
remaining bottles' content are combined. This product is something she can afford but it is not cheap. So
there is a cost savings and the 3 nights method is fitting for her skin.
Please check the latest price, and order from here:  Albion Excia AL WHITENING IMMACULATE ESSENCE IDD, or in JPY Branch!