I (Cherry) bought Fancl Botanical Force Essence Washing Foam it on 2015, and AW2017, they changed the formula and design.
Let me show you how I felt.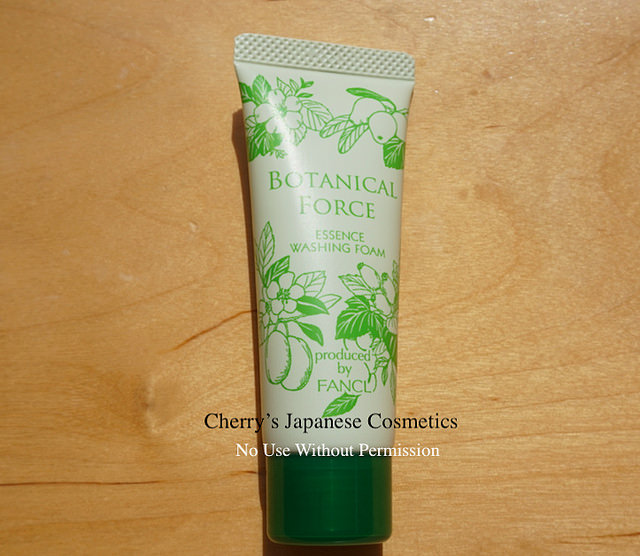 I often use other brands, but Fancl is the brand what I return to, they are generally friendly for sensitive skin. Indeed this Botanical Force is a kind of, stronger & lighter.
I used cold water. Yeah, it is not pretty good to make rich bubble. But see this! Guess this is enough.
Those rich bubble will help you to wash your dirt gently. Do not try to touch your face by your hands. Keep bubble as cushion between your hand your face.
I dislike perfumed products, but I love scent of essence oils. When I opened the tube, I found there is a  scent of Lavender. Hmm, it is not what I am loving.
I had thought this may good for me, when I rinsed well,  sadly I found my skin is dried. This is too strong for my skin now. It is the same with the previous formula, what was really good to using this on Summer.
Please check the latest price, and order from here: " Fancl Botanical Force Line"
Review by Sarah Written in 2016 (Previous formula)
I had not used foam for many years and honestly I was not very sure if I could use it on a day to day basis given my dry and sensitive skin. What I knew was that foam tends to wipe off more oil from the skin which could cause acnes and other conditions.
Anyway, I am up for anything that looks botanical.

The foam has a nice scent.
Thanks to Cherry's kind 'teaching', I could get foam much more easily.
The foam feels smooth. The effects are quite amazing- my skin feels not too dry but absolutely very clean. I would even say my skin becomes smoother after the wash.?
Because I was concerned about the dryness it might bring I decided to try it once every day for a week before reaching my 'verdict'. Not bad at all especially given it's now autumn (quite dry in Hong Kong). I would say it'd be perfect for summer days, and it can be used in moderation in autumn. It could be too dry for winter for people with a similar skin type.
Note by Cherry
I need to admit it is not pretty easy to earn the foam. But Sarah!! RUB, RUB, and RUB!! 🙂 But all have the preference, and if you are happy with this, where is the problem? Never!
Anyway, here is a guide to earning foam 🙂
How to earn foam for your face wash?
And the climate of Hong Kong.
I know you the audience is from all over the world. I know some of you are from Hong Kong, the other is from Northern Part of Canada. She said it is quite dry in Hong Kong, but it is still over 25C degrees in Oct, and sometimes it is 30C degrees 🙂
It is her Autumn, but it can be different from your Autumn (it is far from Autumn in Japan).
Sarah, Thank you very much!
Please check the latest price, and order from here: " Fancl Botanical Force Line"
See also these articles for Famcl Botanical Line: