Shiseido Anessa Essence UV  Mild Milk is a sunscreen for sensitive skin (the blue bottle), new for SS2018.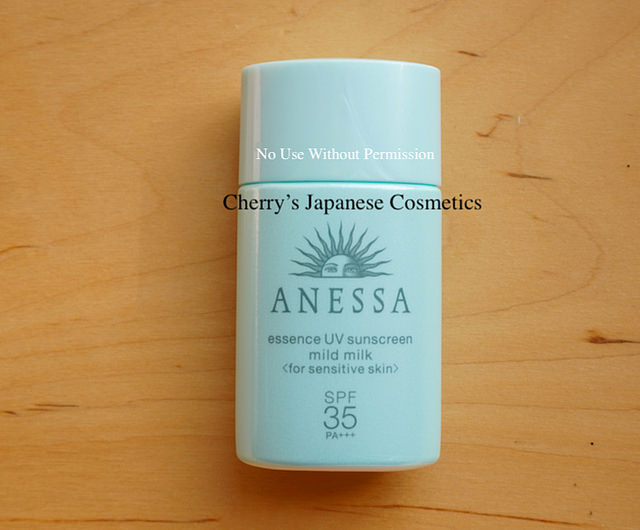 I had experienced with the previous formula, Anessa Essence UV Aqua Booster Mild, the white bottle.
In my experience, there are no such big difference between this new blue bottle and previous white bottle.
This sunscreen is waterproof & Aqua Booster, no perfume, no ethanol, no mineral oil, and designed for sensitive skin/ babies.
Note: if you have a sensitive skin, this product is claimed as "for sensitive skin", but it is not always meaning there are no harm for you. When you find something strange on your skin, please stop using.
And the same as the previous formula and the current formula, I am feeling it is much better texture and finish than the "Perfect Mild" product, what is (I guess) one of the best seller for last year. Please let me tell you with comparing.
Let me apply on my arm.
Essence Mild is a gel / milk kind sunscreen. Perfect Mild is "milky", and this Essence Mild is "gel".  I felt other "mild" like in Anessa (Anessa Perfect Mild) is oily product, and compared with that sunscreen this Anessa Essence Mild is less oily I felt. But I never say this is not oily product.
If you are an oil prone, this may not for you, I am sure.
Let me show you the picture I shot after blended first. There are some sunscreens make my skin white, but there are no such effect.
I admit it Perfect Mild side was a little bit easier to be white, and greasy. Can you see the texture from both? Probably not.
OK, here you are. I dropped the sunscreens and spreading on my arm.
Essence Mild is light gel.
I could remove really easily by my face wash (Albion Excia AL Cell Clarity Milky Foam).
Applying on my face, currently my skin is not damaged yet. Last year when my skin was damaged (due to the season), and there were no sting (of course I mean previous formula). Other Anissa, especially  "Anessa Facial" is a nice sunscreen, but the problem is its perfume. The good thing go this Anessa Mild line, there are no perfume.
In person, guess SPF35 and PA+++ is not for Summer, but for Winter. (I do not do winter sports.)
If you are looking for something weak sunscreen without sting nor perfume, it can be a try worth.
Please see Anessa what we can deal now from here: "Shiseido Anessa"