In SS2021, Shiseido changed the formula of Shiseido Anessa Moisture UV Sunscreen Mild Milk a to Anessa Moisture UV Sunscreen Mild Gel N.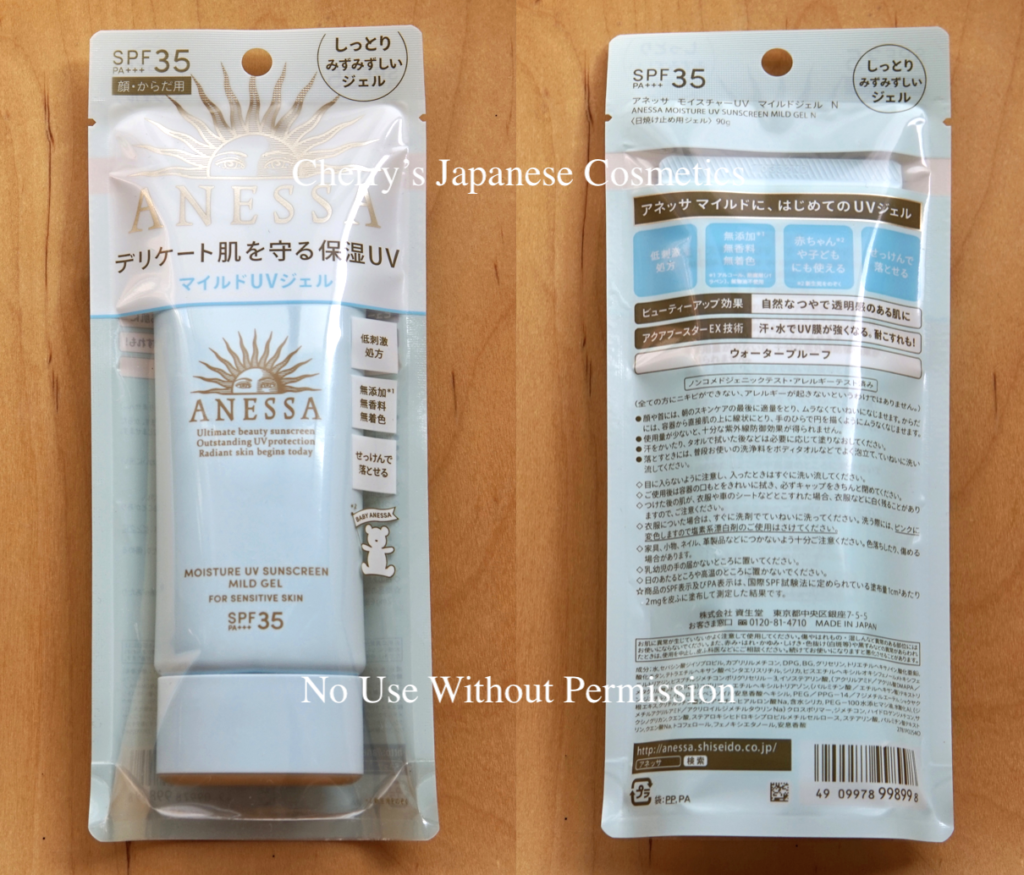 As the same with the previous formula, we are able to deal it. (There are many sunscreens we are not able to ship due to the postal and aviation regulations.)
In this product has a name of "N", and it is often given for the products what formula is newly changed. But this Mild Gel N is the first generation what is the gel product among "Mild" line. This line was called as "Baby Anessa" long ago, I had repeated it, and it was neither cream nor gel, but milk. I guess it is fixed to "Anessa Perfect UV Mild Milk N", and easy to understand people what is released on 2021.
In 2021, they do not release the small bottles, I bought the full size.
The formula of 2021 is "Gel", not liquid.
I know still some stores are selling the old formula. We really pay attention to buy current formula.
In the most gentle product among Anessa in 2021 is "Gel". This blue tube is the newest in 2021.
Because the package bag as show you, we are not going to seal by ourself. I don't think there is a possibility of leaking while air shipping to you.
How I felt
In SS2021, I am NEITHER going to buy other Anessa NOR new Allie products, then there are no comparison.  I know some of you are waiting for my new comparison, but new Allie are with cheap perfume, and I dislike those. Also it is big enough, and I have not a good experience with Anessa Perfect UV Mild Milk line, it is too greasy for me in past two formulas. I don't want to buy those products for this year.
Here you are!  Anessa Moisture UV Mild Gel N on my arm.
This sunscreen is waterproof & Aqua Booster EX, no perfume, no ethanol, no mineral oil, and designed for sensitive skin/ babies.
Note: if you have a sensitive skin, this product is claimed as "for sensitive skin", but it is not always meaning there are no harm for you. When you find something strange on your skin, please stop using.
My current skin condition is drier, and slightly damaged. I trust Anessa Mild line, I have never feel stinging with using this line. If you are an oil prone, this may not for you, I am sure.
Also, it does slightly change my skin tone, but I don't think you can find in the picture. It is SPF35 with waterproof. I sprayed Avene Water, to show you how it is waterproof. Guess it is enough.
I could remove easily with my daily face wash routine.
In person, guess SPF35 and PA+++ is not for Summer, but for Autumn to Spring. If you enjoy Winter Sports, I recommend to wear SPF50+ and PA++++ products.
If you are looking for something weak sunscreen without sting nor perfume, this  Anessa Moisture UV Sunscreen Mild Gel N can be a try worth.
Please see Anessa what we can deal now from here: "Shiseido Anessa"