In SS2020, Shiseido changed the formula of Shiseido Anessa Essence UV Sunscreen Mild Milk  to Shiseido Anessa Moisture UV Sunscreen Mild Milk a.
As the same with the previous formula, we are able to deal it.
In 2020, they do not release the small bottles, I bought the full size. I have many sunscreens now, I may use them in one entire year :).
Please pay attention to find out "a"
I know still some stores are selling the old formula. We really pay attention to buy current formula.
In the package design of the formula of 2020 are here. Please check whether there are "Shiseido Anessa Moisture UV Milk Milk a" or not. It will be described on the package back side.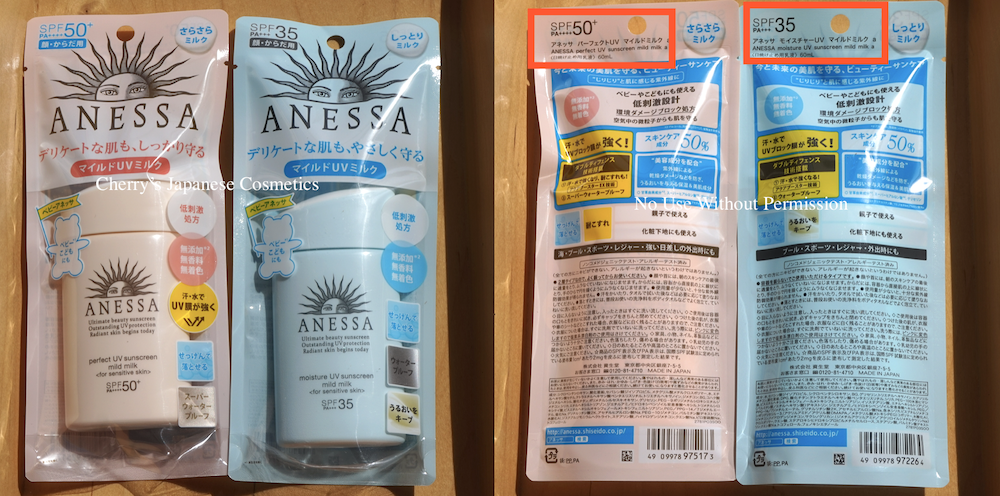 There are also the bottles design. Please check there are "a" or not, it will be described on the back of the bottle.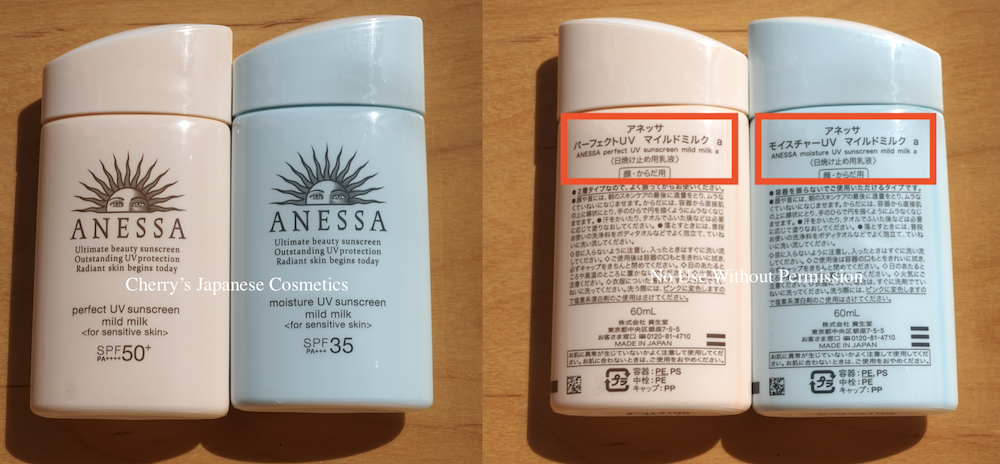 How I felt with comparing Perfect Mild a
I had experienced with the previous formula, Anessa Essence UV sunscreen Mild Milk (the blue bottle) or  Anessa Essence UV Aqua Booster Mild (the white bottle).
In my experience, there are no such big difference between this new blue "Moisture Mild a" and previous formulas.
This sunscreen is waterproof & Aqua Booster, no perfume, no ethanol, no mineral oil, and designed for sensitive skin/ babies.
Note: if you have a sensitive skin, this product is claimed as "for sensitive skin", but it is not always meaning there are no harm for you. When you find something strange on your skin, please stop using.
And the same as the previous formula and the current formula, I am feeling it is much better texture and finish than the "Perfect Mild" product, what is (I guess) one of the best seller for last year. Please let me tell you with comparing.
Let me apply on my arm.
Moisture Mild a is a gel / cream kind sunscreen. Perfect Mild a is "milky". Also, the texture of Moisture Mild a is "rich", and the Perfect Mild a is greasy. Comparing with the Perfect Mild a, this Moisture Mild a is less oily I felt.
After few mins later, both are smooth, and I feel the Moisture Mild a is more well moisturized. But I never say this is not oily product.
If you are an oil prone, this may not for you, I am sure.
Also, both do slightly change my skin tone, they do especially in the heavier layer.
Also, they are not quite big different from what I remember about the "Essence UV" aka previous formula.
Moisture Mild a is a waterproof sunscreen, and the Perfect Mild a is a suprr waterproof sunscreen. Guess this Moisture Mild a is enough for using in Spring.
I could remove easily with my daily face wash.
Applying on my face, currently my skin is more of sensitive (due to the Spring). Both Anessa are harmless, and no stinging.
Also the good point of both "Anessa Mild" is no perfume.
In person, guess SPF35 and PA+++ is not for Summer, but for Winter. (I do not do winter sports.)
If you are looking for something weak sunscreen without sting nor perfume, this Anessa Moosture Mild UV a can be a try worth.
Please see Anessa what we can deal now from here: "Shiseido Anessa"