In SS2021, Albion changed their high repotted product of Albion Excia AL Whitening Rich/ Extra Rich Milk SV to Albion Excia Brightening Rich/ Extra Rich Milk.
I have ordered the Excia Brightening Rich Milk. I share how I felt with it.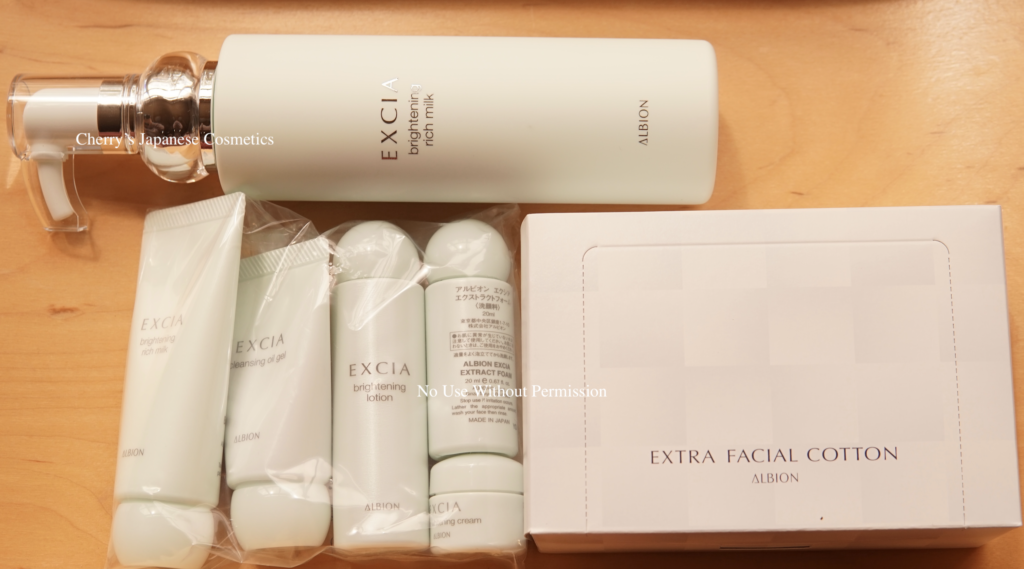 I do not want to spare my words about Albion's method again, simply, their steps are 1 Wash, 2 Milk, 3 Lotion, 4 "Wrap".
So, you need to apply this on your face just after your face wash. Albion recommends to use cottons. According to Lukin, an American girl, Albion cottons are unlike anything she had tried. See also: Albion Facial Cotton
It is the reason why Albion recommends to use this product that it "open" the route to pore your lotion, and with cotton, you can remove dirt left on your skin: not rinsed dust of face wash etc. But please do not misunderstanding, this is not a makeup remover. This product is moisturize your skin.
As I had mentioned many times, Albion milks are oily products. If you are prone of oily products, I do NOT recommend to use.
Guess you can choose this milk as your favorite quantity, but if you find something white dust or residue on your face, it means it is too much quantity for you.
How does it change from Albion Excia AL Whitening Milk SV?
I kept a sample of Albion Excia AL Whitening Extra Rich Milk SV, and a full bottle of its Rich Milk SV.
There are comparisons with previous formula and current new formula.
Shortly to say, they changed the perfume, but I did not find any difference with texture or lightness. It is true when brands/ makers change formulas, it is often happen to me that new formula is not for me, even the previous formula was great. Indeed seems there are no worry for me (in person), about new Excia Brightening. It is for me.
Among Extra Rich Milk
First comparison should be Excia AL Whitening Extra Rich Milk SV and Excia Brightening Extra Rich Milk.
According to the BC of Albion, "Rich Milk" is for normal skin, and "Extra Rich Milk" is for dry skin. I often choose "Rich Milk" for Summer, and "Extra Rich" for other seasons.
It changed the scent. The scent of new Brightening is quite similar – I don't say it is perfectly the same – with Excia Renewing line. I really like this new more natural and herbal sent.
I felt both are almost the same level of the lightness.
Among Rich Milk
Second comparison is among Rich Milk.
I am seeing previous formula is slightly yellow shade. I also like the scent of new Brightening Rich Milk.
I felt also both are almost the same level of the lightness.
How are they difference between Brightening Rich Milk and Brightening Extra Rich Milk?
It is true that Brightening Rich Milk is slightly lighter than Extra Rich Milk.
I could not find any significant difference. When you are using Rich Milk, and it is not enough for your condition, please add extra pushes. And when you are using Extra Rich Milk, and it is too much for your condition, I recommend to use less quantity.
You can choose as your favorite, up to your skin condition!
Me? It is really up to my skin condition. Usually I use one push on my hand directly. When I feel my skin is really dry, like when I was air conditioned room for whole a day, I use more than 3 pushes. But when I feel my skin is really oily, I do not use albion milk. It is a little bit "heavy" when my skin is turning to oily.
When I feel my skin is sensitive, I rarely use this milk. It is a good booster for my skin condition, but when it is turning to sensitive, it is not fit for me. I use medical creams (probably we are not able to deal them).
Please check the latest price, and order from here; Albion Excia Brightening Line
Comparison
Comparing with Albion Infinesse White White Pump Milk W
I felt they are almost the same texture, the different perfume.
I feel Excia is more creamy texture.
My skin afterward, to be honest, I could not find much difference between those two products, both I felt super comfortable, enough moisturized by water and oil, and smooth.
And the lifting, I did not feel so much big difference between two milks, on that time.
Of course I did not feel any stings, but if your skin is quite damaged, I do not recommend to use.
For me, these are not pretty much oily, but it can be because my skin is combination to dry now. If you are an oil prone, Albion is not for you.
Infinesse White is affordable price, but in person, I prefer Excia's perfume. If you are a person who does not care about the perfume, and seems it was a person who asked me the difference between Infinesse White and Excia Brightening, she/ he is an Infinesse user, and satisfied with Infinesse, I do not think s/he does LOVE Excia.
And in addition, the brightening factors are different. Which do you prefer? Niachinamide? orTranexamic acid ? In person, I do not feel any brightening effect with both of them 😀
I choose Excia due to the scent.
With Exage White Rise Milk #02
The regular quantity of Albion milks are 3 pushes, and guess in the sample package there are the same quantity with pushing the bottle 3 times.
I am feeling Excia Brightening Rich Milk side is richer than Exage White #02. Indeed I NEVER recommend Exage White Rise Milk #02 is for oil prone.
Please check the latest price, and order from here:
Comparing with Cosme Decorte AQ Whitening Emulsion.
Afterward of my using, I felt the AQ Whitening Emulsion side is smoother and lighter. I felt if you are a person who feel Excia Brightening Rich Milk is too rich, I guess this AQ Whitening Emulsion is worth a try.
I say again, even I felt this AQ Whitening Emulsion is lighter than Excia Brightening Rich Milk, Cosme Decorte is a brand with oil. If you are an oil prone, this is not for you, I know.
Comparing with Ignis Whitening Milk #1
I am feeling Ignis side is lighter.
Comparing with Cosme Decorte Lift Dimension Brighten + Plump
Emulsion
Cosme Decorte Lift Dimension Brighten Plump Emulsion also has two types, and I compared them with lighter among both.
I had expected Excia side would be more moisturized. It was a kind of shocking that I felt Excia side is more more lighter than Cosme Decorte side. When you feel Cosme Decorte Lift Dimension Brighten + Plump Emulsion is too heavy for you, Excia Brightening Rich Milk is better for you, or apply less quantity than you are using.
Also, you can compare them with brightening factor is your preference.
Excia is Tranexamic Acid, and Lift Dimension Brighten is L Ascorbic Acid 2-Glucoside. I preferTranexamic Acid.
Please check the latest price, and order from here:
How other people said?
Lukin described for the previous formula: Excia AL Whitening Extra Rich Milk SV
Because I am still learning about Japanese skincare, I finally understand that using the milk first and then following with the lotion "locks in" the moisturizing and whitening benefits of the milk.
I also use this lovely whitening Extra Rich Milk when I am applying my makeup in the morning. Sometimes I am in a hurry and use too much powder or am not careful when applying concealer. The Milk is perfect to smooth out my mistakes. A tiny drop or two on my fingertips and I can "pat away" the cakey look of too much base product.
I have experimented by using the Extra Rich Milk without base makeup. I LOVE the way my facial skin looks after I apply the Milk and nothing else. It looks very supple and moist ? it does not feel "tight" like some "firming" products feel. However, I do need coverage for my sun spots and old blemish spots, so the ingredients to suppress melanin production are perfect.
Lastly, the Extra Rich Milk is for normal to dry skin. I believe there is a Rich Milk, which is better suited for oily skin. During the warmer, summer months, I needed a little less Milk. With the cold winds beginning soon, the Extra Rich is just what I need.
Bottom-line I recommend Albion's Excia Whitening Extra Rich Milk SV. It plumps my skin and leaves it feeling supple and soft.
Thank you Lukin!
Review by Hazelnuts
This is Albion's unique product which is designed to replenish skin's moisture levels after washing, and is applied before lotion/toner.
I was skeptical with this because of the mineral oil content, and I was afraid of breaking out. But thankfully I didn't experience any weird reaction while using this (and I'm still using it now!)
The moistness is just right, I apply less than the recommended amount (which is 3 pumps) to suit my skin's moisture levels. I use cotton to apply this, and it doesn't feel greasy at all and is absorbed quickly. I like the way my skin looks after applying this milk, because it completely eliminates dryness and I don't have that "tight feeling" after washing my face.
Using Excia Whitening together

What I like about these products is how they work together so well. I'm exposed to UV rays all year round and even if I use sunblock, I need all the help I can get!
I could see how it brightened my skin after only a few uses.
When I try out new skincare products, my face would "adjust" and I get little bumps here and there, but I did not experience that with the Excia Al Whitening. It kept my face smooth and moist, and I love how bright my skin looks even without makeup. I highly recommend this line to anyone who wants to moisturize and brighten their skin.
Thank you Hazelnuts!
Selection Kit
Every March-April, Albion sells Albion Excia AL Whitening Milks with special kits (with less information ), and the price is the same with original.
This quite valuable kit is known for the Excia AL users, not not pretty much announced loudly. Basically, this is pre-order only. When you order this Excia AL Whitening Milk, as long as the stores have, we will send you this selection kit version. PLEASE DO NOT ASK US whether we can obtain this for you now. It is hopeless the order is after April.
2021
They changed the formula in 2021.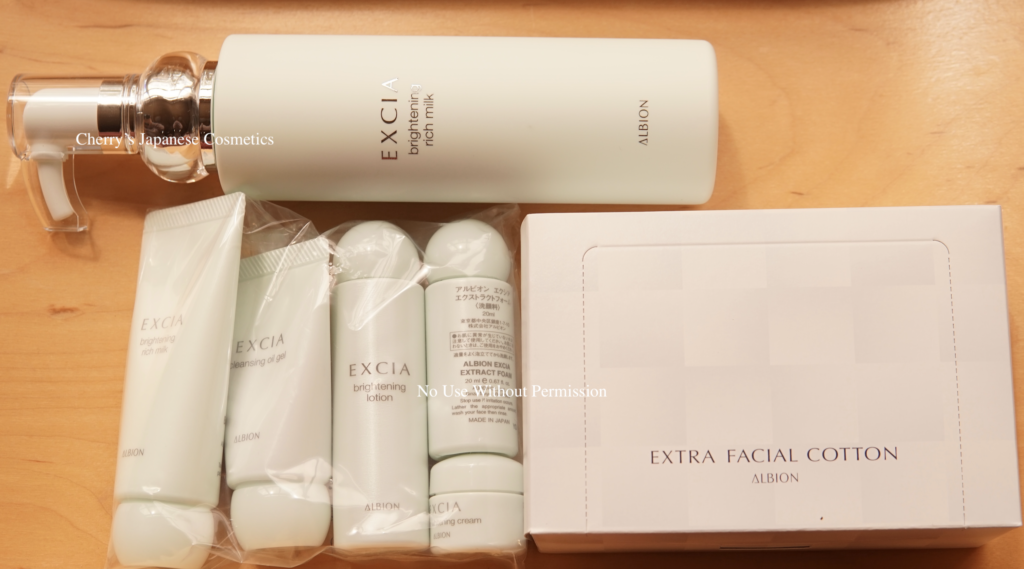 2018 to 2020 were with cotton box like 2015, as I remember.
2017
Here is for me.
The makeup remover and the face wash is changed the formula. And the extra gift is a cotton & linen pouch. (just a cosmetic cotton box is the best, in person!)
2016
Excluding the original Whitening Milk, they are included for 2016. (In this picture, it is Whitening Rich Milk SV, of course there are Whitening Extra Rich Milk SV package!)


・Circulating Watery Cleansing Cream 20g (Makeup Remover)
・Circulating Essence Foam 20ml (Face Wash)
・Whitening Rich Milk SV 35g (Emulsion)
・Whitening Lotion SV 35ml (Lotion)
・Whitening Eternal Stem Nova Cream 5g (Face Cream)
・Hair band
2015
Below is a kit for 2015. See, There is Extra Rich Milk 🙂
Please check the latest price, and order from here: Albion Excia AL Whitening Line
I often compare these milks with other products. Please see also them.