Review by Cherry
Seems it is a good product for Hazelnuts, but in person, I have a sensitive skin, and recently THREE Balancing line is coming to too strong for me. Natural or Organic does not meaning mild nor gentle.
When I visited a counter of THREE, kindly the BC made me up after removing my makeups. They used THREE point makeup remover for my eyes and this lotion to set. Sadly, I admit I felt irritation by both of the products for eye area. There are no redness nor pimples. Simply sting.
If you are thinking your skin is sensitive, it will be harmful for you, my recommend is Fancl. But if you have healthy skin, and looking for something eye care product, it may be try worth 🙂
Review by Hazelnuts
Hazelnuts of Philippines ordered THREE Greeting Kit, and she is sharing her reviews of the items each. In this time, she chose Three Balancing Treatment Eye Lotion, this is new product.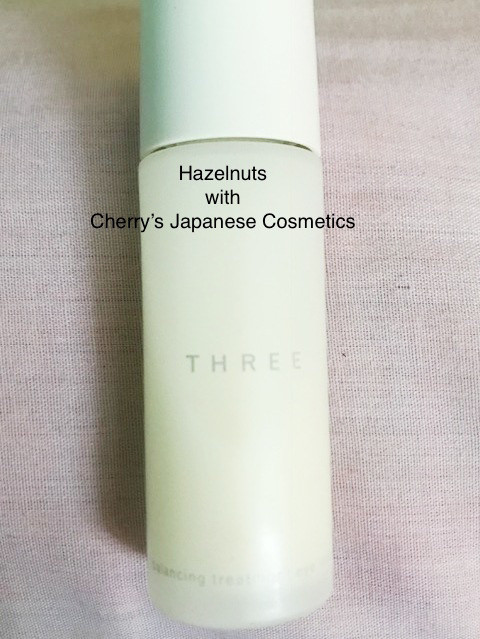 I would have to say that my main skin concern is my eye area. It's prone to premature wrinkles and such, and is usually where the first signs of aging show. With that in mind, I am very particular when it comes to eye creams and treatments. This is the first time I have used an "eye treatment lotion" so let me share what I think of it.
The THREE Balancing Treatment Eye Lotion is a dual-phase lotion, comprising of botanical oils and an "aqueous layer" of botanical water. It's like those bi-phase makeup removers, but this one is skin care.
It needs to be shaken well before use. I saturate a cotton pad with the appropriate amount, then apply on my eye area, "little by little" as the instruction says, so that it can penetrate well.
The warming sensation is not very apparent for me, but I can feel a surge of moisture when I apply this. The texture manages to be light, despite its oil content, it does work like a typical lotion.
The extra moisture is perfect, and I like the combination of this lotion and the eye cream. It's quite difficult to find a good eye cream that works, and for someone in her 30s, I find that any kind of moisture boost helps, as it does minimize roughness and keeps the eye area looking smooth. I'm not sure though if it helps in firming over time, but it's a good addition to my eye area regimen.
Thank you Hazelnuts!
Please check the latest price, and order from here: "Three Balancing Treatment Eye Lotion " or in JPY Branch