Albion changed the formula of Albion Infinesse White White Surge Solution CF to Albion Infinesse White White Surge Solution W in SS2022.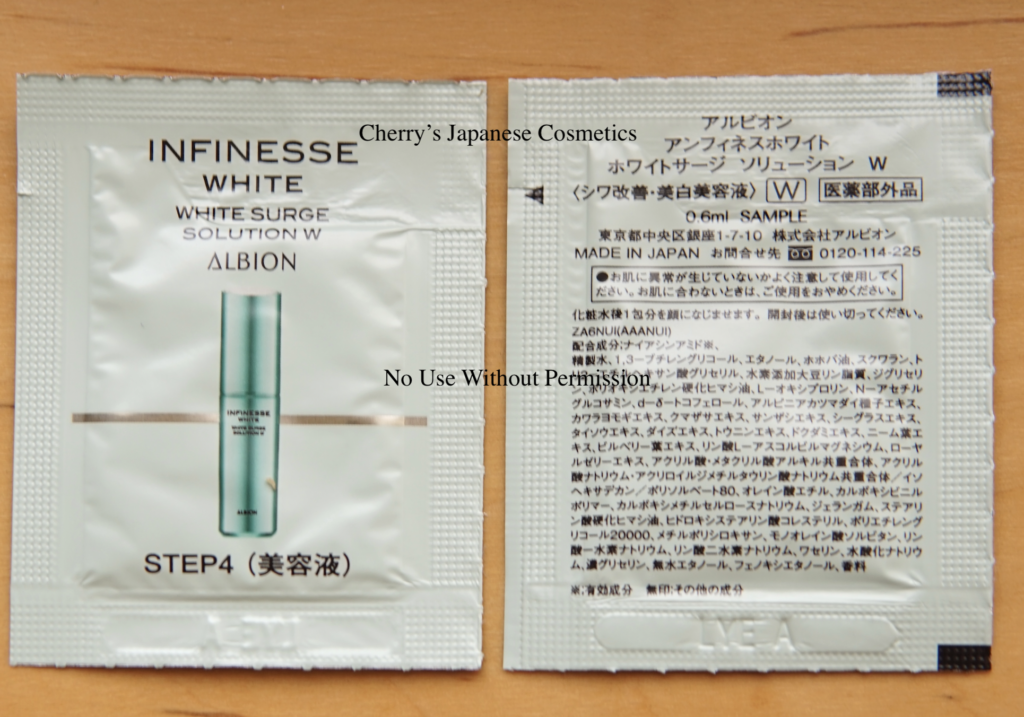 Please let me show you how I felt.
Albion recommends steps of wash, emulsion (Milk), lotion, and something to wrap.
This serum is one of the items for the final step of Albion method.
It is a medicated product for brightening, and the brightening factor is Niachinamide, it is less harmful for me, in person.
The scent is the same with other Infinesse, but when I use this essence only, this is not pretty much strong like other items like milk or lotion.
When I use some brightening items, I sometimes get sting, but so far, there are nothing on this White Surge Solution W for me. And compared with other items of Albion, I felt it is not pretty much oily. It does not mean it has less oil. I suppose you should keep your steps from this brand of Albion, if you are an oil prone.
According to Albion, it brings supple skin and brighten. I am satisfied with my skin is still well suppled, and using with samples, I can not say it brighten my skin torn up.
Checking what Japanese reviewers are saying, seems some says it is not enough moisturized, and I agree with this. But using with other Albion items like Infinesse Milk or something, your skin will be moisturized so well, I like lighter items, and on this point, this is good for me.
Others are saying they found significant difference of brighten with using this essence few times, but I can not say so in person.
Please check the latest price, and order from here; Albion Infinesse White Line
Please see also our reviews for new Albion Infinesse White line.