At the season of AW2016, Albion changed a formula of one of their compact foundation, Excia AL Moist Emulsion Compact VX to Excia AL Lifting Emulsion Moist.
I got a sample of new Lifting Emulsion Moist.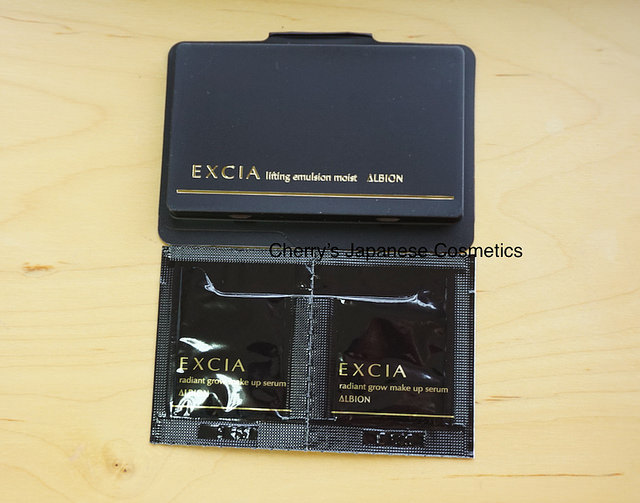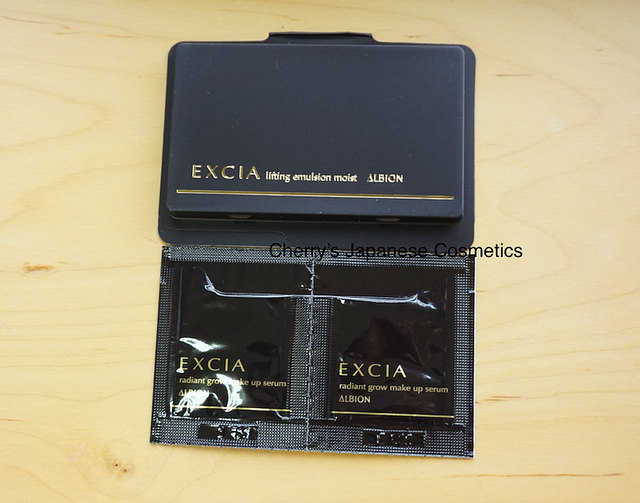 The shade is #NA201, one of the standard shades for Japanese.
Shade Swatch: #NA201 & #NA211
At first, please let me swatch #NA201 & #NA211, both are standard shade for Japanese, and Albion produces samples for these two shades only.


We often asked to send samples of #OC shades or #PK. It is impossible to do.
On my arm.
Under different lighting.
Let me blend.
Can you see the difference? Yeah… rarely to see…
Both are super fitting to my inner arm shade.
And you may see the surface of my arm was uneven skin tone, and it was covered by this foundation pretty well.
If you want to know about the shade difference between this emulsion foundation and other Excia emulsion & cream foundations, please check this article: Shade Swatch of Albion Excia AL Superior Cream Foundation and Emulsion Foundations
Review
Coverage, finish and lasting
It is fixed to make my skin a little bit smoother look. But frankly to say, this foundation is not full coverage as Excia AL Superior Cream Foundation, this may be described as middle coverage.
Just smooth look.
For me, this is matte to natural finish. But when my face was oilier, this foundation worked a little bit glow.
This Foundation keeps my skin pretty moist, and I could keep beautiful condition from morning to evening. If you do not sweat so much it lasts longer, I am sure.
If you could not be satisfied with this covering, please apply foundation primers with covering effects, or concealers, or this foundation heavier layer.
I guess there are no pretty big difference from the previous formula. Lift? hmm, maybe no…
This foundation itself is great, but there is one problem. Yes perfume. No floral, yet I prefer no perfumed foundations.
Lasting is modest. But please remember I sweat really a lot, it means super easy to be running my makeup away! So, it can be not bad for if you do not sweat a lot.
When it expires?
This kind of foundation is called as "emulsion". How to say…creamy, and much easier to carry than liquid or cream foundations. This product is for normal to dry skin.
Emulsion foundations are easy to be dry, according to one of the BCs of Albion, when you keep the foundation in better condition (neither dry, nor too hot), you can use this foundation more than 2 years. It is the most important factor that keeping the sponge clean. Yet she recommends use your foundation ASAP.
Swatch with others
Swatch with previous formula, Moist Emulsion Compact VX
#NA201. Yeah, I had a sample of that shade of previous Moist Emulsion Compact VX.
(Above is Lifting Emulsion Moist #NA201, bottom is Moist Emulsion Compact VX #NA201, you may see "VX" on the silver letter 🙂 )
I kept this when I heard that they are going to change the formula. I guess some of you might want to see the swatch, don't you? Why not? 🙂
The primer is the same, Radiant Glow Makeup Serum.
Can you see the difference?
I need to admit that it was not east to see the difference through the picture. In my eyes, VX is more pinkish, and Lifting is more Ochre. Some may say Lifting is more darker than VX.
OK. Let me blend on my arm.
OOPS! Can you see the difference? No… 🙁
In my eyes, Lifting #NA201 is a little bit, just a little bit Ochre than VX #NA201.
There is a difference really slightly, I guess none will say they are different shades.
If you want to know about the shade difference between this emulsion foundation and other Excia emulsion & cream foundations, please check this article: Shade Swatch of Albion Excia AL Superior Cream Foundation and Emulsion Foundations
Please check the latest price, and find your shade from here: Albion Excia AL  Foundations