Albion changes the formula of "Excia AL Moist Premium Powder Foundation" to "Excia AL Powder Foundation Extreme" on Sep 2018.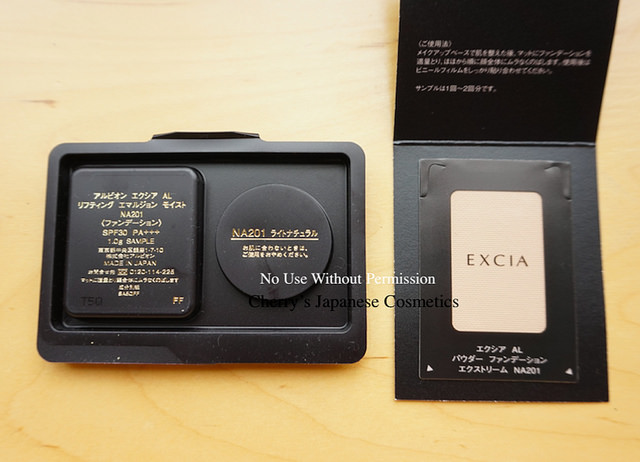 I was surprised that I have not reviewed the previous formula 😛
Albion products are good quality, but all are with perfumes, in foundation, Excia liquid/ cream/ emulsion foundations have stronger perfume. Comparing with the other Excia foundations, this Powder foundation has weaker perfume. It does not gone so quickly, but it is weaker than other foundations in Albion.
I got a sample of #NA201 (they are producing samples for #NA201 and #OC111 only). I searched my stock of the samples, I found #NA201 of the Lifting Emulsion Foundation Moist. I show you the swatch too.
Swatch
After I set Radiant Glow Makeup Serum (foundation primer), I applied both.
Seems the Powder foundation Extreme is significantly one tone darker than the Lifting Moist.
Indeed, after blending there are less difference.
Finish & Lasting
The finish is naturally sheer (and I felt it is so beautiful, THAT'S EXCIA!), and the coverage is not bad as powder foundation.
I walked for one hour with wearing this `Powder Foundation Extreme, my nose was almost run, but there were no ugly running. I feel the lasting is better.
Of course I did not feel my skin was dried with this foundation.
After setting by Cosme Decorte Complete Flat Primer, there are powder foundations I have now. Excia AL Powder Foundation Extreme #NA201,  Cosme Decorte #302 and RMK Airy Powder Foundation #102.
Please check the latest price, and find your shade from here: Albion Excia AL  Foundations