AW2016, they changed their Emulsion Compact foundation and their foundation primer.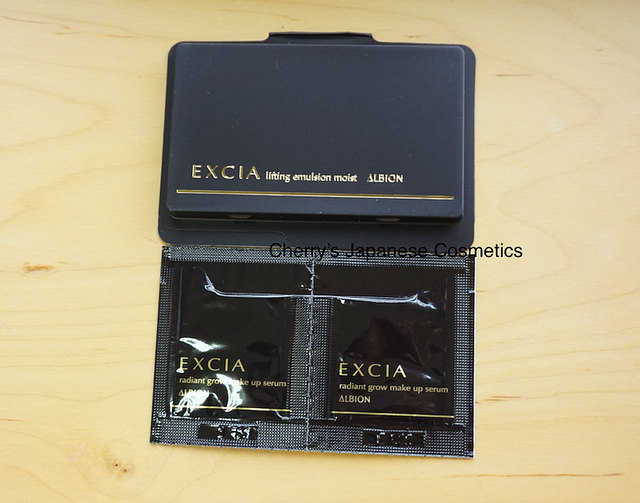 I got a sample of this new primer, Radiant Glow Makeup Serum, please let me share my review of this new foundation primer.
At first, I had thought I had reviewed the previous formula, Albion EXCIA AL MAKE UP SERUM, but sadly seems I did not review that itself.
As I remember it was not bad at covering.
When I dropped it on my arm, I just reminded Albion Repair Perfection Base (See also Cherry's Personal Review of Albion Repair Perfection Base), what is a foundation primer, but also a facial sunscreen, what is a sheer covering.
Here is a swatch with SUQQU Treatment Serum Primer.
When I blend on my arm, it turned my arm skin torn more "white".
I prefer natural skin torn, as Japanese preference. I know some of you are a favor of those "whiten" skin torn. I guess this is not for mine.
Albion texture is more oilier and harder, and SUQQU is more runny.
And in my eyes, the finish of this primer is neither radiant nor glow. Seems there are no glitters.
The good point of this formula, the previous formula was pretty week SPF and PA levels. In this new formula of Radiant Glow Makeup Serum, it is SPF30 PA+++. I guess this is fair to use in Autumn to Winter.
If you need something foundation primers has more stronger sunscreen effect, please try Albion Repair Perfection Base. I guess it is the difference of that primer and this Excia Radiant that is the perfume and sunscreen effect.
Please check the latest price, and order from here: Albion Excia AL Foundation primers and concealers.