Do you use foundation primers? I do.
You may have particular demands for primers, for me, I need sunscreen effects with waterproof (essential) & scratch proof (attractive), and make my foundations fit & lasting well. I don't need color controlling effects.
On the point, Albion Excia primers are called Albion Excia/ Excia AL xxx Makeup Serum, and they are not for my demand. There are several samples, let me share what they are with comparing.
AW2022, Albion changed their foundation primer, Albion Excia AL Radiant Glow Makeup Serum to Excia Lapidarist Makeup Serum. I bet they are going to change the Excia AL Makeup Serums (formula and name) one by one.
How they are different from each other?
Excia Lapidarist Makeup Serum is released on AW2022, it was the same with their new Interigence emulsion foundation for Autumn-Winter. It is SPF20, PA++, probably designed for Autumn-Winter season.
On the other hand, Excia AL Whitening Radiant Glow Makeup Serum is SPF43, PA+++, it is not bad as the sunscreen, but no waterproof effect.
Excia AL Superior Makeup Serum EX is SPF28, PA+++, it is designed for "Superior Foundation".
Swatch
Let me show you the swatch. In my eyes, they are neither "Radiant" nor "glow".
Excia AL Whitening Radiant Glow Makeup Serum is the most pinkish among those 3. Excia Lapidarist Makeup Serum is more beige. Excia AL Superior Makeup Serum EX is the most runny, and white.
Excia AL Superior Makeup Serum EX does not change my skin tone, and Lapidarist is a little bit white, and in my eyes, Excia AL Whitening Radiant Glow Makeup Serum turning my shade white.
All of three are not color controller, if you need to change your skin tone, I recommend to use other products.
Excia Lapidarist Makeup Serum
Let me tell you a little bit more about Excia Lapidarist Makeup Serum.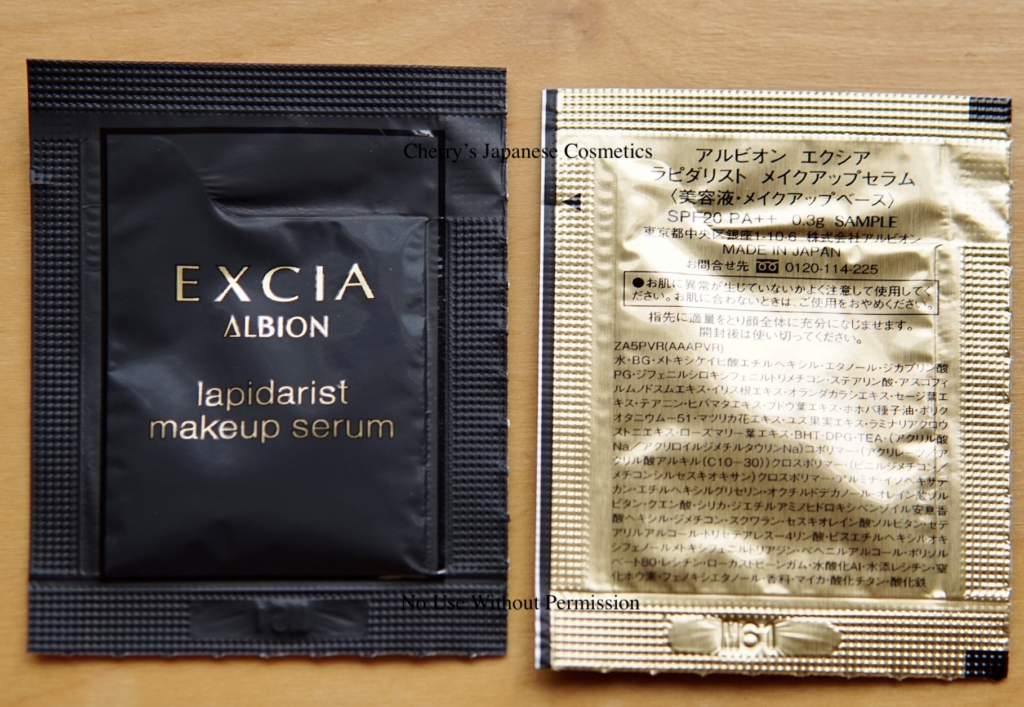 I prefer natural skin torn, as Japanese preference. I know some of you are a favor of those "whiten" skin torn. I guess this is not for mine.
According to the swatch above, Excia AL Superior Makeup Serum EX is better on this point.
Also, The sunscreen effect of SPF20, PA++. I guess this not enough to use in Autumn to Winter. I prefer using products SPF30, PA+++ products.
As a primer, it makes fit my foundation (the same with other foundations), and I am not quite sure whether it makes foundation lasting better than other foundation primers.
Albion EXCIA AL Whitening Radiant Glow Serum
I did not satisfied with the finish of this primer. It has neither color controlling effect, nor effect of making your skin glow (to cover your pore), even the name of "radiant" or "glow". It changed my skin shade white, and this is not I am looking for. I need something make my foundation fit smooth.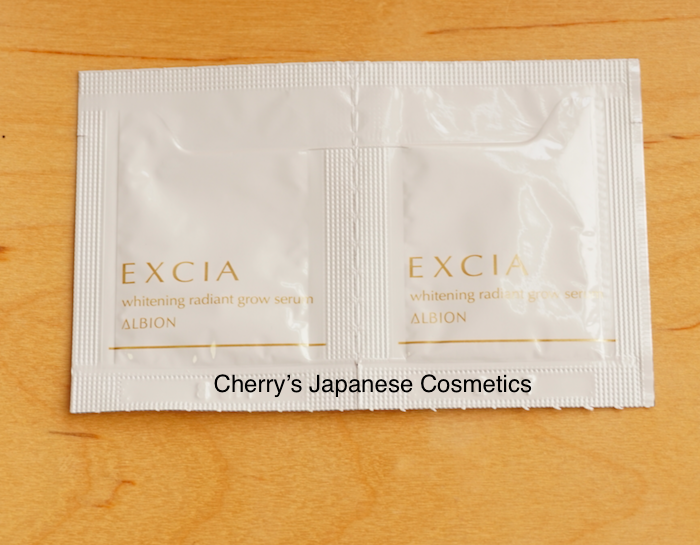 I guess it may be good combination with powder foundation, as the previous formula (Cleary White Serum MX) was.
What is the effect of this? If you apply your foundation, especially powder foundation directly, it often gets really easy to run or something "balls" on your face.
So?
It is just basic foundation primers effect that is to prevent those problems. Are there any good reasons to choose this (not affordable price)? For me, no.
But it is also true that there are some foundations and primers what are good compatible or not. If you are choosing Albion Excia Foundations, especially their powder foundations, you have no worries about that.
Albion Excia AL SUPERIOR MAKE UP SERUM EX
Albion claims the sunscreen effect of SPF28 PA+++, and brightening effect, checking the ingredients, seems there is Tranexamic acid.
The texture is light, and no harmful.
To be honest, I did not feel anything merit to switch this product. Checking what Japanese reviewers are talking, this primer is for keeping your skin moist with makeup, and lifting the face line up.
There is a possibility that I am too young to know the good point of this foundation primer.
Please check the latest price, and order from here: "Albion Excia AL Primers and Powders"