In SS2021, Albion changed Albion EXCIA AL Lifting Emulsion White, to Albion Excia AL Stay Perfect White Emulsion.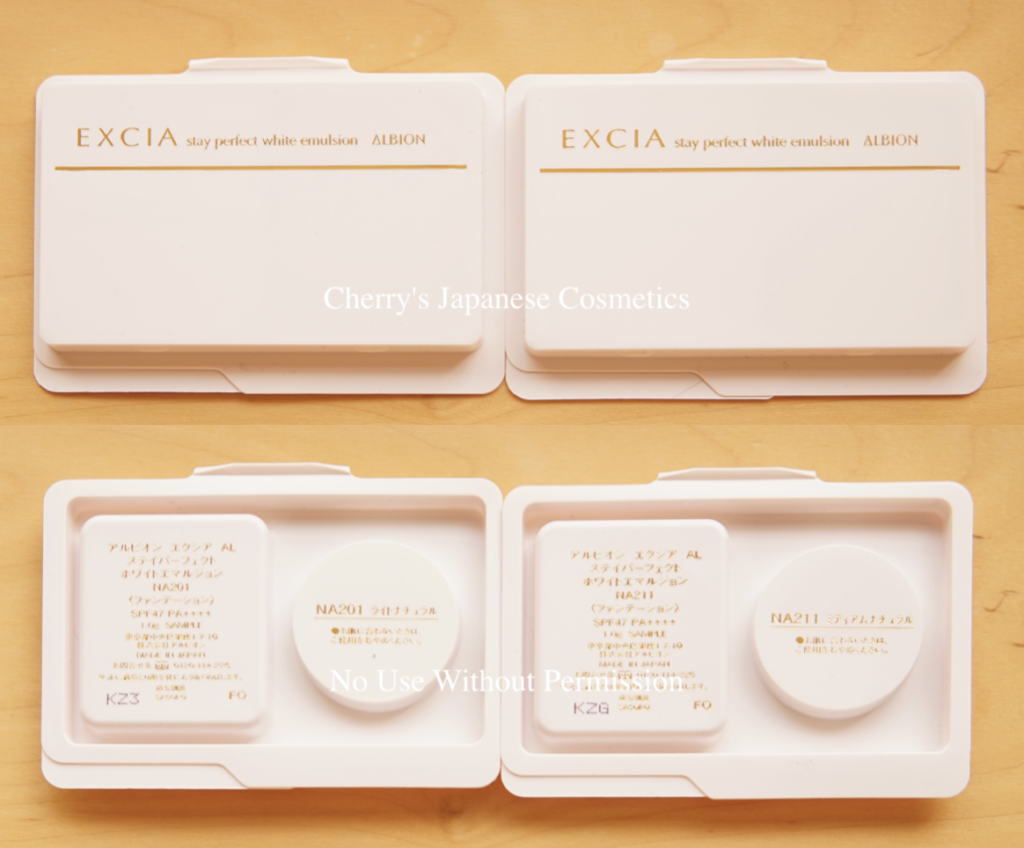 Coverage, Lasting
It is getting warmer and warmer, and the sunshine is getting stronger now. It is the very April. The difference of the temperature in one day is bigger, indeed it is almost for 10C degrees, here is the sea side city. It is really nice weather and climate to walk for long. The air is still drier, but there is one big problem. I sweat really a lot. And it was chilly and my body is not fixed to the heat, I sweat really really a lot in this season.
I often wear powder foundations when I walk, and most liquid/ creamy/ emulsion foundations tend to break down or become a greasy mess after my walk.
The shade of #NA201 is a little bit lighter then for me, and #NA211 is a little bit darker for me, but both are acceptable.
The texture is well made, creamy emulsion is really easy to blend. It is neither greasy not cling, its few quantity goes a long way.
If you apply this foundation with heavier layer, it will be medium coverage, but if you apply with thin layer, it is a sheer coverage.
According to Hazelnuts of Philippines had mentioned that for the previous formula, Cool Emulsion Compact VX, she used a sponge for light coverage, and with a foundation brush, she got medium-full coverage. I used my foundation brush, and I felt it is because of the quantity.
I prefer light-medium coverage foundations, and its coverage is a little bit too much for me. Indeed I also liked it so much that it makes my skin look smooth. My skin condition is better, but far from perfect. Sometimes I feel still my skin is rough, and medium coverage will be better for smooth look.
I say this finish is far from radiant or glow. It is naturally healthy semi-matte finish, and this is the very what I am looking for.
Its lasting is "well". I do not say it lasted perfectly after my walk. I needed to wipe my face. Often my makeup is breaking down really messy, but with this foundation, it kept acceptably. It is fair.
I need to note about the perfume. Yes, THIS IS ALBION! the perfume is the biggest problem for me, in person.
If you are a person who does not care so much about the perfume, and looking for emulsion foundation makes you look natural, this will be one of the solution we can give you.
Shade swatches
There are shade swatches.
Swatch of #NA201 & #NA211
At first, let me show you the swatch of #NA201 & #NA211 of Stay Perfect White foundations.
It is Spring! Sunshine changes so quickly!
Swatch with Albion Excia AL Stay Perfect Lift & Superior Cream Foundation EX
Let me show you swatches in 3 foundations in the same shade numbers.
in #NA201
Due to the reflection, seems Superior Cream EX #NA201 is the lightest shade in the left side of the picture above. But when it is blended (right side), you will see which shade is the rightest — Stay Perfect White.
I can not say those 3 foundations in the same shade number are PERFECTLY same shade, it can be happen because their formulas are different each, this is the reason why they are different names. I think they are in the same shade range.
In #NA211
In my eyes, White #NA211 is lighter than Lift #NA211 or Superior #NA211. They could be categorized as the same shade group.
Next swatch is here. Stay Perfect Lift and Superior Cream EX are #NA201, and Stay Perfect White is #NA211.
I am not sure whether it is clear for your eyes, but in my eyes, Stay Perfect White #NA211 is significantly darker than other #NA201 line. I note as they are for Japanese standard shade.
Please check the latest price, and find your shade from here: Albion Excia AL  Foundations