Albion changed the line of Exage on AW 2015. They will do that on Exage White too on SS2016.
Finally I can review for you their new lotion: Albion Exage Moist Full Lotion.
There are two of lotions: 1 is for Oily – Normal, 2 is for Normal – Dry skin.
Albion Exage Moist Full Lotion #1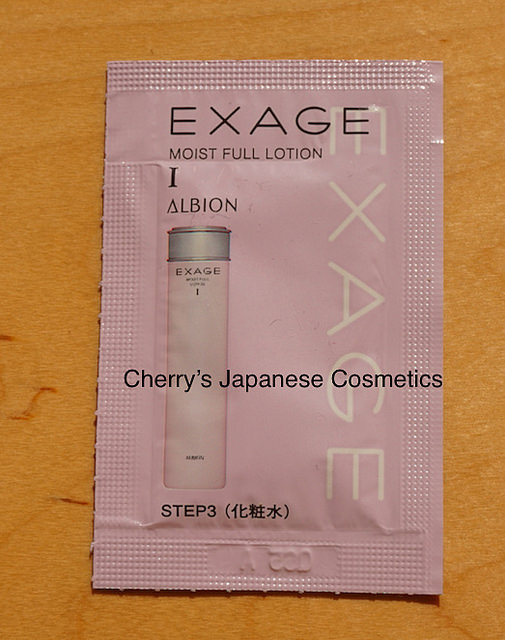 Their recommend is apply this on cotton.
I did it on Shiseido Benefique Cotton W.
(See also: Personal Review of Shiseido Benefique Cotton W)
My skin is drier, but it is getting warmer and warmer. Oops, it was snow yesterday… I prefer items with light texture.
Skin Conditioner Essential is a famous product by Albion. But in person, for my skin what is sensitive, its alcohol is too much. One of the girls behind me really likes Skin Conditioner Essential, I say it is just not for me.
But other lotions by Albion, like Excia AL or Infiness, they are less problem even now.
This lotion is with stronger perfume, but it is Albion. On the depth of the scent, I found Alcohol. It is really up to products with smell of Alcohol, when I feel sting.
Fortunately, there are I did not feel those.
It is light texture, and what I like. But sadly, it is truly for Oily skin. I did not feel my skin was enough moisturized in this quantity.
When I apply this by my hands, this sample quantity is not so bad, but I wanna add extra few drops. I prefer using lotions with light texture a lot, more than using lotions with sticky texture few.
Albion Exage Moist Full Lotion #2
I also got a sample of Moist Full Lotion2.
This is for Normal-dry skin.
The texture is a little bit more sticky than #1, but still runny. I found the scent of Alcohol on the depth of the smell.
Maybe #2 is for me.
My skin was moisturized well. #1 was not enough for me, but this #2, the quantity of the sample was good using with cotton. When I use this without cotton, the quantity is too much in a sample.
Even with the scent of Alcohol, I also did not feel sting.
The lighter, Albion's lotions tend to be lighter. I like both, but the big problem is the perfume…
Which for who?
I think if you like floral perfume, they are for you.
If you skin is quite sensitive to Alcohol, they are not for you. I am prone to Alcohol, but less problem with both #1 and #2.
As Albion says #1 is for Oily- Normal skin, and #2 is for Normal – Dry skin. I agree so.
Please also check the latest price and order from here: Albion Exage MOIST FULL LOTION, or wanna order in Japanese Yen? Visit our JPY Branch!