In AW2018, Albion discontinued their Gel Mask Foundation and Oil Foundation, and released new foundation, "Skin Glazing Foundation". As the same with Gel Mask Foundation, Albion claims that primer is unnecessary.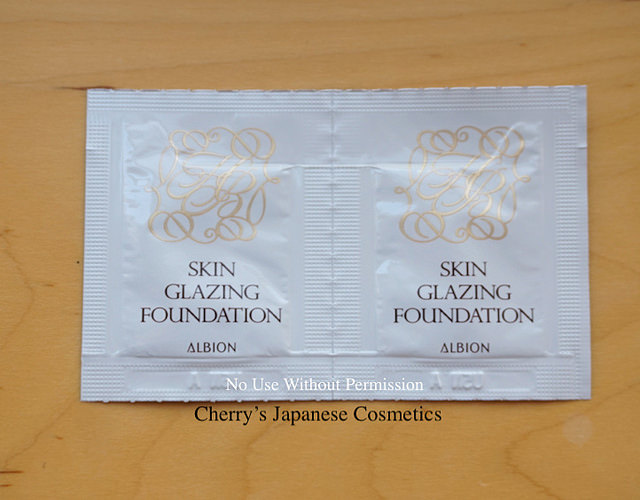 I got samples of their standard shades, #040 and #050.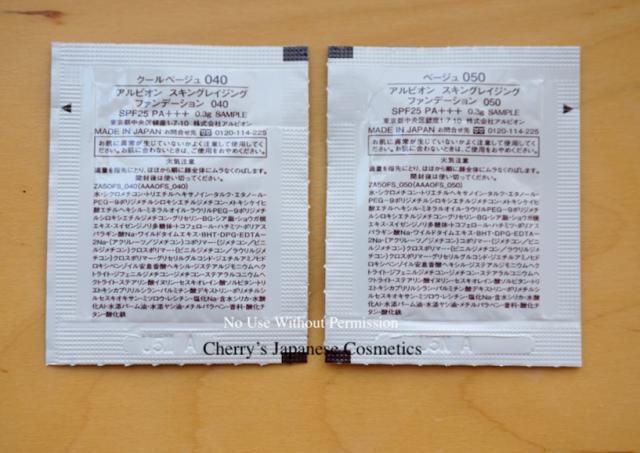 Note: Sometimes we get messages to send samples of Albion foundation, and we will do when you order Albion products, but they have only #040 and #050.
Let me share how I felt with showing swatches.
Shades
The shades of #040 and #050 are standard for Japanese, and #040 is lighter. Can you find the difference?
In swatch, #040 side is a little bit more quantity than #050 side, and you may see the difference.
Let me blend. Can you find the difference the pictures? Hmm… In my eyes, #050 is a little bit pinkish for my arm.
Sometimes we have questions like  "I have a … skin, and how … works?" We are glad to have massages from you, but it often we can not help you, especially the questions for how it fix to the other races. Japan is not a mono race country, but Japan is ALMOST a mono race. Cosmetic companies, even they are originally from America or France, they provide narrow shade variation of foundations. Why? There are extremely niche market for those shades in Japan.
Above is the swatch with Cosme Decorte The Liquid Foundation #302.
Here I suggest the shade of #010 & #050 of Gel mask taken by Lukin of the States, I NEVER say the shade of #010& #050 in Gel Mask, and  #010 & #050 of Skin Glazing are perfectly the same, but it can help you to suggest.
Sunscreen effect
How do you feel about its sunscreen effect of this Skin Glazing Foundation, it is only SPF25 PA+++.
Albion claims you do not need to use foundation primers with this Foundation. It is a good point especially on Winter, but on Summer, fairly to say, it is not enough. However, this foundation is not designed for using on Summer. Indeed it will be up to your skin condition and your environment. Choose anytime, as you want 🙂
Scent
I prefer fragrance-free foundations, and on the view point of this, this foundation is not superb for me.
I do not remember the scent of Gel Mask Foundation, but this Skin Glazing foundation has floral scent.  It is not by essential oils, but artificial.
This perfume is not pretty stinky like French "C" foundations, and fortunately it was gone quickly. Yet I prefer no perfume products. This is sad 🙁
Texture
This foundation felt very smooth – almost slippery. I do not mean slippery like oily but slick.  so I pumped two drops onto my inner arm. Albion also recommends using one's fingers for blending, so I quickly began to spread the foundation across my arm.
Note to blend
I will recommend you start with one drop and blend quickly. As I was practicing on my arm, the product was starting to "dry" on the edges where I had not blended. If one is careless, an obvious "stopping line" may appear on your chin or neck.
Finish & coverage
In person, I feel this finish is natural to matte, it is nice for me. In person, radiant or glow foundations are not for my mood.
And also the foundations for SS2018 were too sheer for my mood, it is a middle to full coverage foundation, and it covers my spots and uneven skin tone. Flawless!
I have some enlarged pores on my nose, probably due to the heat and sweat. Unfortunately, this did not glide as smoothly over skin with enlarged pores. Can be changed due to the season. This is for AW2018, not for Summer.
Lasting
It is 35 C degrees outside, it is dangerous for walking. I spent 2 hours in air-conditioned (30 C degrees, it is comfortable for me) room with packing for you.
When it is easy to run, 2 hours in 30 C degrees is enough to be run. I saw my face and surprisingly it was almost the same with just wear.
I never say it is good for tropical area, or Japanese heat summer, but its lasting is not bad.
I may wear and see in Autumn or Winter 🙂
Anyway, as the foundation itself, this is good product: better coverage, natural finish, and nice lasting!
Please check the latest price, and order from here: "Albion Foundations".