Three Balancing Cleansing oil is one of my routine since 2013.
My skin is too sensitive to use other THREE Balancing line now, but this product is one of the exclusions 🙂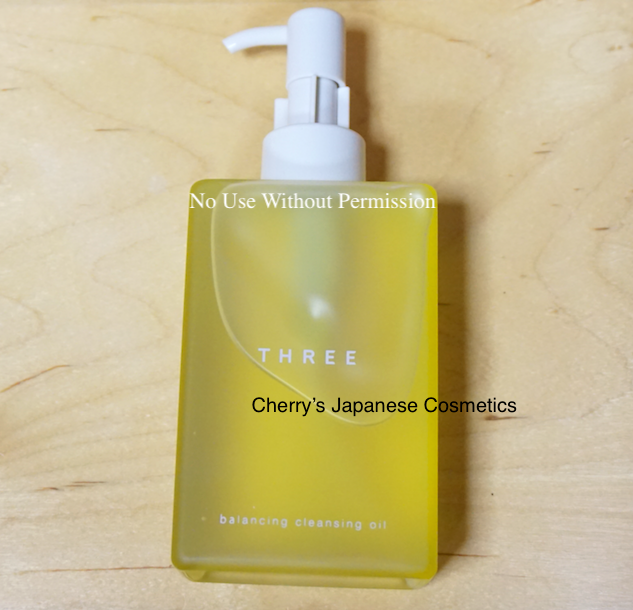 Review by Hazelnuts, written in 2017
Hazelnuts of Philippines bought "Three Greeting Kit", and she wrote reviews of the items what are in that kit.
In this time, let me share with her review of THREE Balancing Cleansing Oil, what is one of the makeup removers often ordered.
Let me share my thoughts on the THREE Balancing Cleansing Oil. It claims to remove waterproof makeup, excess sebum, dullness and roughness for clean skin.

The botanical extracts include marjoram, orange peel, argan, rosehip, tea seed and jojoba oils.
This cleansing oil has a slightly thick and rich texture. It spreads easily on the skin. The herbal scent feels soothing and helps with massaging the oil on the skin. I find myself massaging the oil a bit longer to allow the soothing scent to linger. It just feels so relaxing.
When mixed with a bit of water, it emulsifies quickly and turns to a milky texture, which removes even waterproof eyeliner and mascara.
What I find excellent about this is when I finally rinse it off. The oil washes off completely, leaving my skin soft. There is no greasy residue or after-feel. I actually want to skip face wash after using this, but I still wash my face afterwards 🙂
But seriously, this cleansing oil is great, it removes dirt, oil and makeup so well. An excellent addition to my skincare regimen.
Thank you Hazelnuts!
Please check the latest price of this product, and order from here;"THREE Balancing Cleansing Oil". or visit our JPY Branch!
Cherry's review written in 2013
I (Cherry) share with you my personal review of THREE's Balancing Cleansing Oil.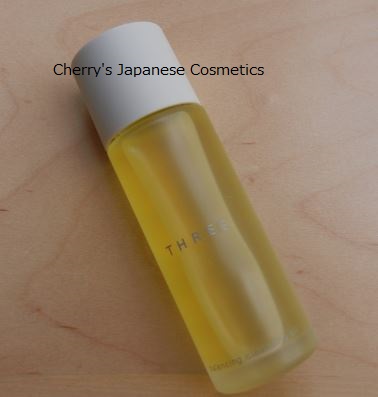 This is a part of THREE Travel Kit 2013. It was already sold out at the day of first sale. When you find other THREE's Kit from this page, and you like it,  I strongly recommend to order when they are under pre-order.
This is full bottle. I often repeat this product since using that small bottle!
THREE is famous as "Made by Japanese Materials". Sometimes they are made in other countries like Germany, but so far, this product which I have is made in Japan.
Anyhow, this cleansing oil. This is a make-up remover.
You can see the yellow bottle, the bottle has no color, this is the very the color of this cleansing oil.
Please remember, according to THREE, this cleansing oil could erode away some kinds of plastics. Please pay attention about this point.
When I open this cap, I found, yeah, one of my favorite smell; ROSEMARY!! GREAT!!! I prefer no perfume items more than cheap perfumed items, but when they have good smell, I LOVE THEM! This is one of the most important factor for me, in person.
Well, as the make-up remover? Yes, not so bad.
Some Japanese oil make-up removers, like Fancl Mild Cleansing Oil, they are designed when your hands are wet (a little bit). Yet seems this product is not. I recommend to use it with your dry hands and face. I often use Fancl's MCO, so this is not so convenient point for me, in person. On this point, let me see the view point of the other side. it means it is pretty easy to rinse.
Here, I show you I am using it on my arm.
Sun Screen: Allie Moisture Gel
Foundation Primer: RMK Make Up Base
Foundation: Primavista (formula of 2009 or so)
Eyeshadow: Suqqu Blend Color Eyeshadow (Momoawayuki, limited for 2012)
Lip: Suqqu Creamy Glow Lipstick Moist (04 Tsurukokemomo)
Mascara: Suqqu Volume Long N
Blush: Lunasol Lucent Cheeks (EX03, limited for 2013)
Lip (I use it as a blush): Lancome (formula of 2006 or so)
Eyeliner; Kate (formula of 2009 or so)


Left; before I wipe by this oil.
Middle; just after I wiped softly twice.
Right; done.
It is pretty easy to remove my makeups.
Please check the latest price of this product, and order from here;"THREE Balancing Cleansing Oil". or visit our JPY Branch!
note
We know there are some people are using our pictures of this makeup remover and even they are removed out credit/ watermark. Guess they do not have the product, we strongly recommend not to buy from them. We have not allowed anyone to use pictures of this THREE Balancing Cleansing Oil.