Review by Cherry (described in 2013)
I (Cherry) share with my personal review of THREE Balancing Foam.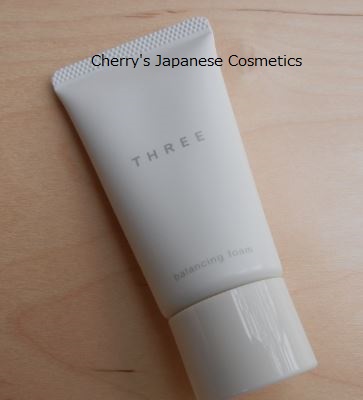 After using THREE Balancing Cleansing Oil, because of the strong smell of the oil, I could not find whether this face wash has perfume or not. Next time, I tried it without using perfumed cleansing oil.
Yes, I found the smell of Rosemary and Oranges, and I like it! The smell is not so artificial smell, but more natural than other products, that is great isn't it? This smell makes me QUITE refresh. Compared with this item, I guess Suqqu Refining Foam 's floral smell is not making me refresh, but making me relax more. It is one idea that using this THREE BF on morning to make me refresh, and using Suqqu RF on night to make me relax.
The form is just like this, this is harder form, but not hard like RMK's Creamy Soap S.
I am very happy to find that after using this product, my face was pretty good balance with moist and oil. But I do not recommend this item for those who has oily skin.
Please check the latest price, and order from here; "THREE Balancing Foam".
Note written in 2017
I bought a kit in 2016 or 2015, and used this face wash. Sadly it is too strong for my current drier skin. I guess this is not for the person who has dry skin.
Probably good for combination skin.
Hazelnuts of Philippines , who has oily – combination skin bought THREE Greeting Kit, and she shared her view with us. Thank you Hazelnuts, and please see how she felt.
Review by Hazelnuts(Described in 2017)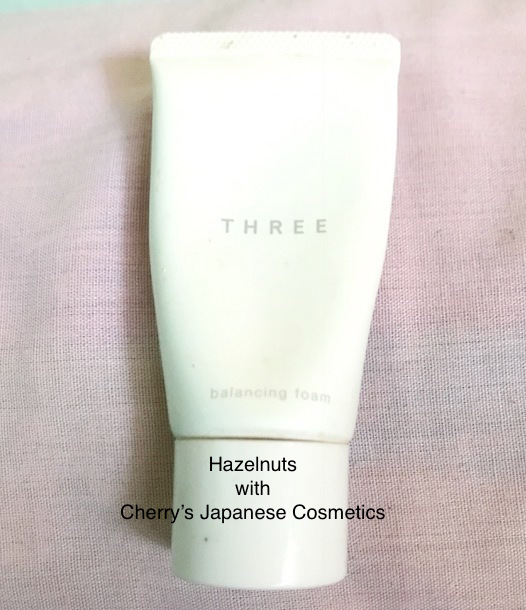 I absolutely love the THREE Balancing Foam. I always look forward to cleansing and I find that this foam/face wash does its job efficiently!
It features botanical extracts and a rich, thick lather that gently cleanses the skin without stripping off moisture.
The product itself feels thick and concentrated. I feel that it lathers quite easily and it foams up very well.
I tried using it with a foaming net. Obviously it gives better lather with this method, but it also gives a thick lather when I only use my hands.

I love how rich and thick the foam is. It really cleanses well and is perfect after using cleansing oil.
It does not leave any residue when rinsed off. My skin feels clean and soft, not dry and tight.
What's more, the herbal aroma is so soothing and relaxing. Washing my face feels like a spa ritual, seriously!
I highly recommend this to anyone looking for an excellent foaming face wash. It will surely work with any skin type, and I'm all praises for its rich lather and cleansing properties.
Please check the latest price, and order from here; "THREE Balancing Foam".