I (Cherry ) got a sample of SUQQU Reset Cleansing Emulsion, this is new for SS2015. This is a makeup remover. Finally, yeah. My skin condition was not pretty good for few months.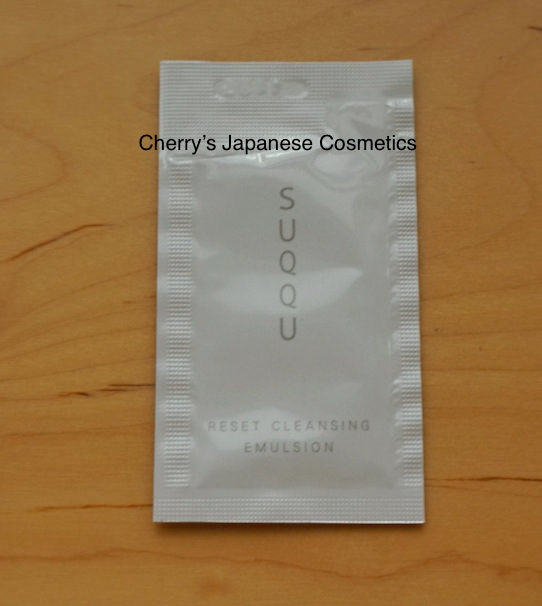 Let me show you on my arm. Sorry, I found some people are stealing my pictures and cut our credit! It is a big shocking! If you wanna have pictures without credit, pleases us. We are selling pictures too.
If you are checking my blog often, you may know that I am using really a lot of makeup removers. In my experience, gels or liquids are so bad at removing waterproof items. As I know, oils or creams are really good at removing those products well. I had thought this is also one of gel things.
The perfume is so posh, and not so strong. I liked the scent of SUQQU makeup removers, and I also liked it.
Foundation Primer: RMK Creamy Polished Base N #02
Foundation: RMK Gel Creamy Foundation #203
Eyeshadow: Lunasol (from Party coffert of 2015)
Creamy Cheek & Lips: Lunasol (from Party Coffret of 2015)
Mascara: Lunasol (from Party Coffret of 2015)
Gloss: RMK (from coffers of 2014)
Letters: Coffret D0r Eyeliner (water proof)

To be honest, when I spread ion my arm, even the gloss was not removing well. Can you see the dirty tissue on the right picture? I wiped my arm gently by this tissue, Most of the letters written by Coffret Dor eyeliner are removed. This eyeliner, it is super waterproof, and really hard to remove. I surprised to see it was the mascara what was so hard to remove!
Totally to say, I guess you can remove most of your makeup really gently by this remover.
I recommend to use your face wash after this product 🙂
Sarah Says
I asked Sarah of Hong Kong to review this. I had thought this product is not for the person with waterproof makeup like me, but for her, who rarely use waterproof makeup, as I know.
Let's hear how she felt.
I have very dry skin so my concern with cleansing products is always whether they will take
away too much moisture from my skin.
SUQQU has the right texture to me on the first touch. It also has nice fragrance. On applying
to me face, although I wouldn't say it's extraordinary, it does feel very smooth and enriching.
I'm very glad that it comforts my dry skin although it's now blisteringly cold at 6 degrees Celcius
in Hong Kong. It's so important that at least the product doesn't dry up my skin which is already very fragile!
Thank you Sarah!
Note by Cherry: I should better to note about she mentioned about 6C degrees is blisteringly cold. I know some of you felt 6C degrees are warm, even for me, it is mild as Jan. In Hong Kong, they do not have heaters. It's colder than you have expected. I had experienced to spend a Winter in Michigan (the world of -20 C degrees, aka 0F degrees), and stay at Hong Kong in Winter. Inner house, it is cold but wet in Hong Kong, and it is hot but super dry in Michigan, for me, a Japanese.
Please check the latest price, and order from here; SUQQU Makeup Removers