Reviewed by Cherry
I (Cherry) was allowed to use a small size of RMK Gel Creamy Foundation, #103 the owner is one of the girls behind me. This shade of #103 is one of the standard shades for Japanese skin, #103 is darker, and #102 is lighter.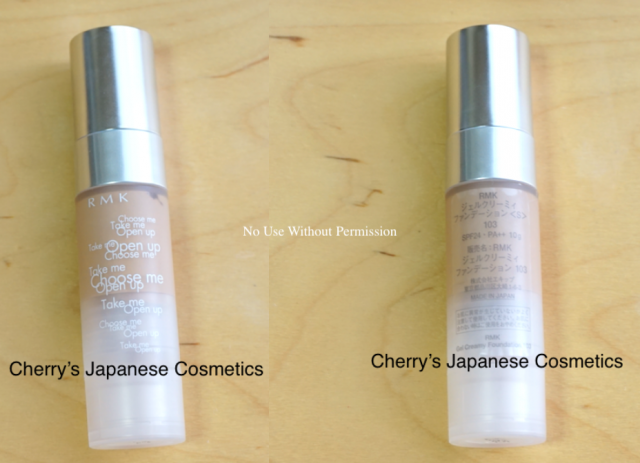 (As of 2018, they changed the design of the package, but the formula is the same.)
This size is small, maybe 1/3, and it was a limited edition for one store or something, and we can not serve it for you.
As RMK recommends, it should be used with primers, but in this time, I blend on my naked arm to show you how it covers.
The shade of 103 is too Ochre for my arm.
See, how it covered well! flawless, and natural look. In this picture above, my arm looks matte, but on my face, it is more natural. If you are feeling this is too matte, why don't you choose foundation primers make your skin glow?
The coverage is full, in my eyes.
The beauty consultant in RMK told me that this is moist type, so I was afraid that it would be oily and easy to run. But there are no problem for me. It covered well from morning to evening. It is far from oily and so light texture for me. And it maybe good that it is not making my skin drier. but I guess this is for normal-dry skin, and not for you oily skin.
But I sweat as if I took shower, for those person, it runs.
SPF24 PA++ seems too weak to use in Japanese Summer, I need something sunscreens, but I often use ADDICTION sunscreen as foundation primer 🙂 Less problem.
I believe this pump system is so good on the view point of hygiene.
If you are looking for foundations which are fitting well, but also light, this might be for you.
Hazelnuts says
Recently, we also got samples, and asked Hazelnuts of Philippines to review it.
She felt it is good for oily skin. Let's see how she felt.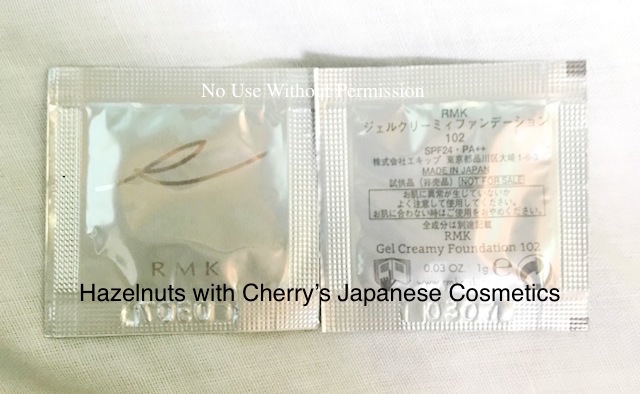 I was given a sample of the RMK Gel Creamy Foundation in #102, a standard shade. Let's see if it works with my oily-combination skin type.
RMK claims that this foundation combines "fresh, dewy texture" of a gel with the rich coverage of a cream foundation to deliver a flawless finish. Hyaluronic Acid gives moisture while sebum-absorbing powder keeps makeup fresh and intact throughout the day. I definitely had to try this out for myself.
As you can see from the swatch and the blended foundation, the shade matches me perfectly. My oily skin is acidic, which makes foundations oxidize and darken throughout the day, but thankfully I did not experience drastic color change or darkening with this foundation.
I find the texture quite creamy. Honestly I did not feel anything gel-like with its formula. The foundation is creamy, but blendable. It feels weightless on skin after applying.
Aside from the excellent color match, I like its coverage, not heavy but sufficient enough to cover imperfections. I would say it is a comfortable medium coverage foundation. It blurs the look of pores as well.
Lasting power is decent, around 5-6 hours in a humid environment, without primer. This lasts even longer when paired with a good makeup base.
In my experience, the low SPF level does not leave a white cast, so this foundation is quite versatile. I can use this for evening occasions as well.
This is a very good foundation for oily and combination skin—the creamy formula does not leave the skin dry and patchy, but once it is blended, the finish is lightweight, and it provides medium coverage.
Thank you very much! Hazelnuts!
Please check the colors and the latest price; "RMK Gel Creamy Foundation". Wanna order in Japanese Yen? Visit our JPY Branch!