In this year of 2020, Kanebo changed the formula of some Allie, their famous sunscreen. Allie Extra UV Gel is changed to Allie Extra UV Gel N.
I bought new Allie, what we are able to deal.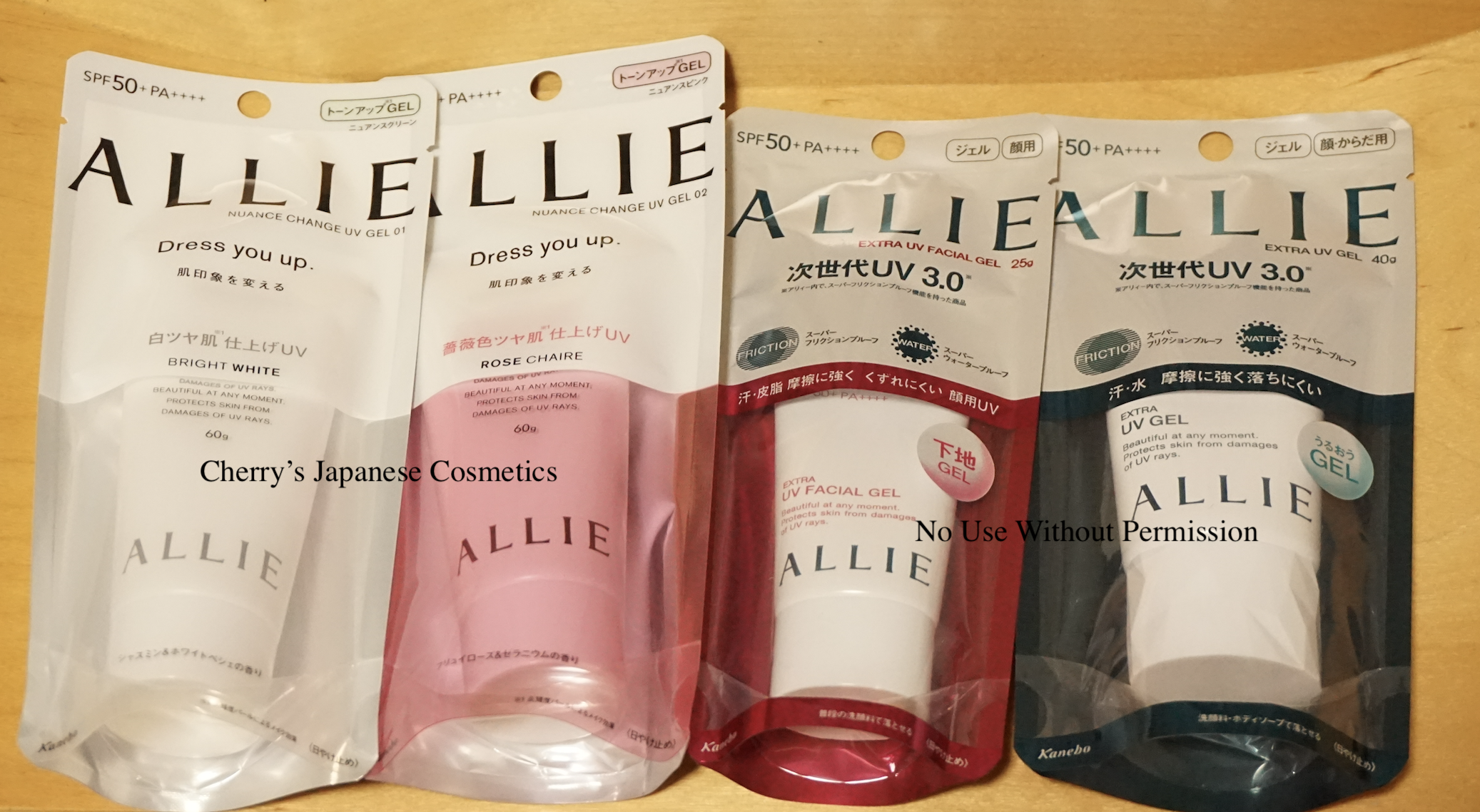 The Extra UV Gel N is the rightest product, it is the 40g small size (we deal 90g).
Here is the design of the package in 2018. I know some of the stores are still selling the previous formula. Please pay attention when you buy.
How design changed?
In the package of 2020, even you do not read Japanese, please check them.
UV 3.0 is the formula of 2020. (UV 2.0 is the formula of 2019, the "Highlight Gel", which is still kept in 2020.)
In the end of 2019, I bought Extra UV Gel for my own use. (I could not find the small sizes, nor big size of UV Facial Gel.) The right is what I bought in the end of 2019. The formula of 2020 (the mid of them), the letters of "EXTRA UV GEL" is slightly more deep than the formula of 2018. But it can be changed between the size of the bottle.
Please check the back design, it is Japanese, but you can see the difference. The formula of 2020, there are ジェル N (meaning "Gel N"), but in the formula of 2018, there is ジェル (meaning "Gel"). Please be careful.
What Friction Proof means?
In Allie, since 2018, they insist Allie is "Friction Proof".
If you often wear sunscreens on body, you had found something white cast is on your bags or your clothes. Yes that's your sunscreen from your arms/ legs/ necks. In this Friction Proof is make it less these incidents. I sweat a lot in summer and it is one of the problem among late spring to early Autumn.
Do you have a problem like me? If you are, do you remember how many clothes and bags are damaged? I liked Porter by Yoshida, if you know Japanese fashion, you may know the black casual nylon/ parachute bags. It is from USD200 bags, it is far from expensive but not so much affordable for a student. My sweat and sunscreens damaged my Porter bags!! The residue of sunscreens are not easy to removed! I had learnt makeup removers works to rid off, but washing is not nice for that bags.
I am so wise now I switched my casual daily bags for walking from Porter to LeSportsac what is selling almost the same price with Porter in Japan, but much cheaper when I buy at DFS in airports. But it get damaged by my sweat and sunscreens.
Anyway, you could understand how I was excite to hear the news of the Friction Proof. It is impossible to stop my sweat, but the biggest problem in white stain by sunscreen. Anessa is a good product with less white stain on my bags and clothes.
Allie Extra UV Gel N
I jumped to Allie, and my first choice is Allie Extra UV Gel on 2018. Generally, I was satisfied with the product of 2018. The "Friction Proof" thing, Allie line are less damaging on my bags and clothes.
This Allie Extra UV Gel N is designed for face and body, as the same with the previous formula.
Fortunately (or my bad luck?), as I had mentioned, I bought the Extra UV Gel (the formula of 2018) in the end of 2019.
Let me show you with comparing the previous formula and the current formula in the pictures in below. Guess, you may not find the difference, to be honest, neither do I.
Texture — I do not find the difference between 2018 & 2020
The "Gel" is a kind of white and light cream, and there are no difference. Allie had wired perfume or smell, the products of the formula of 2018 and later are generally no perfume. It is a good point, but I am finding the smell of something, probably by the ingredients (in both formula of 2018 & 2020).
The texture is light but moisturising. No sticky and less oily. (I never say it is not oily, but it is less oily than other sunscreens.)
I had used the 2018 on my face too, I feel neither stinging nor irritation, and in the formula of 2020, I also feel neither stinging nor irritation.
Also, both change my skin tone slightly.
Waterproof
In Waterproof, the Extra UV Gel (of 2018) has one of the most strong waterproof effect among what I used on 2018-2019.
I sprayed my Avenue Water on it, and there is a strong waterproof as you can see.
I feel they are the same in 2018 & 2020.
In my conclusion, I could not find out the difference between the Extra UV Gel (2018)  and the Extra UV Gel N (2020). Probably they may changed the formula, but for my personal using, there are no big difference. I would keep using the Extra UV Gel until the end of the bottle, and I will switch to others.
But if you buy Extra UV Gel things, please buy "Extra UV Gel N", because as of Feb 2020, it is clearly newest.
Please check the latest price, and order from here: "Kanebo Allie"