In SS2022, Kose released new makeup remover, Cosme Decorte HYDRA CLARITY Micro Essence Cleansing Emulsion.
I got samples.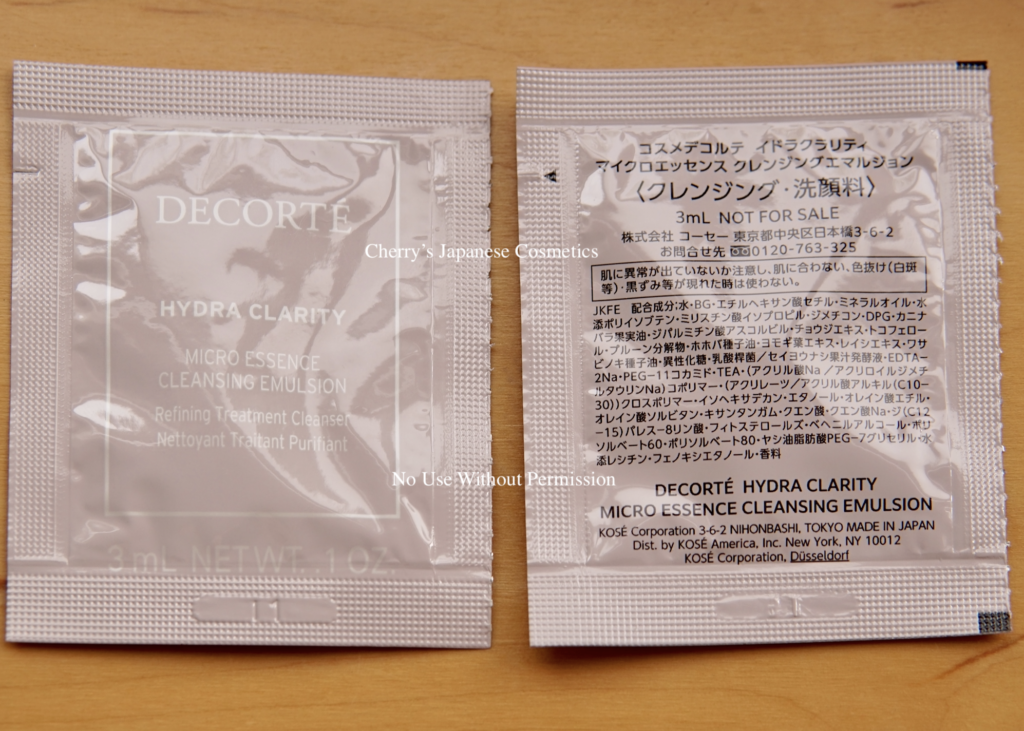 Kose insists that you have no need to use face wash afterward of this product, but firstly I not it is too greasy.
Anyway, let me share how I felt.
I believe removing your makeup is one of the important steps for keeping smooth look. This is the reason why I often show you my review of makeup removers.
It is a milky emulsion, and it can be categorised as cleansing milk or something, what are not for me, generally, and I show you the reason why in this article too.
Before telling about it, there are my makeups.
Do you use waterproof eyeliners or waterproof mascaras? I do. For such people like me, this product is not for us.
Generally I use waterproof sunscreen (Allie Facial is my choice), and waterproof eyeliners & mascaras are my favorite.
Cleaning Milks, Cleansing Gels, Cleansing Waters are BAD at waterproof products, this is the first reason why I don't use. Warm Cleaning Gels are worst among them, by the way.
As a cleansing milk, Cosme Decorte HYDRA CLARITY Micro Essence Cleansing Emulsion is better at removing, but not enough.
The RMK Mascara is one of the products hard to be removed, I admit.
It is the second bad point of this product what they designed this product as "no need of using face washes".
There are MANY cleansing oil/ balm/ cream what are not good at removing this RMK. BUT it is removed perfectly after using face washes.
It is a not only bad hygienic, but also it is TOO greasy. I am afraid of I would earn acnes if I would not use my face wash.
The scent is not bad, but generally this product is not for me.
Wanna try? I can not stop you, of course.
I say again, there are no perfect cosmetics for any of the person. This is not for my preference, but it does not meaning it is bad for you.
Please check the latest price, and order from here: "Cosme Decorte Hydra Clarity Line".