In this year of 2022, Kanebo changed the formula of Allie, their famous sunscreen. Allie Extra UV Facial Gel N is changed to Allie Chrono Beauty Facial UV Gel EX.
I bought new Allie Chrono Beauty Facial UV Gel EX. And still I kept my Extra UV Facial Gel N, what I had repeated few times in couple of years. Let me compare how it changed.
Also, I know some of the stores are still selling the previous formula. Please pay attention when you buy.
How design changed?
In the package of 2020, it was described as " UV3.0", and it was plastic package. In the formula of 2022, they are using paper (plastic coated) package, less using plastics.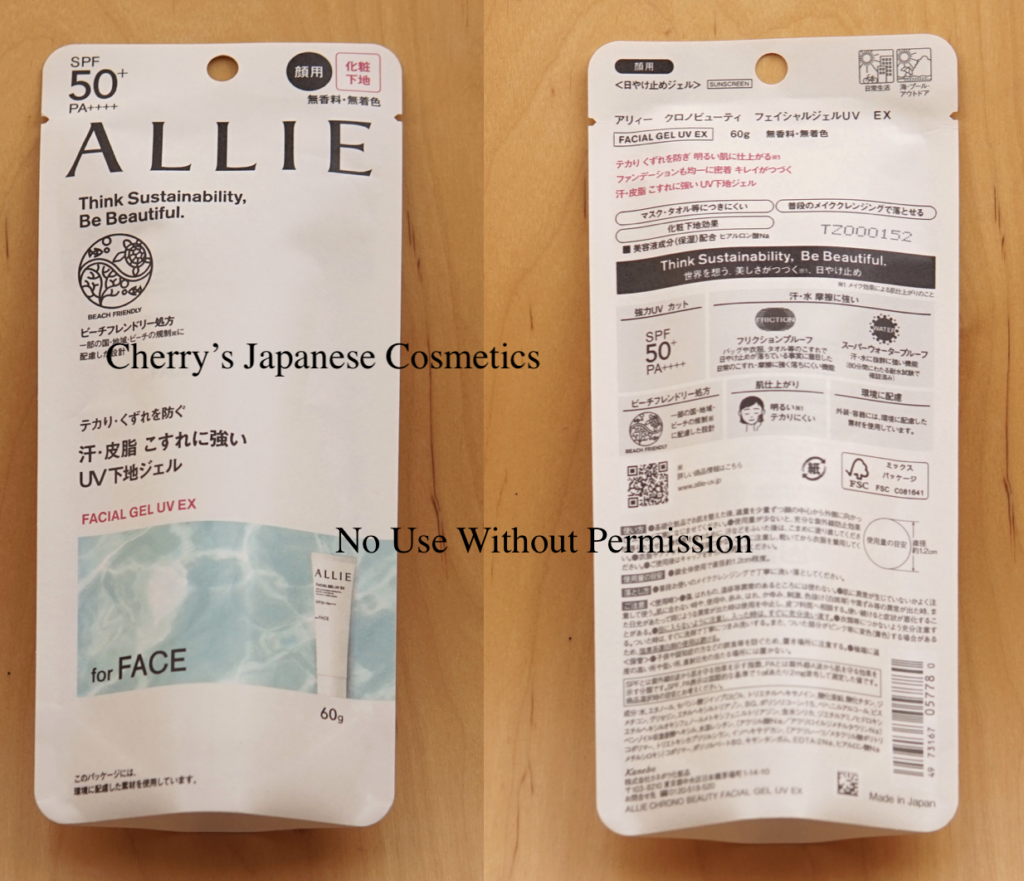 Also according to Kanebo, this formula is Reef Friendly formula. In some places, like Hawaii, USA, there are some law/ regulations about "Sunscreen Ban", but this Allie is a Reef Safe.
In this formula, they release this product 60g.
Generally how I felt
As this is a facial gel, upon application it has a rather thick, watery, bouncy texture that is more moisturising. I find that when I apply this, it goes on smooth on my face, and provides enough moisture that is sufficient enough for my drier skin. I use this product in the morning as my primer/moisturiser in one.
I often use sunscreens as my foundation primers, and my POLA powder foundation and SUQQU The Cream Foundation glide on smoothly afterwards.
Aside from the initial application, this product feels fairly lightweight on my face. It also did not cause any breakouts. I do not feel the need to reapply even when I sweat with my walking. My makeup and sunblock stayed intact even after long hours in a cool and dry environment.
I sometimes feel stinging and my eyes are turned to red with sunscreens, but fortunately as the previous formulas, this Allie Chrono Beauty Facial does no harm for me.
It's also easy to remove, with makeup remover and cleansing water. I wash my face afterwards with facial foam.
Overall I really like this one because the gel texture provides moisture and serves as a real good primer for my face.
I rarely perspire in this season (still Feb! and it is sooo cold and snowing every morning!), but it is a waterproof, and friction proof, it may be good for me in Summer too.
Check the latest price, and order from here; "
Kanebo Allie
".
Comparison
There are some comparisons.
Comparing Allie Chrono Beauty Facial UV EX & Allie Extra UV Facial Gel N
First comparison is with previous formula.
OOPS it is described as "Formula od", but it is a typo of "Formula of", of course!
Both are turning to my skin slightly white, some of the sunscreen makers are promoting this white cast as "Tone Up". In case of "Allie Facial" line, I feel it settles to natural quickly, and I don't see it turns white cast with water.
To be honest, as a customer who lives in sea side, but rarely goes into the sea — I haven't in this decade!!, it is the most important that  "good sunscreen" than beach friendly/ reef safe.
I had thought if the quality of 2022 is less than 2020, I would switch to Anessa or other, but seems it is the same quality with the previous formula. Really nice.
Comparing with Allie Chrono Beauty Gel UV EX
I also bought Allie Chrono beauty Gel UV EX.
The texture is different. Gel UV is lighter than this Facial. Facial is more creamy. When I apply both on my cheeks, Facial side is slightly oiler or greasy, but Gel UV side is drier (but I won't say it is not oily). If you have oily skin, I feel you may like Gel UV more than this Facial, but I choose Facial on my face in this season.
Both are slightly changed my skin tone different. I know some people says it is "tone up", but I say "whiting unnaturally".
Gel UV EX is super waterproof, and this Facial Gel UV EX is also waterproof. I feel Gel UV is more stronger than Facial, as they say. But I think this Kanebo Allie Chrono Beauty Facial Gel UV EX is QUITE good waterproof. I suggest this is for those who has drier skin, but looking for a waterproof sunscreen as a foundation primer.
It is a try worth. However it is not meaning it is good for Atopic, there are none has Atopic in our team.
Please check the latest price, and order from here:
Kanebo Allie
.