The BC of POLA templated me to buy another tester. And I did. There are no budget to buy other products in this month!
I bought a tester of POLA diem couleur color blend foundation.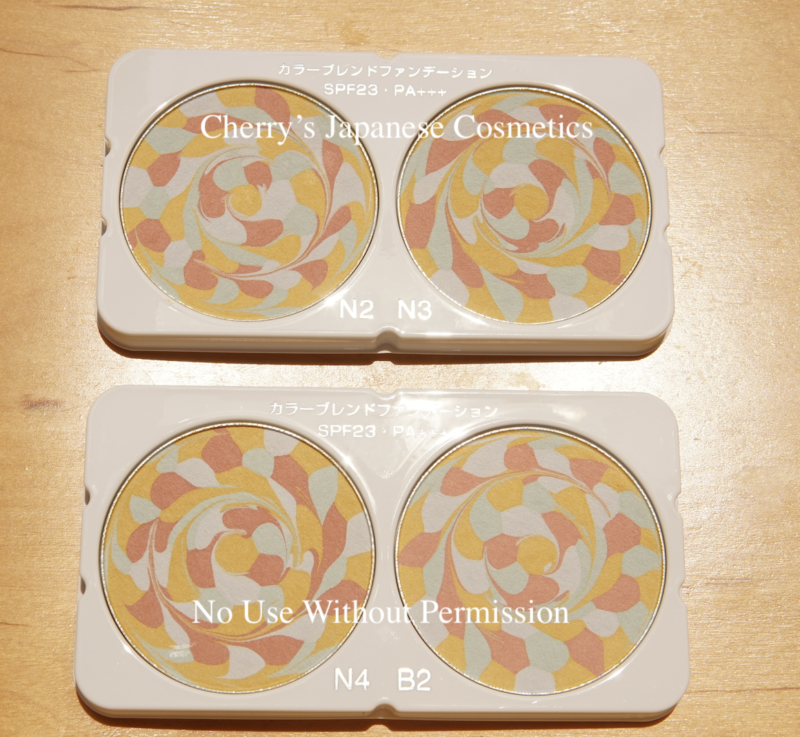 In "diem couleur" line, there are two foundations, "color blend foundation" and "color blend foundation glow". This is the classic "color blend foundation", the powder foundation.
Swatch among color blend foundation
It is a sheer foundation.
In "glow" foundation, I had thought there are no big difference, but in this powder foundation, there are nothing big difference. But I say #B2 is not "light shade" but "white". I decided to use this #B2" as my face powder.
Here is the swatch between #N2 and #B2.
Not big different in the picture, but actually, #B2 is more yellow than #N2.
POLA says wipe one direction, in one stroke. But my actual daily using, it is the best way that rounding by the smallest part of triangular prism sponge.
Swatch with "color blend foundation glow"
There are swatch with the "glow", in the same shade number.
In #N2, #N3, and #B2, you may see the shade "zone" is not quite different.
However see #N4.
Hmm. #N4 in "glow" is quite pinkish on my arm. It can be due to the layer ("glow" is thick) and the covering ("glow" is more good covering). If you use #N4, please pay attention.
Texture, finish, coverage and lasting
Texture
The texture of this powder foundation is light, but as the powder foundation, this is a kind of "moisturised" type.
I sweat really a lot, but I also get easy to be dried in the strongly air conditioned room. Powder foundations are good lasting, but not nice to use under the air conditioned room. However with this diem couleur powder foundation, there are no such dryness.
Coverage
The coverage is not good. I say it covers my uneven skin tone, but I strongly recommend to use the Primer L, which is pinkish primer, and it does not only toning your skin tone, but it covers slightly.
If you prefer the foundations itself has a covering effect, my recommend is "diem couleur glow".
Also, if you have widely opened pores, it does not emphasis but it does not cover them. You need something to cover.
Lasting
It is a sheer foundation, but the lasting is more than expected. On the day I sticked to home for whole a day, I did wear both the "glow" foundation and this powder foundation each side of my face. Odd look? exactly, but no worries, nobody visited while I did it. Anyway, due to the good breezing, I did not use the air conditioner, I slightly sweat on my face. I found sweat drops on the "glow" side, but not running. On the other side, there are no drops and never running.
Also, when I walked at the cloudy day, over 30C degrees, I sweat extremely, but the foundation itself was no running. I did not used any products (the "powders" itself has sunscreen effect) excluding this foundation and the sunscreen (Allie) as the primer. Great lasting. I was satisfied.
Am not sure whether it is good for tropical area, but for me, this is quite good for my using at Summer.
But for my using, I use the Elegance case.
I tell you about the case, please also read it: POLA diem couleur case.
Please check the latest price, and order from here: "POLA diem couleur line"