In AW2021, Albion changed their point makeups.
I got samples of their lipsticks, let me share how I felt.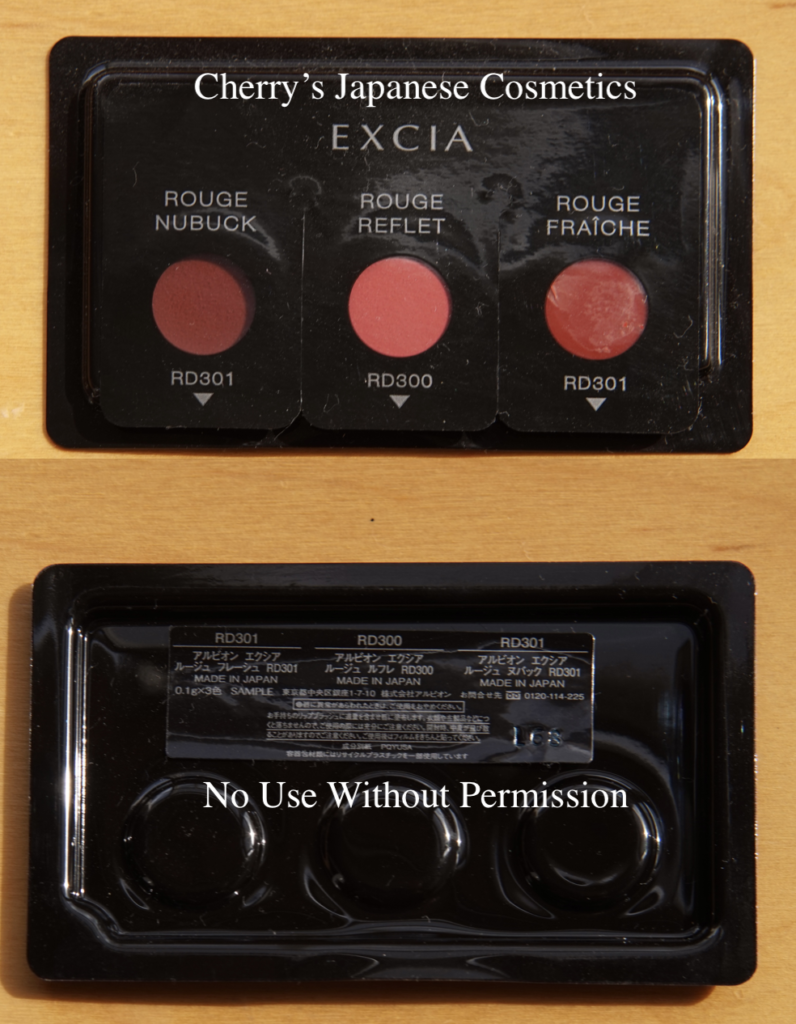 There are 3 lipsticks;
Albion Excia Rouge Nubuck #RD301
Albion Excia Rouge Reflet #RD300
Albion Rouge Fraiche #RD301
First of all, I have no interest on lips by Albion. They use perfume, and under this situation, we need to wear masks, and it never changes within next few years. I really dislike their artificial and strong perfume what never leave in my mask.
Swatch on arm, and how I felt
Recently, the trend on lipsticks seem to go towards matte and vivid colors, Nubuck is matte type, Reflet is natural to glow type, Fraiche is soft & glow type.
I need to describe that there are both Nubuck and Fraiche are the same color number of #RD301. It looks not the same color zone, in my eyes too.
I also need to note that I often pealed by matte lipsticks, I have no interest on matte lipsticks and Albion lipsticks, and no worth to wear. I need to wear something lip primers to wear matte lips. See how shades changes with primers + this Rouge Nubuck #RD301. The primers are NARS After Glow Lip Balm.
It turns the shade to different color, and the finish is matte to glow.
Fraiche #RD301
My first wearing is Fraiche #RD301, that is so smooth and nice texture to me. I wear more than 30 mins — it is pretty enough for knowing whether it is harmful or not, and it did not peal my lips. This product is the most soft one, when I was pealed my lips by this product, i would not try Reflet.
Also, the color is the very for my favorite. I am so disappointed this perfume, I felt as if I ate soap.
Reflet #RD300
Next, and probably my final try is Reflet #RD300.
I felt it is slightly sheer than Fraiche, but the color is too pink for my preference.
Sadly, even my condition is good, after my 30 mis wearing, I found my lips were pealed.
Also the soap kind perfume is unacceptable.
I did & do know Albion lips are not for me, but it is not meaning they are always bad for you. I really dislike this perfume, but there are many people they like this perfume.
Please check the latest price, and order from here: Albion Makeup for Lips.