"Skin Conditioner Essential" is a product of high reputation over 40 years. They are changing formulas slightly.
But this design of the bottle and the attitude is not changed.
The bottle is 110ml, the smallest, and what I'd often buy for myself.
It is changed in SS2022, with adlay oil, the current is "Albion Skin Conditioner Essential N". I got samples, and let me share how I felt. The bottle design in new formula is not changed.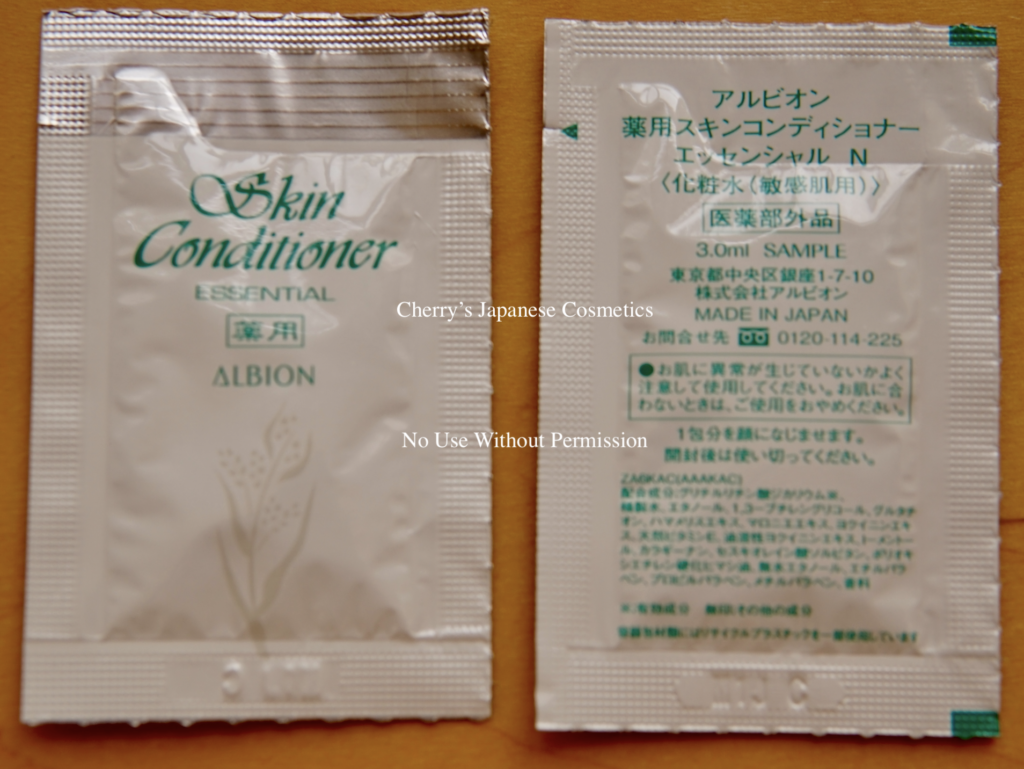 You can see the color of this lotion. The bottle is not colored. The lotion is white as you are seeing. As Albion claims that is because of coix seed, which make skin healthier.
In 2022, I still have a sample of previous formula, for writing this article, I am seeing both previous and new, they are so similar.
I have to admit it has too strong perfume, and I wonder why they are using such a strong one…
The way to use
Albion recommends to use their Facial Cotton L (soft). There are other 2 cottons Albion is producing, I will tell you about cottons later, but let me show you the proper quantity of this lotion. This size is a sample size, I asked a girl who often goes to obtain Albion items whether she has something or not.
They recommend to use this lotion/ toner as "booster" of other products, if you wanna use.
When you wanna use Albion's milk, after your face wash, "Milk", and this Skin Conditioner or their "Lotion". Do not forget something wrap. When you wanna use or you can use other brands things with this Skin Conditioner, apply this first, and go your routine.
However I say use as your favorite way :).
But I often use this lotion with Hitachi Face Crie (auto face cleaner, already discontinued), to remove my dirt in depth of my skin, after my face wash. And I do my routine skin care, that's all.
In Skin Conditioner series, there is sheet mask, as the product itself, that's good, but we do not recommend to use. Why? The "liquid" is the very Skin Conditioner Essential! Do you know "Lotion pack" aka "Cotton pack", which we Japanese girls often do that? Sink your cotton/ tissue/ kitchen paper etc your favorite lotion and put on your face to make sheet mask, and we Japanese often say "pack" as sheet masks. If you wanna know about this method, see also:Beauty Tips — Lotion Pack/ Cotton Pack
Previous formula is too strong for my using
Before talking about new formula for SS2022, let me tell you how I'd felt for previous formula.
To be honest, it contains alcohol, I often feel pain when I use such items. About this Skin Conditioner Essential, when I was young, I did not feel anything irritation. After applying this product on my skin, I feel as if it make my skin cool down. This lotion/ toner itself is good to moist, I felt I am refreshed in midsummer. I'd never tried when my skin is so sensitive or bad condition.
In 2015, I found Skin Conditioner is too strong, and I got stinging with this lotion, and I felt it make my skin drier. I stop using this product.
It was good when I was young, but it is not so much nice to use right now. When you feel irritation, please stop using.
New formula, Skin Conditioner Essential N is how different from previous formula?
This lotion is designed as "for sensitive skin", but I do not recommend if you have damaged/ truly sensitive skin.
According to the BC of Albion, she insisted the new formula is more moisturising with Adlay oil.
The day I felt my skin condition is better, I opened its package. I took the current and precious formula each cottons. The picture below is for Skin Conditioner Essential N.
I wiped my face each sides.
The general scent is not changed, as they say. But I felt the new formula is sweeten, and previous formula is more stronger scent of Alcohol.
When I wiped my face, I felt stinging with the side of previous formula, and dryness. I felt it is slightly moisturizing and no stinging in current formula.
For my using, it would be a booster or for Hitachi Hada Crie. Probably it would be let me feel refreshed when I use it in Mid Summer, but it is still Mid Spring now 🙂
Please remember that this product is not designed for a moisturiser. Also if you are Alcohol prone, I don't think it is nice for you.
Check the latest price, and order from here; "Albion Skin Conditioner".
How Hazelnuts of Philippines felt
Hazelnuts of Philippines purchased several times the precious formula of Skin Conditioner Essential. I asked her to feel how it is changed, seems it is getting smoother to ship to Philippines by EMS.
---
I'm a huge fan of the Albion Skin Conditioner Essential but it's been a while since I used it. I was told that the formula has changed, so I'm lucky to get the old formula and the new one, just so I could compare the two:
Check the latest price, and order from here; "Albion Skin Conditioner".