In Feb 2018, Kose changed completely the formula of Awake. In Awake skin care method, the core factor is "XX Shot Concentrate Oil" line.
I bought a limited kit for whole of the four XX Shot Concentrate Oil.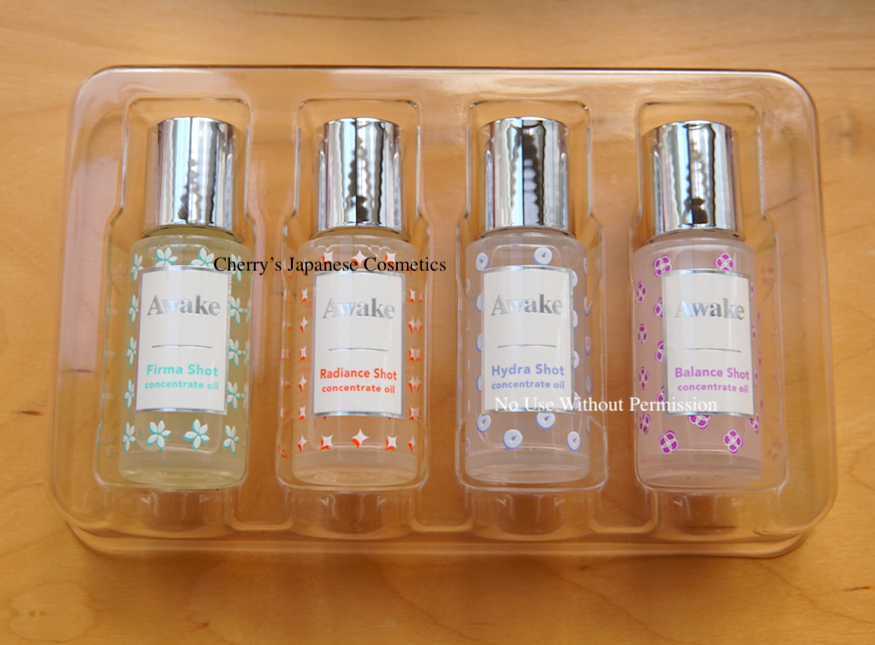 You can choose as your skin condition, you can mix these as your skin condition, and you can use as you want: booster, massager, essence, all in one oil, and body oil.
Firma Shot Concentrate Oil, "Green" bottle for ageing care
This "Firma" is the green one, this is for the ageing care, especially for the wrinkles or dryness.
In this picture above, it is a small trial bottle, the full bottle is pump style.
The texture is smooth, not quite heavy oil. It moisturized my skin pretty well, after few mins, my skin is smooth.
The scent is bitter, but I like it. They use some essential oils, but they also use perfume too.
As the massager, this oil is not slippy for massager with good quantity for moisturiser. Guess I should better to use much quantity on my face to massage.
Checking what Japanese reviewers are saying, I found few got pealed, the other few got acnes. The plant based products are often harmful for some people. Some for nice result of moisturizing, the other some got their swelling is gone down with massaging with this oil.
It was interesting that I found a reviewer told that pore cleansing with hot/ steamed towel;
After your face wash, apply steamed towel on your face
Applying this firm shot concentrate oil whole of your face
Wipe your face with other steamed towel
Here is the ingredients of Firma Shot Concentrate Oil, (translated by Google)
Olive fruit oil · rice bran oil · meadow foam oil · tri (caprylic acid / capric acid) glyceryl · triethylhexanoin · ascorbic acid · algania spinosa nuclear oil · caninabara fruit oil · rice germ oil · sesame oil · safflower oil · perilla seed Oil · Ascorbyl dipalmitate · Horsetail extract · Tocopherol · Sunflower seed oil · Jojoba seed oil · Lavender oil · Ethanol · Olive fatty acid ethyl · squalane · corn germ oil · fragrance
If you are prone for some plant based oils (like lavender oil), please attention to use.
Please check the latest price, and order from here: Awake Firma Shot Concentrate Oil, or wanna order in Japanese Yen? Check our JPY Branch!