I (Cherry) really like Albion products, but as I often describe, there is one big problem: perfume. I will often back to Fancl from Albion, but I am also looking for something new and great.
After more than one year staying at home, I am feeling it is a time to go to adventure. I stay 20 nights in hotels, I remind IPSA ME line, as an All-in-One emulsion. I had good impression with them, and before going to vacation, I bought it and tried few nights whether it is fit to me or not.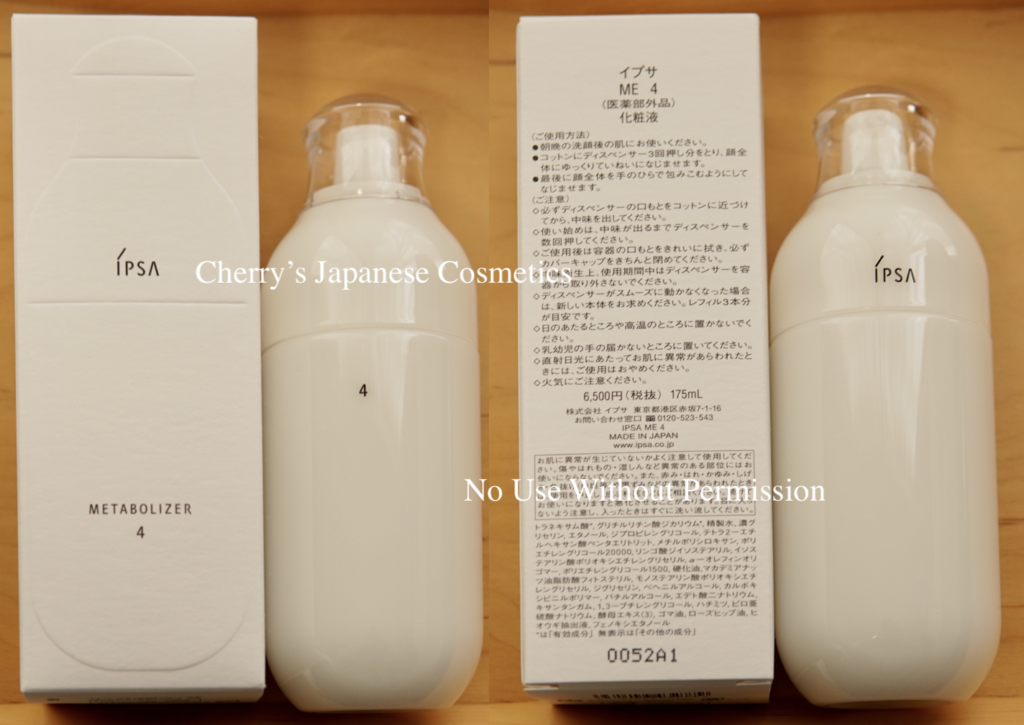 20 nights are so long, I stay at 4 hotels. It is not a bad idea that using small bottles/ sample packages, and through away to shrinking my stuffs. But I am such a lazy person, I really dislike looking for my bags where my small packages/ bottles are. 
I had used IPSA ME Extra 2 (formula of 2015), and they changed a formula in 2022. Probably previous IPSA ME Extra 2 should be ME3 now, I think I should choose ME4.
IPSA Metabolizer skin care method
A friend of mine who recommended IPSA ME line, who is a working mother, and have 2 kids. Her husband is quite busy person, working early morning to midnight. It is not common to hire sitters in here, especially for such an ordinary family, after she picked up kids from school or kindergarten, she need to be with them. She has no time to care herself.
IPSA is unique, ME is a kind of All-in-one emulsion. I will tell you about it later, but shortly, you have no need to use extra thing after ME (Metabolizer). Remove your makeup, wash your face, and apply ME, that's all. If you wanna add something, you can do that. 
For her, this method is the best. She used to use SK2, but they requires too many steps for her now.
How Cherry felt?
Anyway, let me show you how I felt in person.
In previous formula, there were no brightening factor in "Me Regular", it was the reason why I choose "Extra", it has m-Tranexamic acid as brightening. In this formula of 2020, there are neither Regular/ Extra/ Superior, there are 8 ME bottles, 4 Sensitive bottle, and 4 Ultimate e bottles. I'd chosen Extra 2, my skin is combination to drier, and 2 is for dewy and smooth skin, used to be.
Currently I chose ME #4, it is for "smooth, and combination to drier skin". It can be for my Summer, I thought.
Recently, I often use Albion or Cosme Decorte products, they are oily. I never say this IPSA is non-oil, but I felt this is lighter.
IPSA recommend to apply 3 pushes with cotton. I'd been and I'm using this ME line by my hands — 1-4 pushes as my skin condition, but I show you as their recommendation. 2 pushes in home, and 4 pushes in hotels.
IPSA ME #4 is not a sticky texture. Just after applying, it is "heavy" or too much for me. But it gets so smooth really soon. When you feel it is too much, I recommend to apply less quantity!
I don't think it makes my skin brighter, sadly.
This is no perfume, but there is some kind of smell, maybe from m-Tranexamic acid or something. Fortunately for my skin, there are no stinging.
One ME bottle in 20 nights?
I bought it for my 20 nights vacation, you would wonder whether I used all or not. As people says and my previous experience, one  bottle is for 6-9 weeks. Even I used heavy layer, I can not use all the bottles in 20 nights!  
Please check the latest price, and order from here: IPSA ME.