Lancome is a big French cosmetic brand, but they had focused to Japanese market, they have a big laboratory in Japan, and they are selling some products for Japanese.
In 2019, they changed the formula Genifique Advanced to Genifique Advanced N.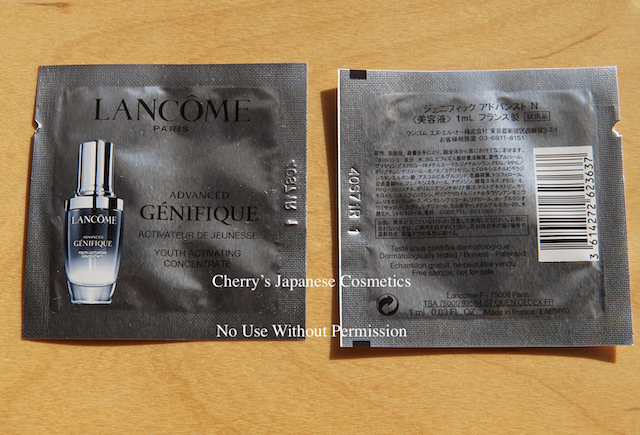 I had used "Genifique Advanced".
Japanese Formula
"Genifique" is a famous ageing care essence/ serum, and in Japan they are selling "Japanese Formula". As I remember that "Japanese Formula" was made in Japan, but as of 2019, the "Japanese Formula" is also made in France. They claims that this Genifique Advanced N Japanese Formula  is selling only in Japan. In here, there are many Lancome products imported parallel, and they deal Genifique Advanced much cheaper, but that is Global Formula. And even in Japanese airport DFS, they are not selling Japanese Formula of Genifique.
In person, I don't know about the difference between this Japanese formula and Global formula, I had got some samples only in Japanese counters!
We always buy from the Lancome counter.
If what you have is Japanese formula or not, please check the box and the bottle.
It is simply, they are printed in Japanese. In the box, it says "This unique formula is for Japanese Ladies, we sell only in Japan". (This bottle is the previous formula.)
How to use — different? maybe no
Checking in Lancome USA site, they say
1. ­After cleansing, apply as the first step in your routine, AM and PM.
2. The exclusive self-loading dropper gives the perfect amount of serum with each application.
3. Follow with your usual routine.
In the new formula of 2019, there are no difference between the previous formula. Checking the guide (of the previous formula), there is a corner described in English.
Use daily, morning and evening, before your regular skincare routine.
Generally we Japanese LOVE lotions. The BCs of Lancome emphasised apply before your lotion, apply just after your face wash. I often use Albion milks, I should apply Genifique just after my face wash, before of the Albion Milk.
Ingredients — different products?
This is not a medicated product, it must written in the order of the account of the percentages, but am not sure whether in the States. And also, I am not educated Chemicals in English.
Here is I found in Lancome USA.
Water, Bifida Ferment Lysate, Glycerin, Alcohol Denat., Dimethicone, Hydroxyethylpiperazine Ethane Sulfonic Acid, Ascorbyl Glucoside, Sodium Hyaluronate, Sodium Hydroxide, Sodium Benzoate, Phenoxyethanol, Adenosine, Faex Extract/Yeast Extract/Extrait De Levure, Peg-20 Methyl Glucose Sesquistearate, Peg-60 Hydrogenated Castor Oil, Salicyloyl Phytosphingosine, Ammonium Polyacryldimethyltauramide/Ammonium Polyacryloyldimethyl Taurate, Limonene, Xanthan Gum, Caprylyl Glycol, Disodium Edta, Octyldodecanol, Citronellol, Fragrance.
Here is the Japanese formula translated by Google Translation.
Water, BG, bifidobacterium fermented extract, denatured alcohol, glycerin, bis PEG-18 methyl ether dimethylsilane, PEG / PPG / polybutylene glycol-8/5/3 glycerin, hydroxyethylpiperazine ethanesulfonic acid, ascorbyl glucoside, lactobacillaceae, tocopherol, Sodium benzoate, adenosine, yeast extract, PEG-8, PPG-3 myristyl, Polymnia Sonchifolia Root Juice, Maltodextrin, Salicyloyl Phytosphingosine, polyacryloyldimethyltaurine ammonium, limonene, mannose, Pentylene glycol, linalool, α-glucan oligosaccharide, caprylyl glycol, carbomer, methylgluceth-20, hydroxide K, citronellol, fragrance
How Cherry Felt?
Anyway, for this Japanese formula, this is a booster for your lotion.
Seems they do not change the style, I keep the picture in the previous formula.
Here is the exactly new Advanced N.
Previously, "Advanced" was half transparent. But in this new "Advanced N" is transparent.
There is scent, and it gone quickly, I had bought Estee Lauder Advanced Night Repair products, I really disliked the wired perfume. I prefer this lancome.
When I applied on my face, previously I had felt it was let on the surface, and kept sticky, not moisturized but sticky on my face, and after it is drying, I felt it is tight. Recently I felt it is not kept sticky on my face, still I felt a little bit tight. I need to apply lotion or Albion Milks before it is coming to dry. If you left your face this booster only without using anything, you may feel tight, some may describe as "lifting up", but I say tight.
My face is still more supple than the age, but I am feeling my skin is tired due to the heat and dryness by air conditioner , I am feeling this Genifique is boosting energy 🙂
It is a nice product, but I am feeling oils would be better for me while upcoming season of dryness.
Please check the latest price, and order from here: Lancome Genifique Advanced N (Japanese Formula)