Hazelnuts bought a bottle of Albion Exage White White Generate, and we asked her to review this.
Review by Hazelnuts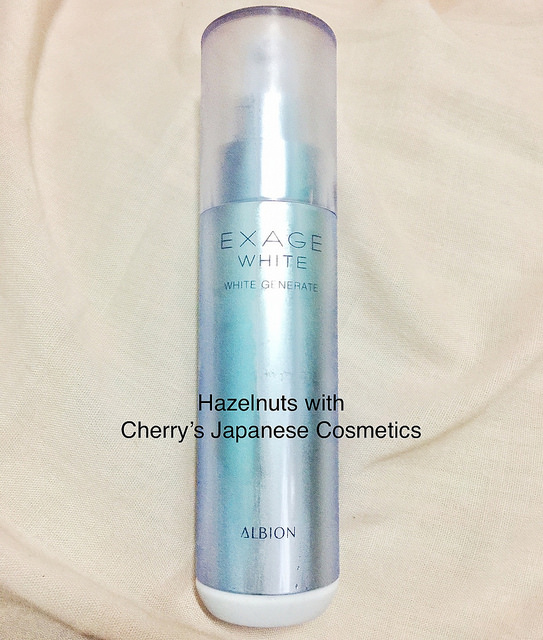 I'm a huge fan of Albion products because they seem to work well with my skin. After having tried the Excia Al whitening line, I obviously had high expectations for this next product, which is the Albion Exage White Generate.
It's a brightening serum meant to prevent the formation of freckles and suppress melanin in the skin. Because of its brightening properties, the texture is light and is meant to be used in the summer, to combat damage from UV rays.
I noticed how the serum is easily absorbed into my skin, without any greasy feel afterwards. My skin felt moist and after using for about a week, I did not have any breakouts, which is great news for my oily-combination skin. I like using this at night to boost skin repair and hydration.
Like Excia Al this product is also scented, so please take note of that if you're sensitive to fragrance in skincare. I find it very pleasant and soothing to use.
What I like about this serum is that it gives an immediate brightening effect— the moisture is just right, and it makes my skin glow. The "brightness" is visible, because I have several dark spots on my cheek which faded away after using this serum regularly. I do not have freckles though, so I'm not sure if it works on those, but I can certainly say that it makes my skin tone more even and bright.
It also works best when paired with other Albion products, such as the Exage White Pure Milk, for faster brightening effects. As for myself, I can be quite lazy with skincare, especially at night, so I use this serum alone— and it still works well. The moisture is sufficient for my skin but for those with dry skin it's better to pair this with Albion milk lotions or the skin conditioner. Overall I find it very good for my skin type and I will continue to use it!
Thank you, Hazel! It sounds so nice to hearing it worked well to you! I also used a sample (see the short review written in the bottom), but I did not feel my skin is turned to brighten.
On the picture Hazelnuts took, the bottle looked smoky, but it is not like that, at least before shipping to her.
Blue-silver bottle.
Review by Cherry
I (Cherry) got a sample of Albion EXAGE WHITE WHITE GENERATE.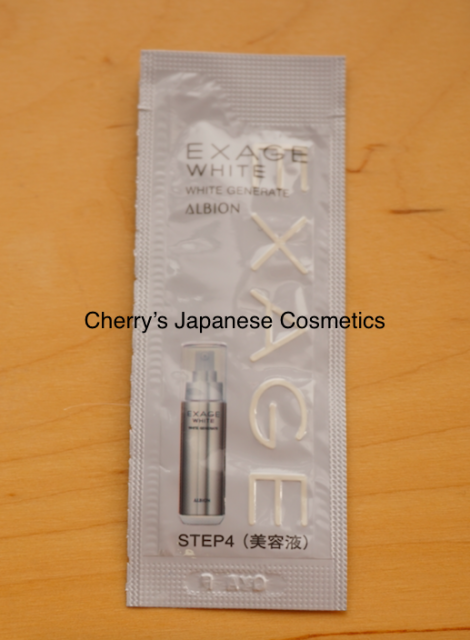 This product is including Tranexamic acid for brightening.
Yes, there are some perfume, not pretty much strong, I felt, but my nose is "fitting" to Albion products now. Oh no.
Sometimes I feel sting when I use brightening items, especially those "serum" or "essence" things. So far, I did not feel such problem with it. I have used just one package of a sample, I do not know whether it works for brightening or not.
Please check the latest price, and order from here: " Albion EXAGE WHITE WHITE GENERATE" or wanna purchase in Japanese Yen? Visit our JPY Branch!