Let me (Cherry) review products of Albion Excia AL Whitening, mini bottles set what is with Selection kit.
Today, let me show you the step 3, Lotion.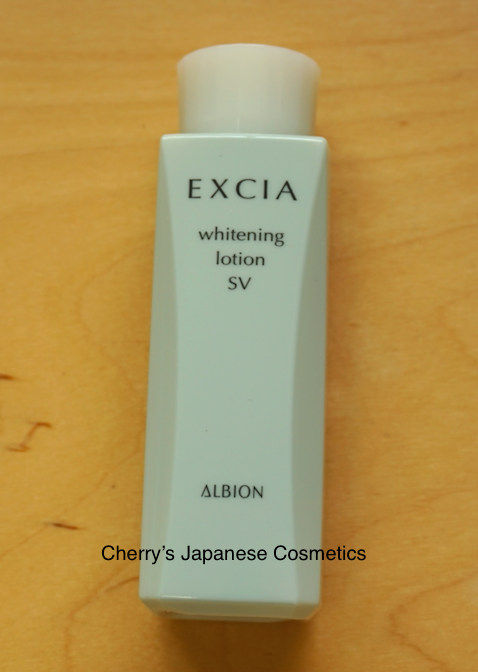 Albion Excia AL Whitening Lotion SV

I was a little bit surprised. Oh, this is a really white lotion.  This is a runny product.
The perfume is not Korean Ginseng kind as Sarah mentioned for Excia AL Renewing Lotion SV. It is the same with Excia AL Whitening Milk SV, fortunately, some kind of oriental herbal scent, and not pretty much strong.
Hazelnuts of Philippines told me that she felt cooling when she applied, but I do not feel that.
Lukin of the States said that:
This lotion is a milky liquid. Again, I felt the tiniest sensation of stinging after using this
product.

At other times, I used the EXCIA Renewing Lotion SV at this step. This product seemed to be the thickest consistency to me. The smell was quite strong but it faded away.

Once finished, I couldn't feel the products on my face. When I touched my face, there was no feeling of residue. I believe this line from Albion is for anti-aging. I believe the Eclafutur can be used as a special treatment
with any skincare routine. It is lovely and highly recommended.
Guess I am the person the most sensitive skin among three, when I applied this on my face, and there are no sting nor sensation for me. It's good. But for me, this is a typical lotion/ toner, moisturized my skin well. Even using Albion milks, I guess you can use your favorite lotions on the Step 3. I often use "Lotion Pack", I prefer lotions with affordable price zone, in person. But it is a good product.
Please check the latest price, and order from here:  Albion Excia AL Whitening Line