I (Cherry) recently got a sample of Kanebo Twany Century The Powder Foundation N.

The shade is Ochre C, seems this is a standard shade for Japanese.
Let me apply on my arm.
Let me blend.
It makes my skin looks smooth. Not so much "powdery" when I using warm season. It's coverage is fair, and the finish is natural. There are no glitters.
As I had mentioned, Japanese girls like powder foundations, but with aging, their preference will be changed, like me. Still I use powder foundations for Summer, because they are not pretty much easy to coming off, just comparing with liquid or emulsion.
Still it is not pretty much hot for us in my area, at May, almost 20s C degrees or something.
I often walk for 1-2 hours everyday, and I applied this. I can not say it did not coming off, but not pretty bad.
In Twany Century The line, this is only one powder foundations. Maybe people choose this for summer if they wanna change cream/ liquid and powder as the seasons.
The good point is, I could not find any perfume. I like it 🙂 I need to put it as my list of candidates.
Swatch of #Ochre C & #Ochre D
Seems #Ochre C & #Ochre D are there standard shades for Japanese.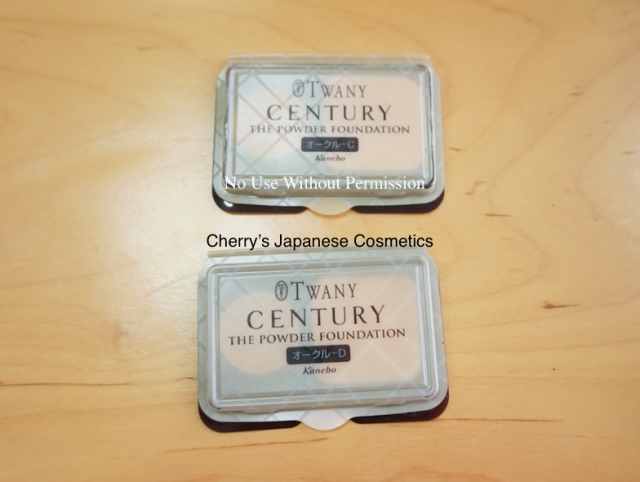 We often get the order of the #Ochre C. In this time, I got samples of both, let me swatch. I had applied Twany Century the Essence Veil N as the primer.

It was a chilly day, I got a goose skin 🙁
Anyway, let me blend.
In person, #Ochre C is too yellow for my arm. Choosing shades to fix my neck, I choose more yellow pigments than actual of my face. My face is mid of #Ochre C & #Ochre D may for me. This foundation is not cheap, but combination of #Ochre C & #Ochre D may good for me.
As I know traveling to Asian countries, sometimes "fashionable" girls wear too pale shades than their necks, it always amazes me, in bad meaning. That's the perfectly your preference, I recommend to add one torn darker shade too to couture or make natural look.
Please check the latest price, and the schedule of the obsession: "Kanebo Twany Century".