Recently, I rarely wear concealers, but I strongly interest on 3D Concealer by POLA B.A, it has really good reputation among Japanese. It often sold out, but a local BC of POLA arranged me to purchase, luckily.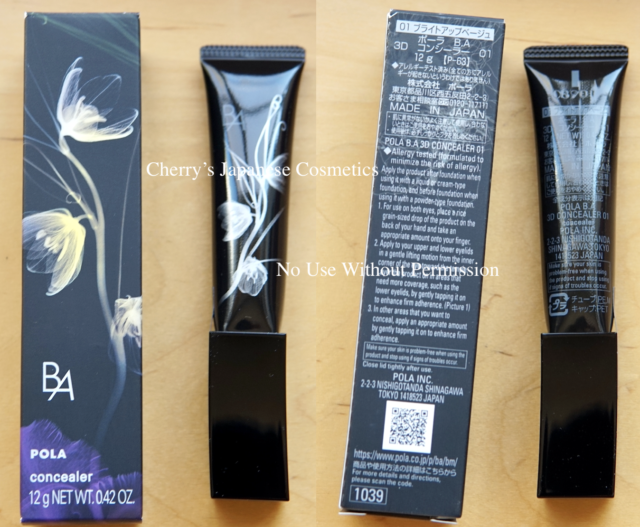 Hope you can see it is sealed in the side.
The shade is #01. They say it is not only covering your spots, eye circles, and your smiling lines, but also it works as highlighters, when it is a light shade for you.
The tube tip is unique.
To be honest, when I opened the cap, I was surprized with the strong scent. I'd used many perfumed foundations (like Albion!), and I think it is my first time to use foundations in BA line.
Let me show you on my arm.
It is a kind of hard cream foundation, but as a concealer, it is more runny than I 'd expected. I think it is also a first time to use such cream concealers.
I had a kind of bitten mark by mosquito, it was almost hidden by the shade of the concealer in the picture in the left. Hope you can see something it is hiding in the right. The concealer shade is perfectly the same with my arm shade, it is really difficult to take photos.
I feel it lasting is good, but it is not a waterproofing product. Below is the swatches on my hand, I took it after 30 mins walking from the POLA store, I took it by my iPhone, not a perfect condition, but I feel you may be able to see it is still they are.
It is difficult to see the shade difference, I admit. #02 is slightly darker than #01.
To be honest…the perfume frontal crushes with my other daily products, and it is not easy to use those cream concealers for me. I feel I did overestimate. I think it is a bad product, but stick concealers or concealers with tips are more easier to use for me.
Please check the latest price, and order from here: POLA B.A Foundations.