Albion changed "Chiffon" powder foundations to "Powderest" in AW2019 – SS2020.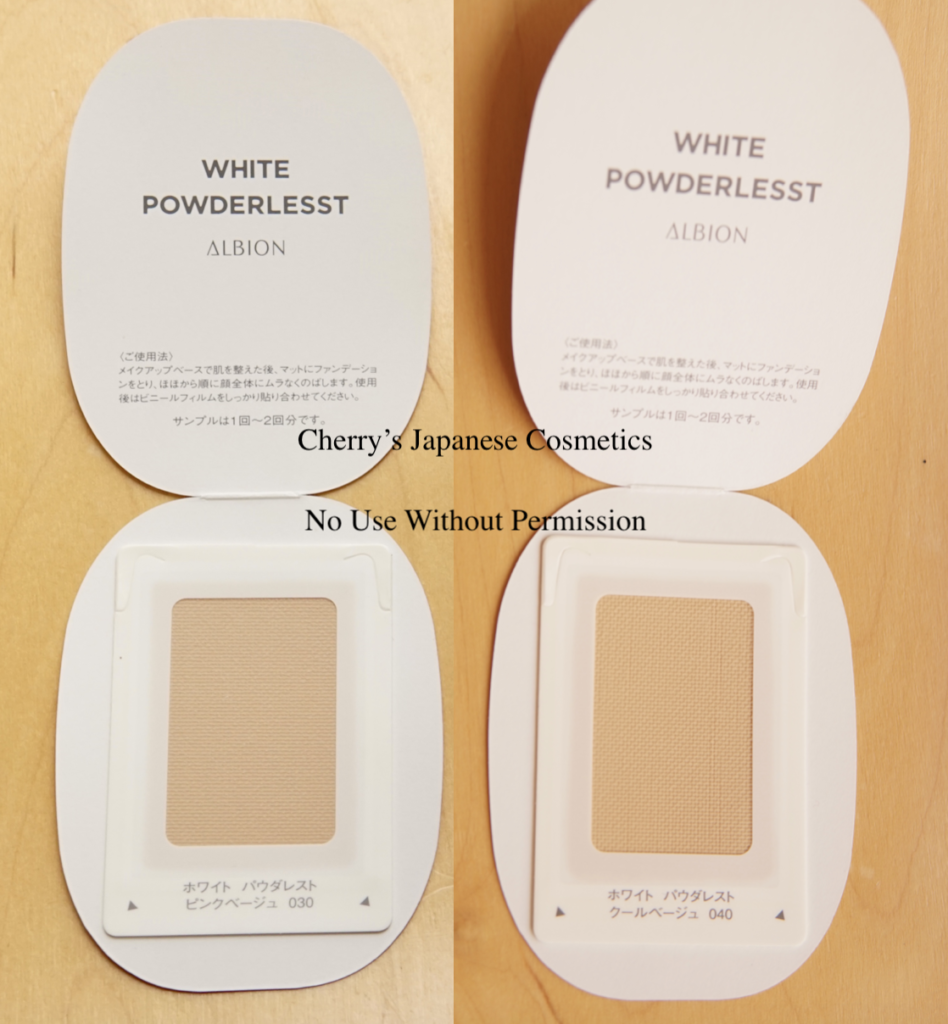 The pictures above are taken in different days, the lighting are quite different (due to the sunshine!)
I used some samples of "Chiffon", one of a close friend of mine really favourite that line, but for me, it emphasis my pore holes.
I got samples of this "Albion White Powderest", let me share how I felt.
How do you feel about SPF25 PA++?
With this foundation, you may use something foundation primers or color controlers. I use sunscreens as primers. So, it is pretty enough, I am sure.
In Albion foundations (excluding Excia line), #030,#040, #050 are settled as standard shades.
Finish & lasting
It is a powder foundation, and its coverage is sheer to middle, I feel. The finish is not shimmering. I feel it emphasis my pore holes, as previous formula, I say it is not for me.
It was a sunny and windy Spring day, it was a dry day and I did not sweat. I wear face masks as the age of masks, and it run, but not ugly.
Swatch with #030 and #040
In the picture above, all the three shades are the same. In my eyes,  I am feeling #040 is more Beige than #030, aka #030 is slightly more Ochre than #040.
When you can read Japanese, it is described as "030 Pink Beige" and "040 Cool Beige", there are no lie.
Swatch with POLA diem couleur Color Blend Foundation N
Here is a swatches. #030 with #N2 & #N3 in POLA diem N.
#030 is similar shade with POLA diem #N2.
#040 and POLA diem N #N3 & #N4
In my eyes, #040 is a little bit lighter than POLA diem N #N3.
Here is another swatch. #040 and POLA diem N #N2 & #N3.
#040 is also similar shade with POLA diem N #N2.
With SUQQU The Cream Foundation #110
Currently the most Beige foundation among what I have is SUQQU The Cream Foundation #110. Here is a swatch.
It is difficult to take this swatch! Also, it is not easy to compare with Cream foundation with Powder foundations. I don't want to buy other foundations right now! I compare among what I have!
What I want to show is the color pigment categories. #030 is more Ochre to Pink than both SUQQU #110 or #040. And #040 and SUQQU #110 can be categorised as the same group.
I have to swatch them with other Albion foundations, I will not compare them with SUQQU #120.
Please check the latest price, and order from here: "Albion Foundations".