I got samples of Shiseido Cle de Peau Beaute Lipsticks, new for AW2021.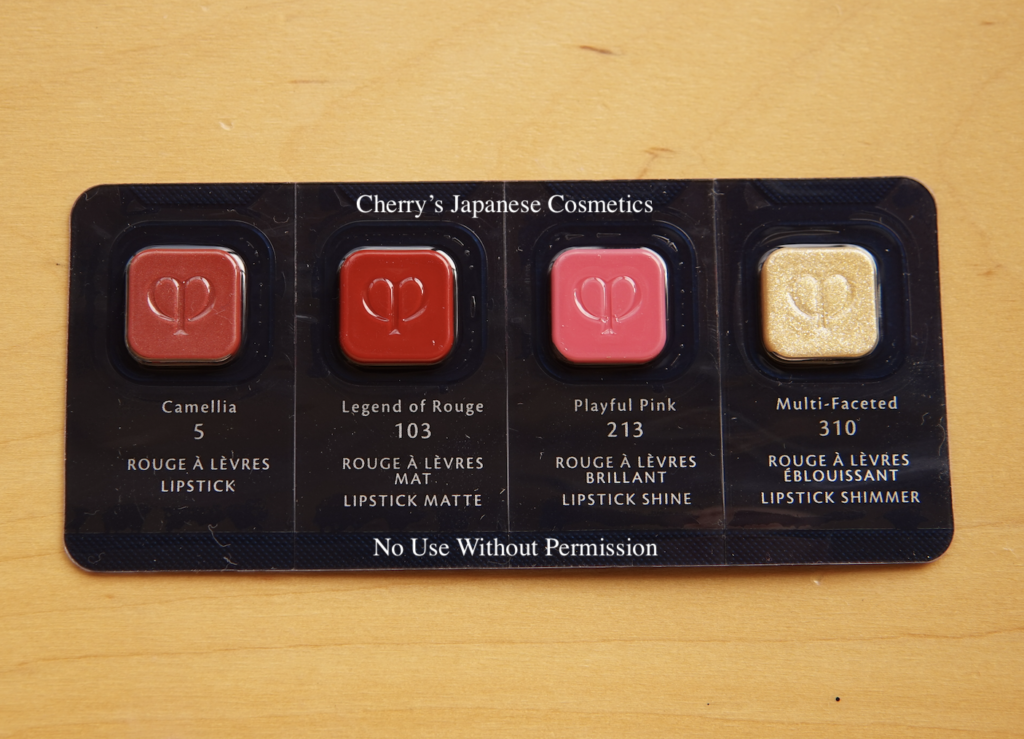 Rouge A Levres Ebloussant (Lipstick Shimmer) #310 Multi-Faceted
Rough A Levres Brillant (Lipstick Shine) #213 Playful Pink
Rouge A Levres Mat (Lipstick Matte) #103 Legend of Rouge
Rouge A Levres (Lipstick) #5 Camellia
I need to note first that I often pealed by lipsticks (especially matte lips), and Ebloussant was not bad, Brillant made me dry, Rouge A Levres made me something irritation. Then, I decided not to apply Mat.
When I would use lip primers, it could be different, but it is simply troublesome, also the color of #103 looks tacky for me. Anyway, what I found was this line is not for me.
I show you my swatch on my arm.
Ebloussant (Shimmer) is tricky. It looks slightly pink, but it is due to the brush has pink segments, it is not new brush. When I apply it on my arm with my finger, it is no punk segments. There are no glitters in other shades, and as I show you the picture above (and right), you can place this product on your lipsticks with no glitters to change the look. It looks fancy, but I feel the glitters are too big and tacky, and I never use that way.
Brillant (Shine) is a kind of glow, it is sheer on my lips, and made my lips drier.
Rouge A Levres is also a glow lipstick, it makes my lips naturally ruddy, but I felt something slight irritation with using it.
I am wondering whether we are dealing this line or not. When you need it, please feel free to ask me. It is JPY8,640 per a lipstick without the shipping. When you re able to purchase this brand in your country, it is always cheaper, at least for the shippings.