In SS2018, Albion released Elegance Gelee Foundation.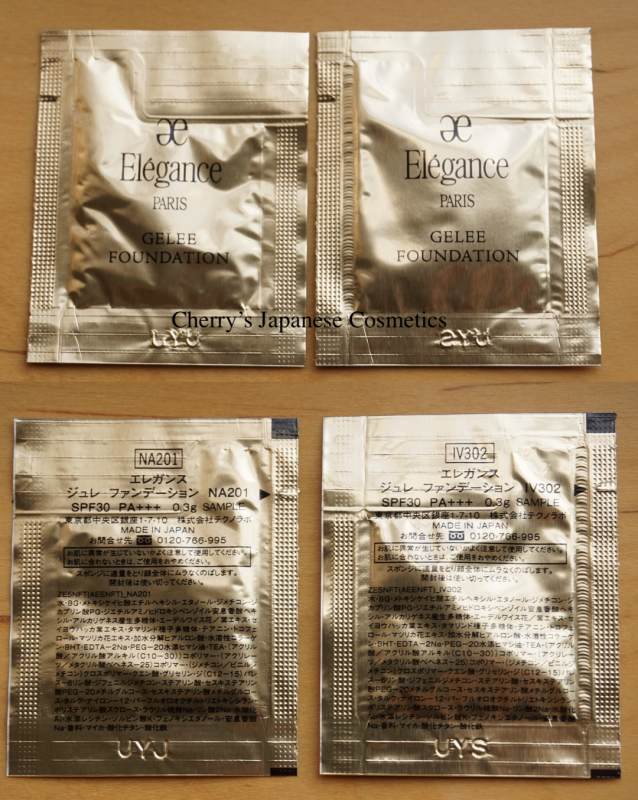 How I felt wearing on my face
I felt the texture is light but well moisturised on my face. I felt it is not oily but watery.
Elegance Gelee Foundation is natural to glow finish. It covered my uneven skin tone pretty good.
#NA201 and #IV301 are standard shades for Japanese, and you may see the shade difference on the picture above.
I walked for 2 hours with wearing this foundation for shipping and buying for you. It was sudden warm day after whole night raining. The air was humid. I was looked like a person who just got shower, as if it was already Summer!
I found half of my foundation was already gone, but it was not pretty ugly. Guess the lasting is fair.
For the person who does not care about the strong floral perfume, if you are looking for something good lasting and natural to glow foundation, this can be for you.
Please check the latest price, and order from here;"Elegance Gelee Foundation", or in our JPY Branch!
Shade Swatch with other brands
With Excia AL Superior Cream Foundation EX #NA201, Elegance #NA201 is one tone lighter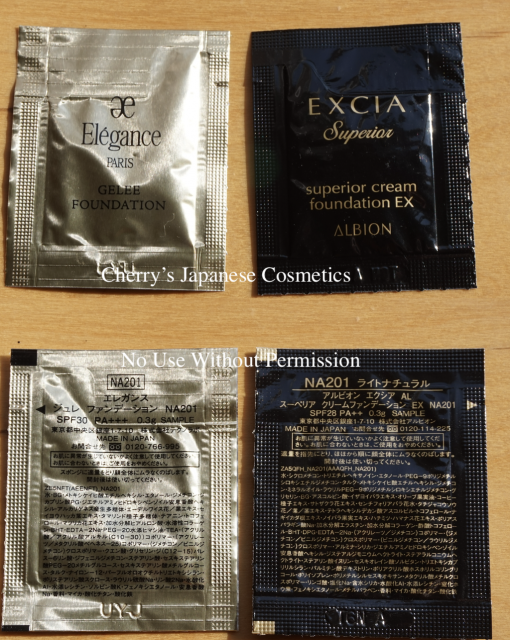 I got a sample of #NA201 and here is also a sample of Excia AL Superior Cream Foundation EX, one of the best seller among us.
Here is my swatch.
Hope you can see how light and watery texture of Gelee foundation.
Is it visible to see the shade difference between two? Excia #NA201 is more "natural" shade on my arm, and Elegance #NA201 is one tone light shade, and less pink pigment. Guess if I could, I should better to compare with #OC101 or #OC111 of Excia Foundation.
Both are stronger perfume, I pretty like the quality of Albion foundations, especially Excia AL Superior Cream Foundation EX, but this perfume is the reason why I can not buy it for myself. This Elegance Gelee Foundation has strong scent and it is floral, due to the different two strong smell, I was really bad feeling, I need to note. If you are a perfume prone, like me, this foundation is not for us.
Please check the latest price, and order from here;"Elegance Foundations"