I often use Fancl and Albion, and recently I got small trial bottles of Ettusais Skin Version Up.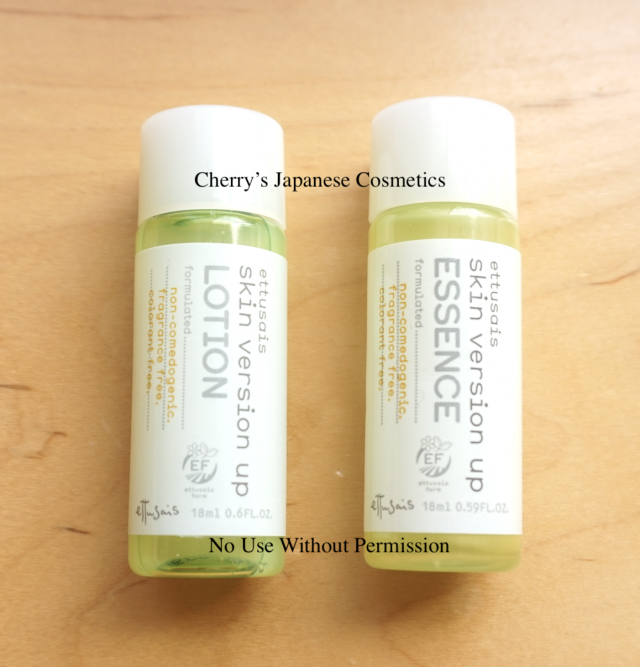 It is a kind of my nostalgic product, I had used in my late 20s, those days, I remind that it was too sticky to use.
As I remember, Ettusais is a branch brand of Shiseido. This non-perfume products remind me Ipsa Metabolizer products.
In this "Skin Version Up" line, please use Essence first, and the Lotion second. They claim that this line is for pore care.
Skin Version Up Essence
This "essence" is a booster/ emulsion. This is the very what I remind IPSA products. Guess most of the IPSA Metabolizers are more thick.
It is pretty easy to spread on my face, and when it is mid summer, I may do not use anything after of this product.
Skin Version Up Lotion
I am afraid that if you are not able to find the difference this Lotion and the Essence. This Lotion is more watery and half transparent product.
In full bottle, the essence is pump, and this lotion is no-pump. I think you will not be confused.
Anyway, I felt something the texture reminds me that Albion Infinesse lotion. There are no perfume, but there is a smell of something, it may be due to the Yeast Extract. Fortunately, current my skin condition is not bad, and there are no irritation.
If you want to buy them, we deal the Essence & Lotion set only. Visit the latest price and order from here: "Ettusais"