In Sep 2018, Fancl changes "Active Conditioning EX" line to "Enrich".
I got samples of Enrich #02 Moist, let me share how I felt.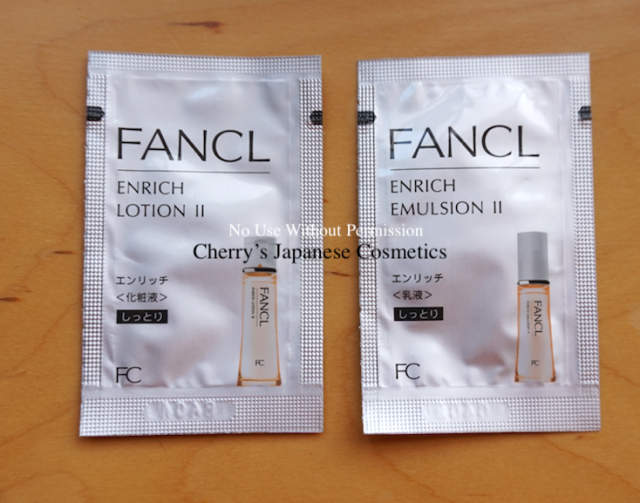 Review by Cherry
Seems the bottle design is not pretty changed, here is a picture of Active Conditioning EX Emulsion.
In current formula of Fancl, they are using pumps for the emulsions. I think it is a good idea for the hygiene.
It is the Active Conditioning EX, the texture is oilier than it looks.
Here is the current formula of "Enrich".
I felt there are not pretty big difference from the previous formula.
I am using oily products like Albion milks, and Fancl is not so much oily image, but this emulsion is a little bit oily. Its lotion is moisturizing well and sticky, the combination of Fancl Enrich Emulsion #2 and Fancl Enrich Lotion 2 are too much.  I am thinking to use Enrich Lotion #1 and Emulsion #1 after done with what I am carry, to prepare for my worst season — Spring.
And to be honest, I do not find pretty big difference between the previous formula and current.
Let me keep Hazelnuts of Philippines review for Active Conditioning EX Emulsion below.
Review by Hazelnuts
Hazelnuts of Philippines bought this emulsion for her vacation. See how she felt.
FANCL is a brand I got interested in because of its preservative- and paraben-free formulas. It seems quite basic and even their packaging is fuss-free. That being said, I am also aware that they have whitening and anti-aging formulas in their line as well so it means that they also cater to different skin concerns.
I am sharing my thoughts regarding the Fancl Active Conditioning Emlusion II Ex. I brought it with me during my travel as I felt I needed a heavier moisturizer to counteract dryness. Cherry mentioned that it might be too rich for my combination skin, so I took that into consideration as well. My skin reacts differently in dry and cold weather, so read on to see my overall experience with this product.
I brought this together with the Active Conditioning Lotion II but I decided to use this alone, just to see its effects.
According to its website, it has Active Ceramide and Active Collagen for skin regeneration and damage repair. I only applied this at night.
Some days I was too tired and busy traveling that I do not put anything in my face. As expected, the cold weather made my skin dry and I found my matte foundation or makeup clinging to dry patches on my cheeks. I was also out in the sun for too long and even with sunblock, my skin got dehydrated from sun exposure. I used this Fancl emulsion generously for several nights after several bouts of skin dryness.
I found the texture to be lightweight and moderately moisturizing. It was runny and watery, not too thick and definitely not oily. It sinks immediately into the skin and leaves it soft. My skin felt comfortable afterwards. I personally think that this is a very basic, lightweight moisturizer that relieves temporary dryness. I can definitely use this even in a hot and humid environment as it does not feel heavy or oily on me. Perhaps it will have better moisturizing effects when used together with the Active Conditioning Lotion Ex.
Another nice thing about this is that I did not experience irritations or breakouts while using this. My skin was still clear, and my only problem was dryness. It is a good moisturizer that I will keep on using!
Please check the latest price, and order from here: "Fancl Enrich"