Albion changed the formula of whole of Ignis on 2020.
Ignis Moisturizing line is for AW2020.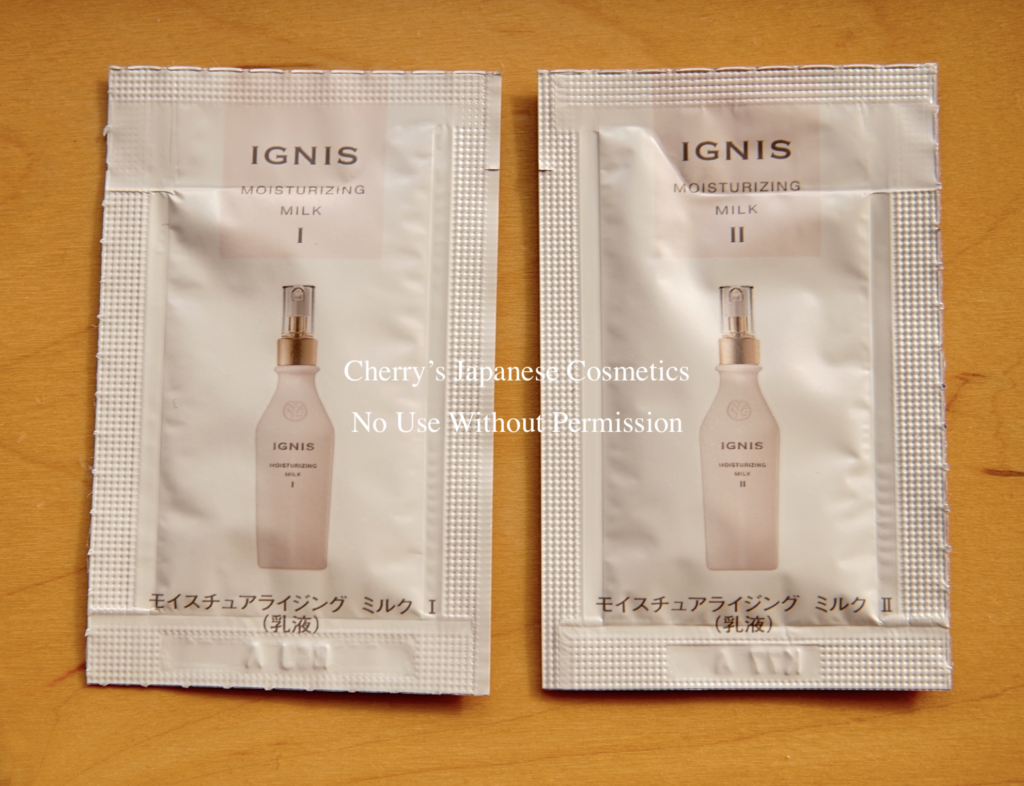 I got samples of Ignis Moisturizing Milk #1 & #2. Let me share with you how I felt.
In here Japan, it is the method by most of cosmetic brands' skincare; 1) face wash (make-up remover and face wash), 2) lotion/ toner, 3) serum/ cream etc, and 4) milky lotion/ emulsion. But Albion's method is 1) face wash, 2) milky lotion, 3) lotion/ toner, 4) serum/ cream etc.
This product contains alcohol and perfume. Also, if you are thinking you are an oil prone, this maker (Albion) is one of the brands what I never recommend.
Comparison
In the comparison, I use the double quantity of what Ignis's recommend. Officially it is insisting 3 pushes for one time use, but you can use the quantity as you want. I often compare my skin condition is not sensitive but a little bit tired.
Comparing Ignis Moisturizing Milk #01 & #02
First comparison should be the difference of #01 & #02.
I used whole of the package of #01 & #02 in both. I was surprised that the color are different; #01 looks like a fresh cream, and #02 looks like a custard cream.
Note: they are samples, they are released for the season of AW2020, but the condition kept in the store could be different. I checked the pictures people uploaded, I could not find those who shot like I did, I found some uploaded #01 is "white" look. #02 shot was looked more "yellow", but it can be due to the righting.
After applying them on my face, #02 side was more easier to be smooth on the surface, #01 side was a little bit sticky surface. I like the #02 texture more than #01.
Comparing Ignis Whitening Milk #01 and Ignis Moisturizing Milk #01
I was almost done with Ignis Whitening Milk #01, and after I heard about new Moisturizing Milk, I kept few to compare. Fortunately, there were 3 pushes of Whitening Milk left, and Moisturizing Milk #01 side is whole package.
I felt, Moisturizing Milk side is slightly harder texture, but afterward of applying, I felt there are no big difference.
So, when you want to use brightening milk in whole year, keep using your Whitening Milk in Winter too. Moisturizing Milk is not so much different finish with Whitening Milk.
Please check the latest price, and order from here:
Comparing Ignis Moisturizing Milk #2 and Ignis Premium Moisturizing Milk
Ignis Moisturizing Premium Milk is expensive than Moisturizing Milk. I compared those samples, but to be honest, I could not find anything difference on my face. When you feel Moisturizing Milk #2 is not enough moisuturize your face, guess you should use more quantity.
Please check the latest price, and order from here:
Comparing #2 with Albion Exage #2
Exam side is slightly lighter texture, but nothing big different.
If you like the texture and finish of Exage, but hate the perfume, Ignis is one of the choice as I can recommend to use. They are in the same price zone.