Albion changed the formula of Ignis on April 2020.
I got samples of new Ignis Whitening Premium Lotion. Let me review for you.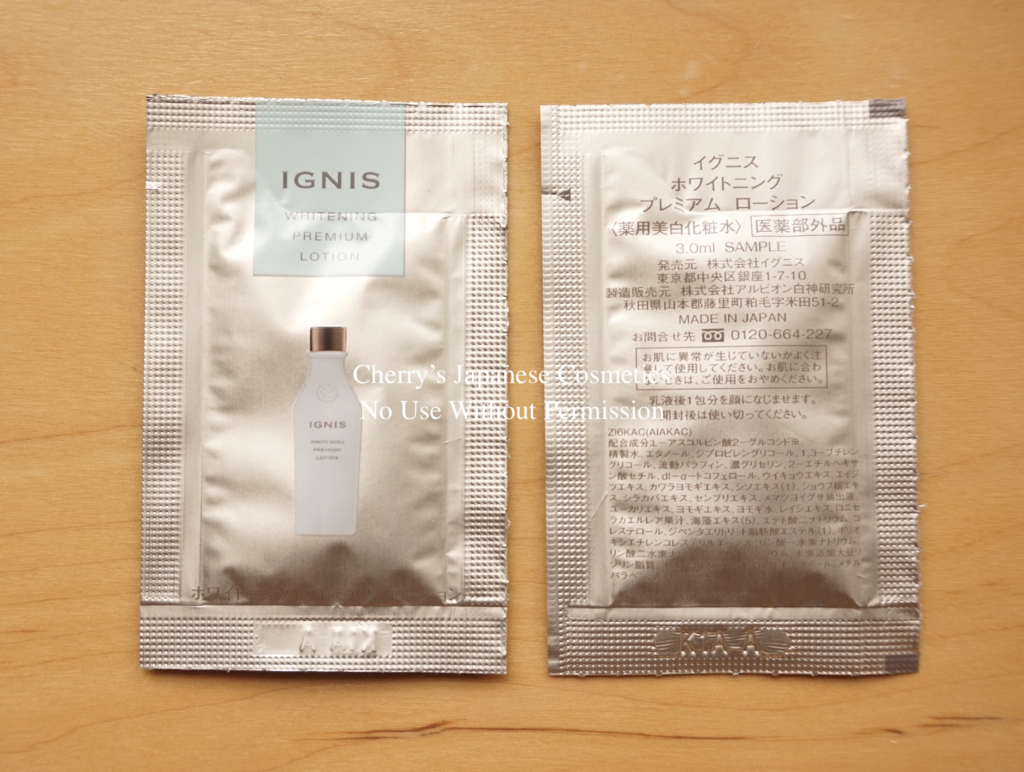 The day before using this "Premium Lotion", I had tested Ignis Whitening Lotion. Both are medicated, and the brightening factor is the same L Ascorbic Acid 2-Glucoside. I am going to describe for you with comparing with it.
The general difference of the concept is, Ignis Whitening line is for brightening, and Ignis Whitening premium line is for brightening and suppling.
The lotion itself is different from Ignis Whitening Lotion.
The first difference is the "color". In the Ignis Whitening Lotion is a half-transparent lotion. This Ignis Whitening Premium Lotion is non-transparent, and guess it must be named as "emulsion" in English, indeed we Japanese are categorising runny/ watery products are "lotion", and oilier products are "emulsion". This product is "Water", on the point the very lotion.
Also, the scent is a little bit different. The scent of the Ignis Whitening and Ignis Whitening Premium are categorised as the same group. When I open the sample package I remind the scent of Ignis VQ Glorious Water, old formula. I had noted that Glorious Water reminded me  not herbal but medicine: Oxydol, H202.
My skin condition is not perfect but less damaged. In Albion method, lotions should be on the 3rd step. If you are not familiar with Albion/ Ignis/ Cosme Decorte Skin Care method, please also see this article: Albion Skin Care Method.
With using as the 3rd step, there are no problem. Indeed I often apply the lotions after my washing face. I felt slight stinging. Albion recommends to "patting", but I applied this by my hands to wrap my face.
It is refreshing and moisturising, but seems it is not for me.
There are many methods each of the cosmetic companies. Those methods are not always working good for any of people. You can choose items and methods as you want and combine.
Please check the latest price, and order from here: Ignis Whitening Premium Line