I had thought that I had told you about FDR Lotion & Milky Lotion.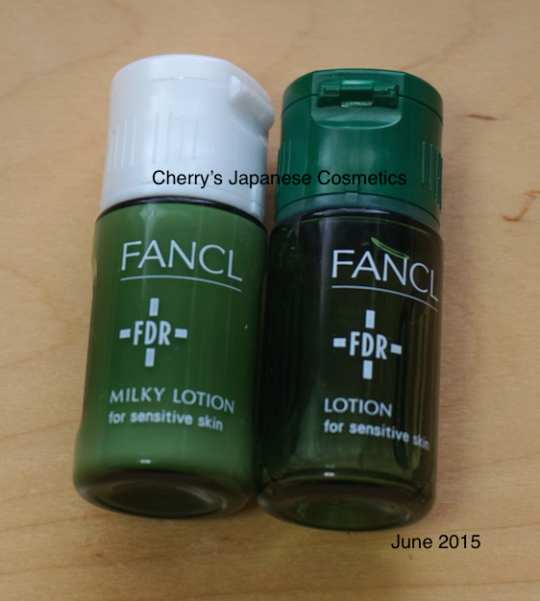 I use them for the season of "Spring Fever", my skin turns to really unstable, the condition changes everyday, too dry, too sensitive, sometimes too lough, and when I add too much oils, I find acnes.
Sometimes I feel strong sting by many products, and you know, when my skin turns really sensitive, I feel sing by water. It is the time to go to visit my dermatologist, but I need to moist my face by something, and I choose these FDR Lotion & Milky Lotion.
There are also "Cream" thing, but for me, it is too much oily.
Steps to use
Wash your face (gently)
Apply Lotion
Apply Milky Lotion
Fancl recommends to use by your hands, and the small quantity is enough.
But you can apply as your favorite quantity! I often use up one bottle for 5 days.
Review
If you are a Japanese, or if you are checking Japanese cosmetics more than 15 years, you may remember the term of "milky lotion",  a kind of old school cosmetic jargon in Japan.
The same products are called as "emulsion" in here too.
The lotion moisturized my skin well, and the "milky lotion" is also moisturized. However this milky lotion is less oily, if you need something oil, I recommend to use some kind of oil.
For me, the purpose of using this line is letting my skin moisturize without pain. For my regular condition, especially Winter, they are not so much nice — not enough to moisturize, or boost better condition.
Probably my skin is too sensitive. I have not protect from my skin is turning to huge trouble, when my skin turned to super sensitive, all I can do is just waiting with FDR.
I never say this FDR will never harm you when your skin is turning to super sensitive, but so far, I have never felt any of irritation by them.
They are small bottles, 10ml set as 10 days. And each of the package is 3 bottles set in one small box.
Please check the latest price, and order from below: