In SS2018, Kanebo changed their sunscreen, Allie good reputation among Japan.
The biggest change is "Friction Proof". I am the person who sweat really a lot, and made my clothes damaged often by my sweat and sunscreens. I jumped this Allie Extra UV BB Gel, due to the strong SPF 50+, PA++++, Waterproof, and Friction Proof effects.
And it is also true that this BB is often ordered among us.
Note: Kanebo changes some of Aliie formula for SS2020, but this BB is kept as the formula of 2018.
Review by Cherry
Regularly, I am not a big fan of BB cream things. In person, I have not met a person who makes up really beautifully with BB creams. (As you know, when I met friends of mine, I often ask which foundation are you using?? or something. They LOVE to tell me, if their makeups are beautiful. )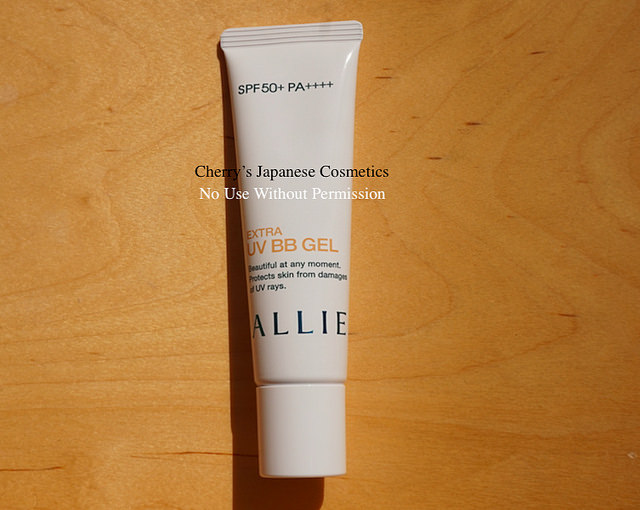 But to going to ship the products to the post offices? or walking? Probably, using Excia foundations are too much to using for my activities. So, I changed my mind, and bought this BB.
Let me show you my review. Actually I had used some "BB" or "CC" things but the shade is a kind of wired, grey or something. But seems this BB cream by Allie, the shade is natural.
Blending on my arm, the shade is a little bit too white for my skin. Indeed when you use this as the a primer, it is not pretty bad.
They claim this BB is pore covering and good lasting.
On my face, I felt there are no irritation, I often feel sting  by sunscreens. It is a wonderful point. The second is there are no perfume nor scent. It is great. The covering is medium to full, I felt, and I did not feel this BB is emphasis my pores on nose, but not covering well, as I had expected. In this point, I should not to do that, I am using high end foundations as daily, not BB.
I am not feeling my skin is moisturised by this BB, they claimed they are using skincare ingredients ( but not so much sure which one they are talking about). I felt my skin is powdery. There are no "radiant" finish, but some may say "matt". My favourite finish is natural to semi-matte. It is too matte finish for my preference.
The lasting is not pretty bad. When I use weak lasting products, my makeup are melting in the first one hour. It never happened in this BB. But I never say it lasts whole a day, you know, this is a BB cream, and I guess this is not for the using of that way.
OK, let me spray Avenne Water on my arm. In the upper picture, I felt actually the waterproof effect is less than I had expected.
The bottom of the picture above, I wiped my arm by towel. When my arm is not wet, when I touch my face by tissue, there are nothing on the tissue. Not pretty bad.
So, if you rarely sweat a lot, it can be not bad.
I had used ADDICTION Skin Protector, as primer & sunscreen, but in this year, I may use this Allie BB for my primer & sunscreen.
Please check the latest price, and order from here: "Kanebo Allie"
Review by Hazelnuts of Philippines
Here's my experience using the Kanebo Allie Extra UV BB Gel SPF 50 PA++++.
It's my first time to use this brand of sunscreen. What attracted me to the brand is the so-called "fiction-proof" technology that supposedly forms a protective veil over the skin to counteract oil, perspiration water and even day-to-day activities. I was very eager to try it out, due to our high humidity, high heat environment.
I have combination skin right now and I used this UV BB Gel as my base/tinted moisturiser daily for two weeks.
I like how it is water based.
When spread onto the skin, the texture is moisturising enough for me. The tinted formula has a slight brightening effect and provides me with very good coverage. I can wear this alone without any other makeup, other than a sunscreen underneath, because I like to layer my sun protection. But take note that I do not have pimples or dark marks or freckles on the face, only some slight redness. I suppose the coverage of this one is still sheer, but works enough for me.
Once it dries, the coverage pretty much lasts all day, even through extreme heat. I tend to sweat a lot and this sunscreen does hold up pretty well. I was very impressed. I do not have to put on a lot of makeup and this makes me look polished for my everyday activities.
This is a very good tinted moisturiser/sunscreen that feels lightweight, is reasonably moisturising and provides good coverage. Works great for daily use. I am sure it would work well across all skin types, even with oily skin.
Please check the latest price, and order from here: "Kanebo Allie"