Cosme Decorte changed their Moisture Liposome Serum to Liposome Advanced Repair Serum in AW2021.
I got samples, and let me share how I felt.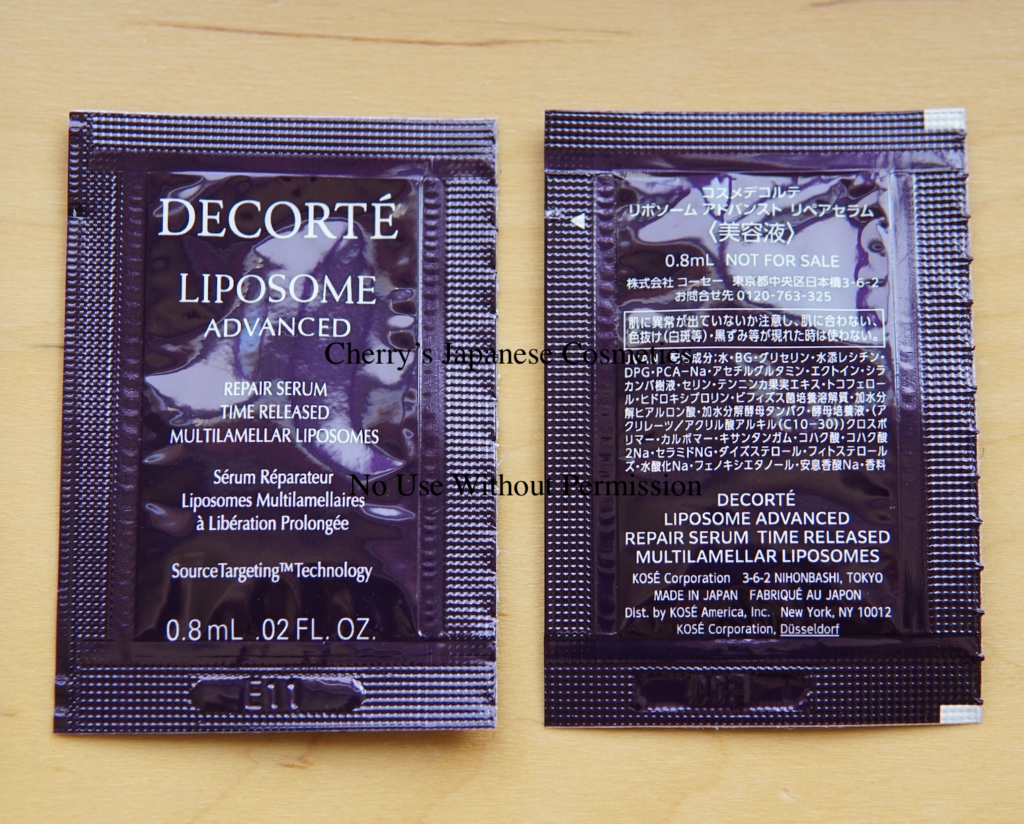 This product may be unique or wired, let me tell you the way.
The way to use:
Wash your face well
Apply this on your hand (the quantity is 2-3 pushes), and gently apply on your face
Use your skin care routine
The method  is not big difference between Albion Eclafture, we say those items as "booster".
As the name of this product, this booster is using the technique of Multilayer Liposome, what is not the topic of this article, if you wanna learn about it go google 🙂
Anyway, the most important point of this article, how I felt.
The perfume is not strong, I did not so much care about this scent. I found something Alcohol kind smell, and when I applied it on my face, I felt slight stinging. That irritation went soon, and my face did not turn to red, but I think it is not for me.
Sometimes those "booster" make me feel stinging, I need to admit.
The surface is a little bit sticky. I felt well moisturized, but that irritation is a big problem for my using.
Checking what Japanese reviewers are saying, some felt significantly difference of their "affordable" routine skin care items what used after this booster. I guess this person is saying too much, but compared with other items, it is good for keep using your favorite skin care routine, and just add this one product.
Checking others, this product is one of the long sellers, and I found some got stinging like me, or some one's face were turned to red. I say again, in this time, seems this product was good, but there are no products what are perfect for all the people.
Please check the latest price, and order from here: Cosme Decorte Moisture Liposome.