Lunasol by Kanebo is good reputation in their makeup products, I also like it.
On the other hand, their skin care line has not so much good reputation like their makeup products. When I purchased Lunasol products for one of the customers, I got a sample of their makeup remover, Tender Hug Balm Oil Cleansing, let me share how I felt.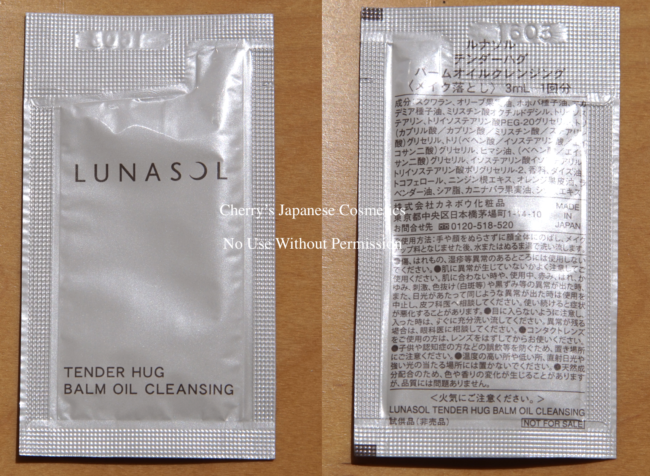 Balm Oil?? I feel "Balm" is a solid oil with perfume, it is a kind of ointment, and "Oil" is regularly it is a liquid, and the full sized product looks like a pump style just like other oil makeup removers.
It is a liquid oil, it is…runny… not watery, but it is still runny. I need to admit this yellow shade oil is thick. I guess they are explaining this thickness as "Balm".
There is a scent of Shiso, one of an Asian herb.
Let me show you how it removes well.
In the quantity I took on the cotton itself is not enough to remove, I added and added, probably I used up 1/3 off the package. I wiped back and forth, and removed my waterproof makeup completely.
At night, I used it on my face. I often feel irritation with makeup removers with herbal essential oils, even their quantity is few and only for the scent. I was afraid of it makes irritation, but fortunately I felt nothing strange.
I need to note that I felt so greasy with this makeup remover. Recently I often use German "Sebamed Washing Bar", guess you can purchase it in your country ( if you want to purchase it from me, I will deal it but it can be much expensive than purchasing in your country), it could not remove it. I switch it to Fancl, and washed my face twice, I needed to wash my face totally 3 times. Fortunately it is the end of Summer, I didn't feel tightness afterward of this product. I strongly recommend to use your (strong) face washes, not gentle one.
Probably it is for oily skin, and when you want to use a makeup remover with Asian herbal scent, it could be yours.
I'm not quite sure that whether we should deal it as regularly, if you want to have it, please feel free to ask me.